Strawberry & Chocolate Rolls Recipe With Vanilla Glaze
Strawberry & Chocolate Rolls Recipe is a delicious combination of strawberry and chocolate in form of a roll serves as a perfect tea time snack for your tea parties or a delicious dessert after dinner.

Navneet Kaur
On

Sunday, 25 March 2018 08:00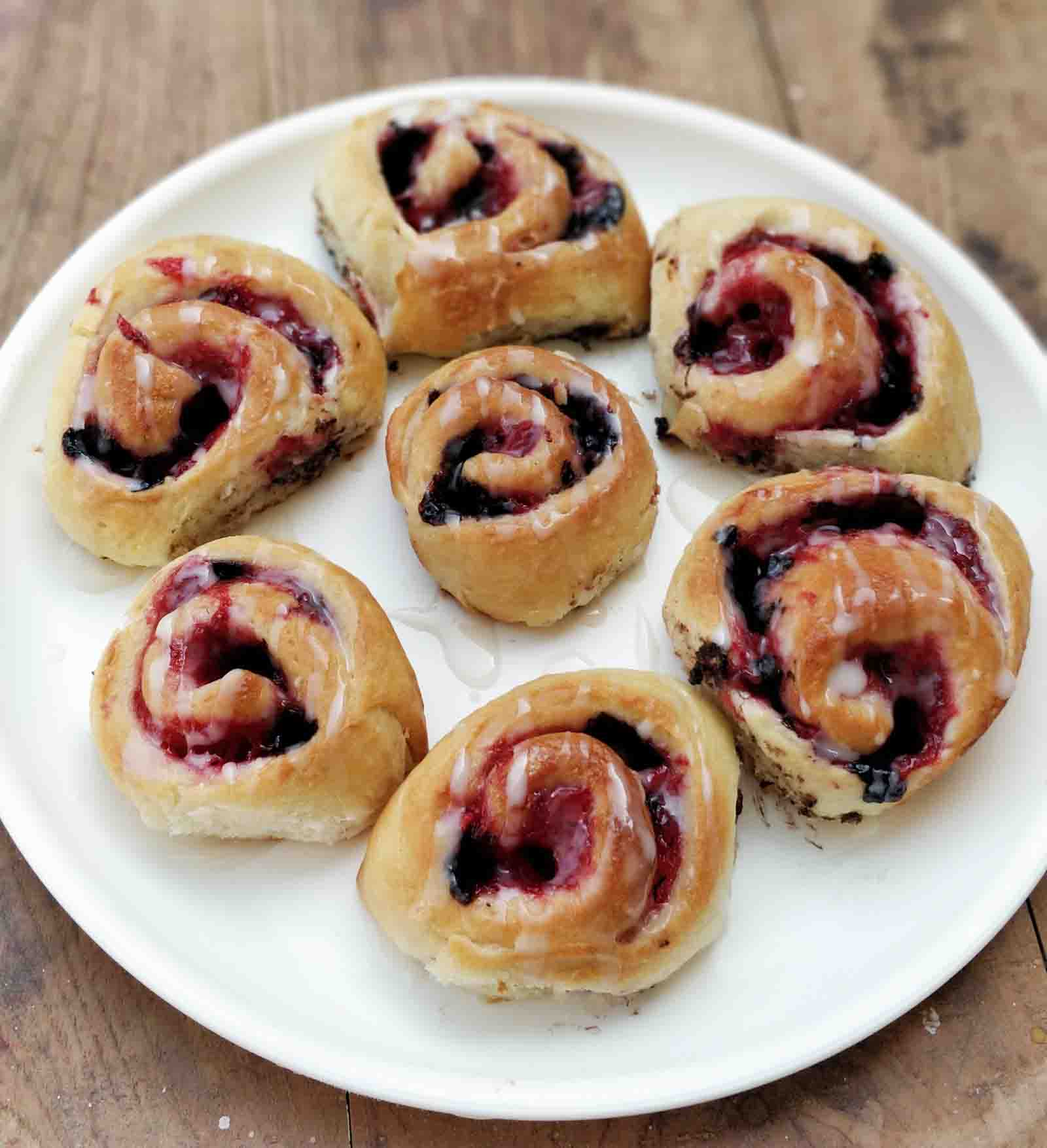 Strawberry & Chocolate Rolls Recipe is a simple yet yummy roll perfect for a tea time snack or an after school snack for kids.
A base of simple bread dough, layered with luscious strawberry filling along with decadent chocolate, rolled and baked. Finally topped with a lovely vanilla glaze.
Serve this Strawberry & Chocolate Rolls With Vanilla Glaze along with Oreo Milkshake Recipe for an after school snack.
You can also serve this as a high tea snack along with Maple Roasted Cinnamon Spiced Latte Recipe.
If you like this recipe of Strawberry & Chocolate Rolls With Vanilla Glaze, do try some these as well:
Ingredients
For strawberry chocolate filling:
1 cup

Strawberries

, chopped
1/4 cup

Caster Sugar

2 teaspoons

Corn flour

120 grams

Dark chocolate

, grated
For the dough:
150 grams

All Purpose Flour (Maida)

25 grams

Butter (Salted)

, melted and cooled
1 tablespoon

Sugar

, powdered
1

Whole Egg

1/4 teaspoon

Salt

1/4 cup

Milk

2 teaspoons

Active dry yeast

For the glaze:
1/2 cup

Icing Sugar

1-1/2 tablespoons

Milk

1/2 teaspoon

Vanilla Extract
How to make Strawberry & Chocolate Rolls Recipe With Vanilla Glaze
To begin making the Strawberry & Chocolate Rolls Recipe With Vanilla Glaze, we have to first make the strawberry filling for the roll.
For the strawberry filling:
In a pan, add the chopped strawberries and cook over medium-heat. Cook for 5-6 minutes, stirring constantly, or until the strawberries become soft and mushy, and have released their juices.

Add in the sugar and cornstarch stir vigorously to avoid forming lumps. Continue to cook - and stir - for another 1-2 minutes. Remove pan from heat when the mixture thickens up and transfer the filling into a small bowl. Set aside.

*To make the dough:

In a pan, add the milk and heat on low flame for 1 minute until it becomes lukewarm. Turn off the flame. Now add a pinch of sugar and yeast to the lukewarm milk and stir it for few seconds. Keep aside undisturbed for 10 minutes or until froth appears on top of the milk.

While adding the yeast to the milk, ensure that your milk is lukewarm and not hot, because if it is hot then chances are that your yeast will die.

In a separate bowl, add sugar, egg, salt, melted butter, and the milk-yeast mixture. Whisk until all ingredients are well combined.

Start adding the flour, 1/3rd at a time, and gently mix it with a spatula. Mix well, until a thick, sticky dough forms and all the flour is incorporated.

Dump the dough on a well-floured surface and knead just until the dough is no longer sticky and forms a ball.This will take about 10-15 minutes.

Alternatively you can even knead the dough in a food processor .

Place the dough into a greased bowl. Put little bit oil on top of the dough, cover the bowl with a wet muslin cloth or a towel and allow the dough to rise at a warm place for at least an hour or until doubled in size.

*To make the rolls:

Once the dough has risen, put it on a lightly floured surface and gently squish the dough ball with your hands to make a rectangular shape. Now using a rolling pin, start rolling the dough while maintaining the rectangular shape. Roll it to a size of about 14 X 6" rectangle.

Now spread the cooled strawberry filling on the rolled out dough leaving about 1/2 inch border. On top of the strawberry filling, spread the grated chocolate.

Start making the roll by rolling from the long side. (You have to roll length wise). Now using a serrated knife, cut out about 8 rolls and place them in a greased baking pan.

Cover the pan with a wet muslin cloth or a towel and place it at a warm place to rise for about 45 minutes or until the rolls have doubled up in size.

Once the rolls have risen, bake them in the preheated oven at 180°C for about 25 minutes or until they become golden brown.

Once your rolls are baked, remove them from the baking pan while they are still warm. Otherwise they will stick to the bottom due to sticky strawberry and chocolate filling.

*For the glaze:

In a bowl, add icing sugar, milk, and vanilla essence.

Mix well using a whisk or a spoon until you get a smooth and lump free glaze.

Drizzle the glaze over warm rolls

Serve this Strawberry & Chocolate Rolls With Vanilla Glaze as a Tea Time Cake along with a cup of Golden Detox Tea or even Qahwa - Arabic Coffee if you fancy it.