Strawberry Upside Down Muffin Recipe

Archana's Kitchen
On

Friday, 19 December 2014 05:30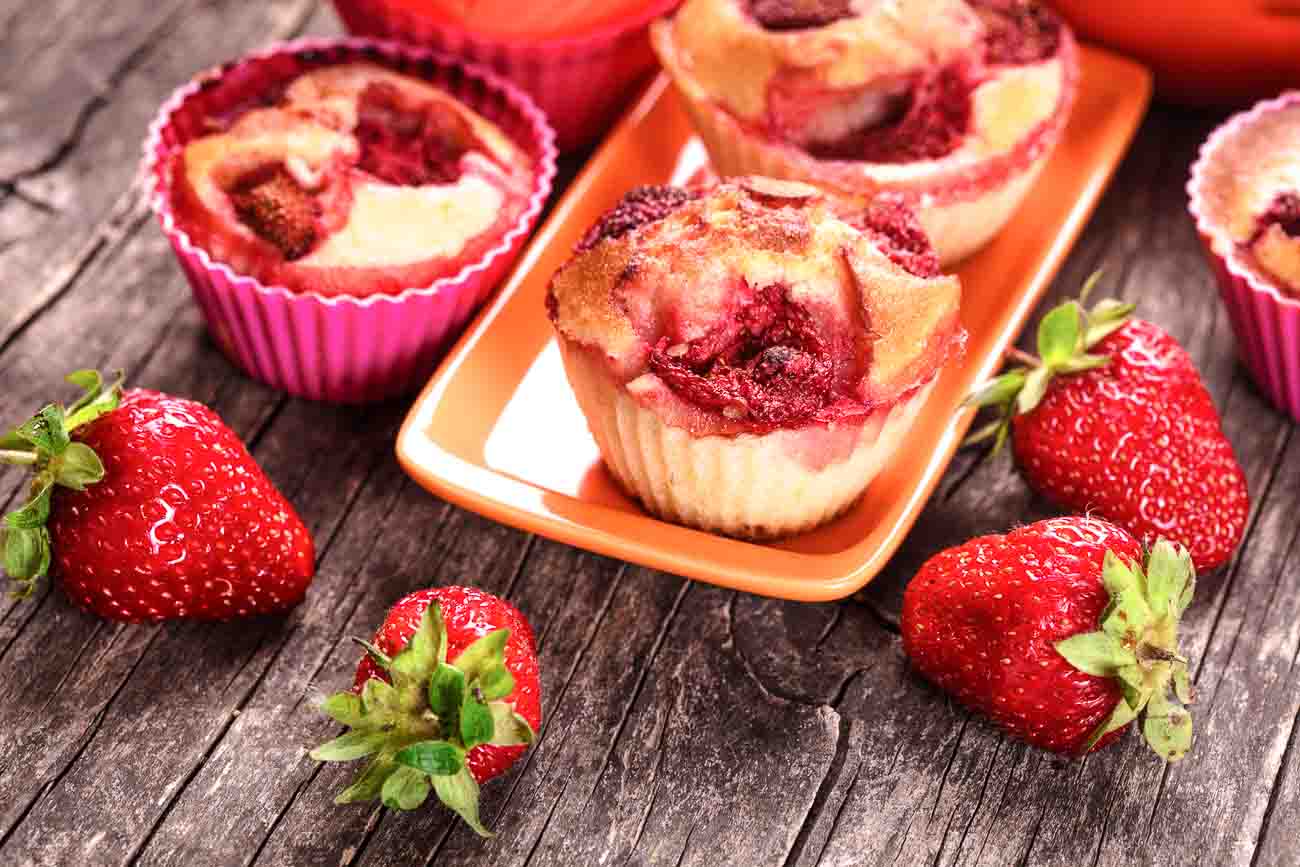 Strawberry Upside Down Muffins is inspired from the color of Christmas, the festival of happiness, peace and joy. With strawberries in season, these muffins are a great idea to play around with strawberries and once baked these become favorite of kids in the house. Tartness of strawberries over sponge-like muffins, these are perfect fit for Holiday Party Menu.
Take a look at what more you can serve as party desserts
Ingredients
Ingredients for the muffin batter
2 cups

All Purpose Flour (Maida)

1/2 cup

Caster Sugar

2-1/4 teaspoon

Baking powder

1 cup

Milk

, at room temperature
1

Whole Egg

, or Flax meal Egg Replacer
60 gram

Butter (Unsalted)

, melted and cooled
1 teaspoon

Vanilla Extract

Ingredients for the strawberry sauce
200 grams

Strawberries

3/4 cup

Caster Sugar

2 tablespoons

Water
How to make Strawberry Upside Down Muffin Recipe
To begin making the Strawberry Muffin recipe, preheat oven at 180 C and line the muffin tray with muffin liners. Grease muffin liners with butter.

If you plan to make this recipe eggless (egg free) then prepare the Flax meal Egg Replacer and keep it aside.

Our next step is the make the Strawberry Sauce: To make the strawberry sauce, remove green stems of strawberries, wash and chop roughly.

In a heavy bottomed pan place chopped strawberries, water and sugar. Cook over medium heat until sugar dissolves and strawberries turn soft about 10 minutes. You will have to give the sauce a brisk boil to evaporate the excess water so the sauce has a more thicker and honey like consisitency. Once sauce is done keep it aside to cool.

Our next step is to make the Muffin Batter. Sift the flour, salt and baking powder and keep it aside.

In a large mixing bowl or the bowl of the stand mixer, add in the sugar and butter and beat until light and fluffy. Gradually add in the eggs or the flax meal egg replacer and beat until fluffy again. Next, gradually add in the milk, vanilla essence and the flour mixture in that order and beat until just combined.

In our final step, add a tablespoon of the strawberry sauce into each muffin cavity. Spoon the muffin batter on top of the sauce and fill the cavities until 3/4th full.

Place the muffin tray in the preheated oven and bake for about 15 to 20 minutes until when a tester, when inserted in the center, comes out clean.

Once the muffin is baked, remove from the oven and allow it to cool for about 5 minutes. After 5 minutes invert the strawberry muffins on a cooling rack so that the strawberry topping is face up.

The Strawberry Upside Down Muffins are now ready to be served for breakfast or your holiday parties along with vanilla ice cream.