Sweet Boondi / Meethi Boondi Recipe

Sasmita Sahoo
On

Saturday, 24 September 2016 00:57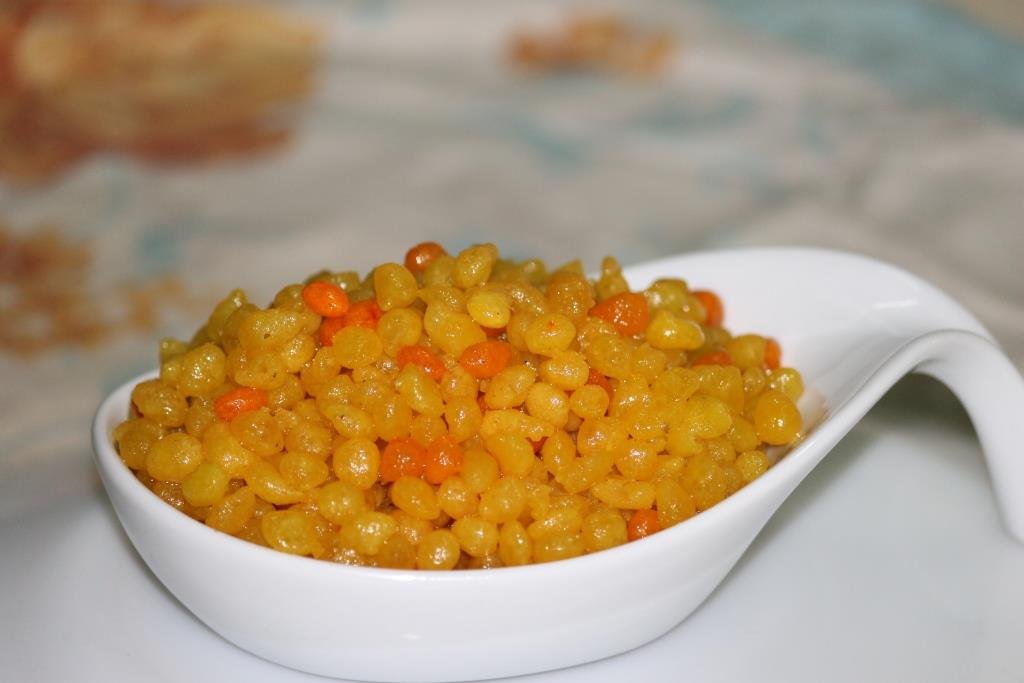 Sweet Boondi / Meethi Boondi Recipe is an Indian sweet recipe with crisper surface and sugary juice within. This homemade Sweet Boondi / Meethi Boondi Recipe is apt for Prasad during festivals or as a sweet munch after meals.
If you like this recipe, explore more of our Indian sweet recipes
Ingredients
1 cup

Gram flour (besan)

1 pinch

Baking soda

1 pinch

Yellow food colour

, optional
1 pinch

Orange color

, optional
1/2 cup

Water

Oil

, to deep fry
3/4 cup

Sugar

1/2 cup

Water
How to make Sweet Boondi / Meethi Boondi Recipe
To prepare Sweet Boondi/Meethi Boondi Recipe, take gram flour/besan in a sifter and sieve it.

In a Mixing bowl, mix gram flour, baking soda with water. The batter should be little thick, a bit thinner than normal bajji batter.

Take a big ladle full of batter for orange color in a separate small bowl. Add orange food color to the batter in the small bowl, yellow food color to the batter in the main bowl and mix both well separately. This is an optional step, only if you are adding food colors.

2 Slotted ladles are needed. One for making boondi and another for draining boondi from oil.

Now heat oil for deep frying. Oil should be moderately hot. To test, drop a pea size batter in the oil, batter should rise immediately without changing color which means oil is ready for frying boondis.

Now hold one slotted ladle just over oil (neither too low nor too high). Use another deep ladle to pour batter over slotted ladle. Pour one ladle full of batter over the slotted ladle and spread in a circular motion by the back of the deep ladle. The batter will fall drop by drop.

Fry them till little crispy. Drain and place them on a paper towel to absorb excess oil.

Repeat the process with rest of the batter.

Then make sugar syrup from 3/4 cup sugar & 1/2 cup water of 1 string consistency by bringing it to boil. Add in cardamom powder, mix well to make syrup.

Add the fried yellow and orange boondis into the syrup. Gently toss them and mix till boondis are well coated in sugar syrup.

Let this set for 1-2 hours until the sugar syrup is completely absorbed by Sweet Boondi / Meethi Boondi Recipe and the sugar in the syrup is crystallized.

Store Sweet Boondi/Meethi Boondi Recipe in an air-tight container and serve as needed, as asweet munch after meals.