Saunf Aloo & Dal Kebab Recipe (Potato & Lentil Kebabs)

Archana Doshi
On

Tuesday, 15 September 2009 18:43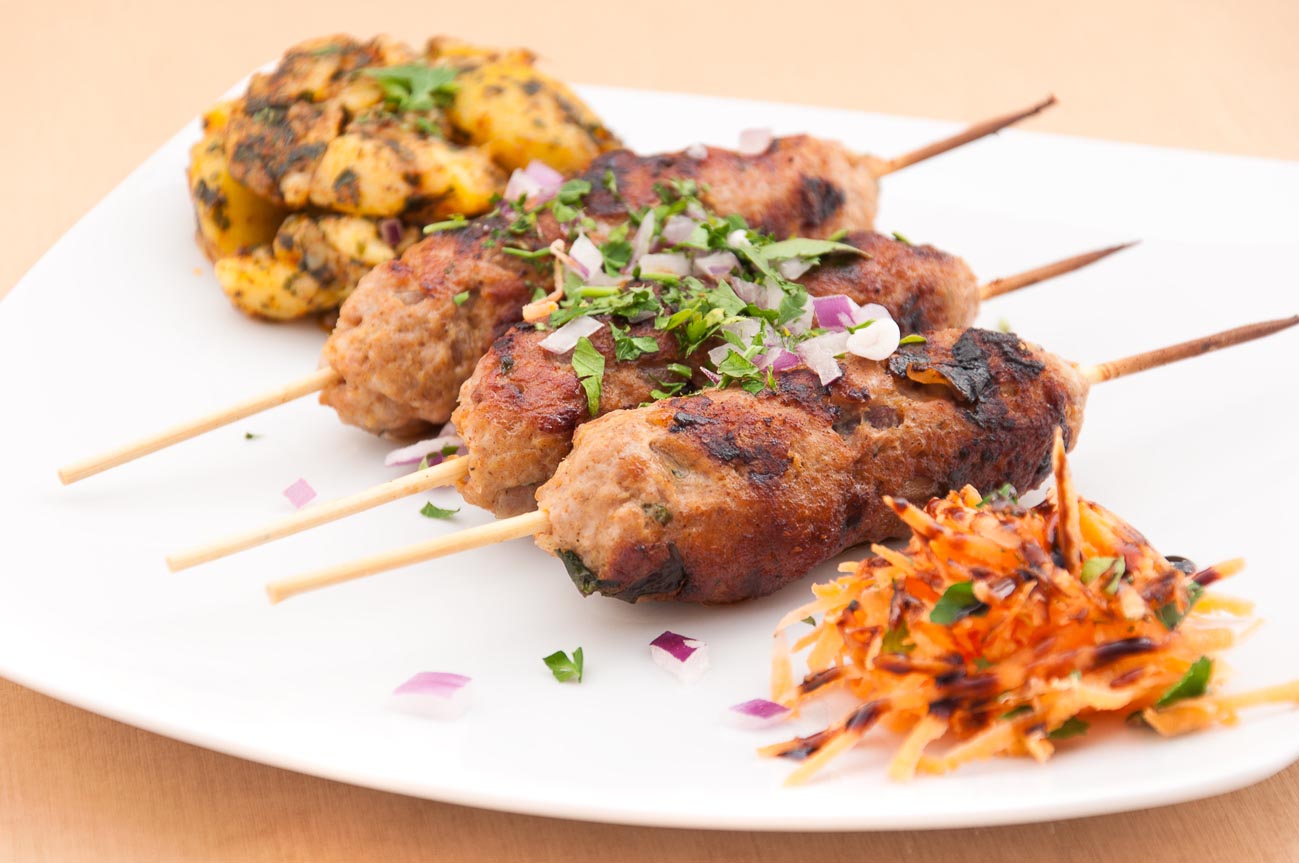 The Saunf Aloo & Dal Kebab Recipe (Potato & Lentil Kebabs) is a delicious and healthy kebab made from sweet potatoes and lentils and elegantly spiced with crushed fennel and some garam masala. Serve these kebabs along with a minty coriander chutney. Best part of these potato kebabs is that it is baked, making them healthy. One flip side of these baked kebabs is that its best when it's had hot, else they tend to get dry.
Serve Saunf Aloo & Dal Kebab along with Dhaniya Pudina Chutney as an Indian appetiser for your parties.
If you like this recipe, you can also try other Indian appetiser such as
Note: Ideally these sheek kebabs are even more delicious when they are grilled over charcoal. But alternatively you can use the coal smoking method once they are baked to get the desired effect
Ingredients
1 cup

Chana dal (Bengal Gram Dal)

3

Potatoes (Aloo)

, boiled and mashed
1 inch

Ginger

, grated
2 cloves

Garlic

, grated
2

Green Chillies

, finely chopped
1/4 cup

Mint Leaves (Pudina)

, finely chopped
1 tablespoon

Chaat Masala Powder

1 teaspoon

Fennel seeds (Saunf)

, roasted and pounded (saunf)
1/2 teaspoon

Garam masala powder

Salt

, to taste

Oil

, for cooking
How to make Saunf Aloo & Dal Kebab Recipe (Potato & Lentil Kebabs)
To make the Saunf Aloo & Dal Kebab Recipe; soak the channa dal for 2 hours in 2 cups of water. Drain all the water and cook the dal in 1 cup of water until soft and mushy, but not watery. Drain excess water if any and mash well when its hot.

Preheat the oven to 200 C.

Heat oil in a pan and add the ginger and garlic and toss until the fragrance come out, for a few seconds and the rawness goes away. Turn off the heat.

In a large bowl, combine the sauteed ginger, garlic, and all the remaining ingredients including the cooked dal. Stir well until well combined. Check the spice and salt levels and adjust to suit your taste.

Divide the mixture into 20 -25 portions and rolls them between your palms to make a long elongated kebab.

Grease the baking sheet with oil and place the kebabs on the sheet. Bake until the kebabs turn brown and crisp, for about 30 minutes. After this process you can use the coal smoking method to get the desired tandoor effect.

Alternatively, arrange the kebabs in skewers and grill over charcoal until crisp.

Serve the Saunf Aloo & Dal Kebab along hot with min coriander chutney as an appetiser for parties.