Sweet Pretzels Recipe - Bhonge Ladoo
Sweet Pretzels Recipe is a yummy wheat bran sweet which you can make for special occasions and festivals. It is a Maharashtrian recipe which you can also serve after your everyday meals as a dessert.
In association with Preethi Kitchen Appliances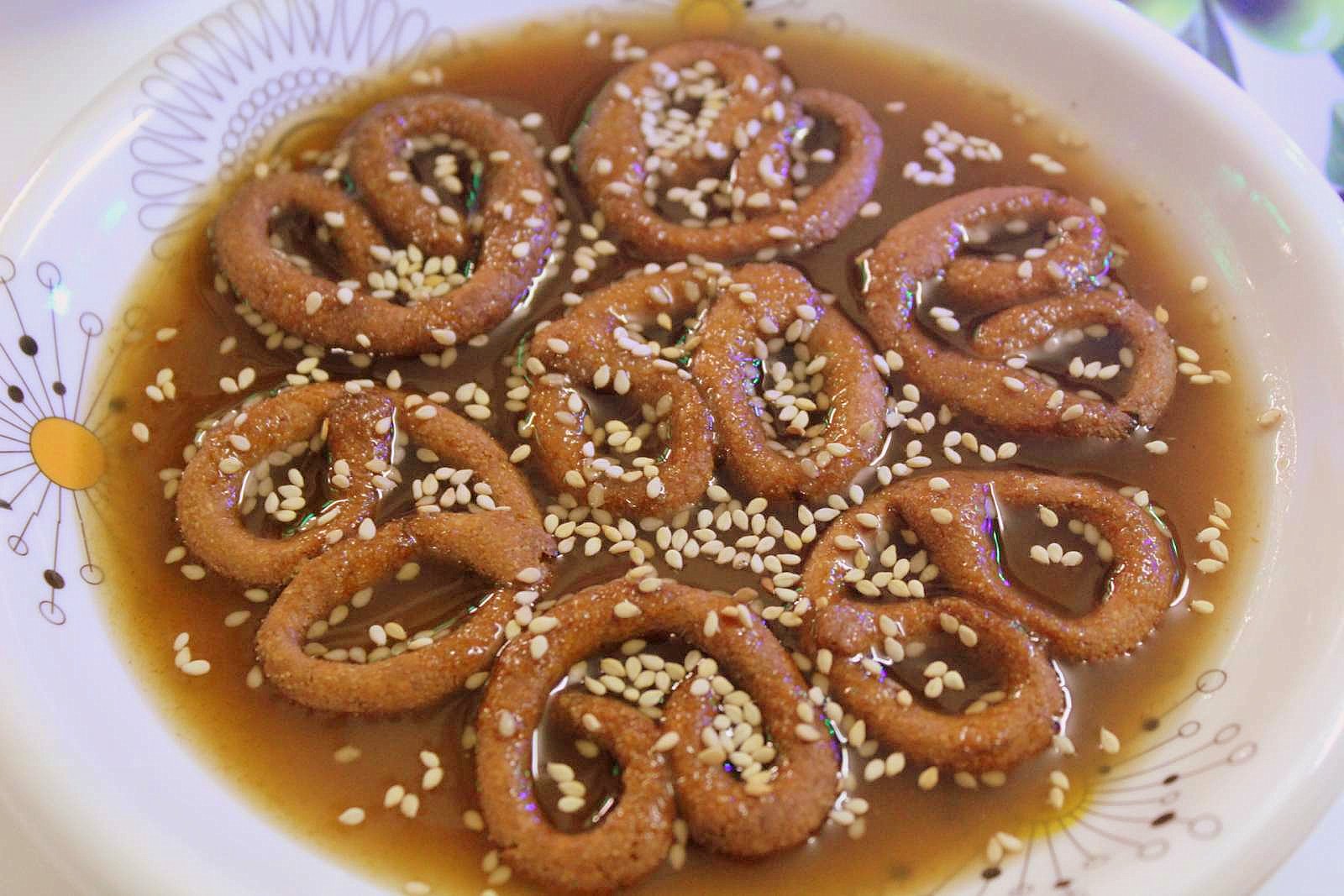 Sweet Pretzels Recipe which is also called as Bhonge Ladoo, is a very unique and traditional sweet from Buldhana District in Maharashtra. This recipe is almost forgotten in the native villages too. It is the traditional and antique recipe that has been done in pretzel shapes.
Serve Sweet Pretzels Recipe (Bhonge Ladoo) as a sweet evening snack with Masala Chai Recipe or as a dessert after your everyday meals.
If you like this recipe, take a look at more Sweet Recipes such as
Note: If you don't find wheat bran easily then simply sieve normal wheat flour and keep collecting bran that is left in sieve until you get desired quantity.
Ingredients
1-1/4 cup

Wheat Bran

, plus 2 tablespoons

Salt

, to taste
1 cup

Jaggery

1-1/3 cup

Water

, divided
2 tablespoons

Sesame seeds (Til seeds)

Oil

, as required
How to make Sweet Pretzels Recipe - Bhonge Ladoo
To begin making the Sweet Pretzels Recipe, prepare the dough for the pretzels first. In a big mixing bowl, add the wheat bran, about 4 teaspoons of cooking oil, and salt.

Add about 1/3 cup of water (add little by little), prepare a tight and pliable dough, kneading well for about 4 to 5 minutes.

Keep this dough aside for 30 minutes, brushed lightly with oiled fingers. Cover the dough with a moist cloth or plate while it is resting.

Take small portions of dough and roll them in about 5 inch long cylindrical shapes. Give it desired shape (here I have given pretzels type shape). Keep these pretzels in open plate for roughly one hour. (You can also keep it in sun)

Heat sufficient cooking oil in a kadai; once it is hot, add each pretzel carefully and fry in batches till they crisp up.

*For Jaggery Syrup:

Lightly toast 2 table spoons of that extra wheat bran for some time in a pan. Keep aside.

Lightly toast sesame seeds till browning a bit and keep aside.

Make syrup by boiling together 1 cup of Jaggery and 1 cup of water for 8-10 minutes.

After a while when the syrup is still warm, add toasted wheat bran and sesame seeds to it. Mix well. This thickens the syrup a bit.

*For Assembling:

Assemble the fried pretzels in shallow container. Pour jaggery syrup over it and let it sit in it for 2-3 hours.This makes the pretzels soak the syrup and make them nice and sweet..

Garnish with more toasted sesame seeds before serving. Serve Sweet Pretzels Recipe or Bhonde Ladoo as a sweet evening snack with Masala Chai Recipe or as a dessert aftre your everyday meals.