Assamese Style Mohura Pitha Recipe - Sweet Rice Dumplings Recipe
Give this delicious sweet from Manipur. The Monda Pitha is a lip smacking dumpling which can be made with a sweet filling or savoury filling. It is typically made during special occasions or festivals.

Archana's Kitchen
On

Saturday, 25 March 2017 00:09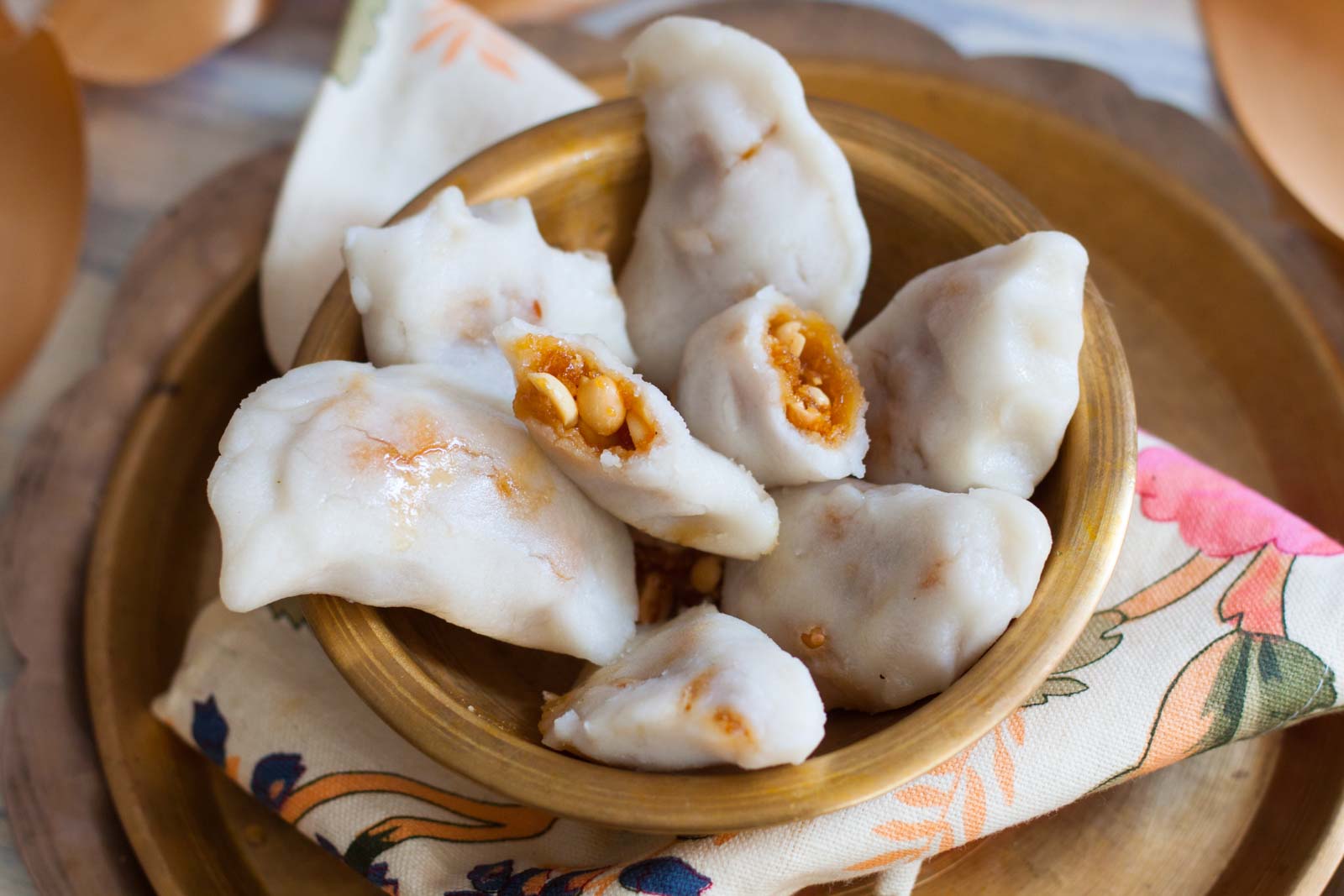 Rice Dumplings or Pithas rules in the eastern states of India. The process is mostly steaming. Food prepared in steaming process with zero oil is considerably better in taste. You will be amazed to find the varieties of Pithas, an odiya family relish on a festive day. They are like Poda Pitha, Kakara Pitha, Monda Pitha and Chakuli Pitha.
The festival of Bihu in Assam is more on celebrating the art of making Pithas. Til Pitha, Mohura Pitha, sunga pitha, takeli pitha where rice is being the main ingredient.
Believe me the process is quite easy. Once you get that right technique to make perfect rice dough for pitha, your job will be much easier. You can try using different variety of rice-flour but the amount of water used in the recipe vary accordingly.
Monda Pitha can be made with sweet filling or savoury filling (spicy potato). The same pitha is known as Mohura Pitha in Assam which is must on Assamese festival Bihu.
Serve Sweet Rice Dumplings as a side dish along with Vegetarian Thukpa, as a dessert for a light weekday meal.
If you like this recipe, you can also try other Dumpling recipes such as
Ingredients
For the dough
2 cups

Rice flour

1 cup

Water

, + 2 tablespoons extra
1/2 teaspoon

Salt

For stuffing
1 cup

Fresh coconut

, grated
1/2 cup

Jaggery

, powdered
1/2 cup

Raw Peanuts (Moongphali)

, roasted
1 teaspoon

Cinnamon Powder (Dalchini)

1/2 teaspoon

Black pepper powder
How to make Assamese Style Mohura Pitha Recipe - Sweet Rice Dumplings Recipe
To begin making the Sweet Rice Dumplings recipe, we will first prepare the stuffing.

Add coconut, jaggery powder, peanut and cook it for 5 minutes. Add cinnamon powder, black pepper powder to it and mix it properly. Cool the mixture well and keep it aside.

Now we will make the dumplings. Boil 2 cups of water in a heavy bottomed pan. Take 2 tablespoon water in a bowl, add 1 teaspoon rice powder to it and make a thick solution.

Add this solution to boiling water. Let the water come to boiling point. Then add salt, remaining rice flour at once and stir it continuously at medium flame for 3-4 minutes.

Switch off the flame and cover the pan with a lid. Let it sit for 10 minutes. Once cooled, start kneading the mixture to form a dough. It should be soft.

Make small balls like chapati ball. Take a ball and press with your finger tip at centre and make a hole into it to pour the filling. Stuff the balls with prepared coconut mixture.

Close it properly with wet fingers and give shape as you like. Cook those balls in a steamer for 15 minute. Cool it and enjoy them as it is.

Serve Sweet Rice Dumplings as a side dish along with Vegetarian Thukpa for a light weekday meal.