Tallyanche Suke Recipe - Sardine Dry
Tallyanche Suke, a Goan dish that you can make for your everyday meals as a side dish. It is very easy to make and is considered very good for health too.

Pooja Nadkarni
On

Saturday, 07 May 2016 00:12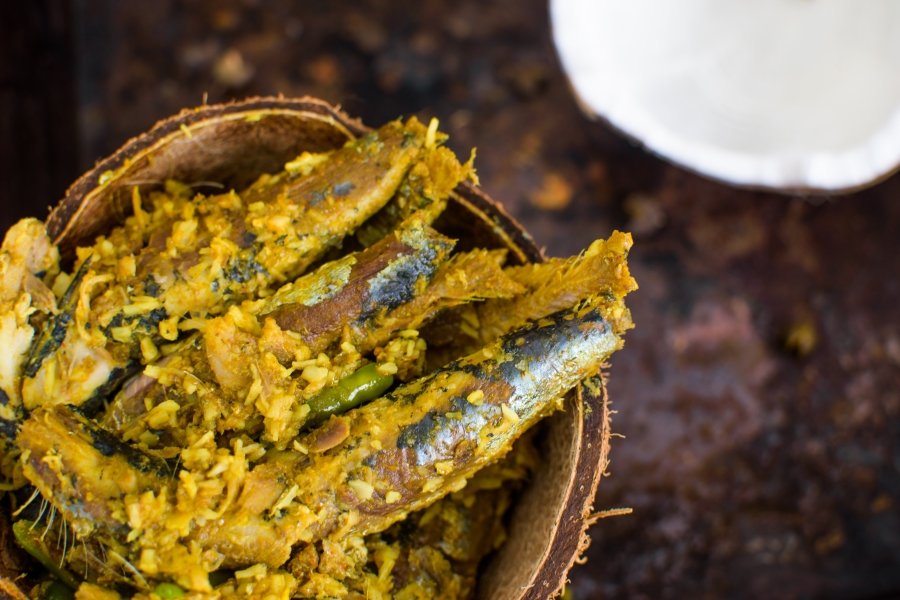 Tallyanche Suke is an authentic Goan recipe which is simple, delicious and fresh to eat. Sardines is one of the healthiest fish and can be consumed by almost everybody. It is also called as Talle in Goa.
Did you know- Sardines have many health benefits like preventing heart diseases, certain types of cancers and it also helps in building the immune system. It is also very popular for skin as it brings glow on the face if consumed on a regular basis.
Serve Tallyanche Suke as a side dish along with Goan Chana Ros and Steamed Rice for a delicious Goan meal.
You can also try other Dry Vegetable Recipes such as
Diet:
High Protein Non Vegetarian
Ingredients
10

Sardine fish

Salt

, as required
1 inch

Ginger

10

Sichuan peppercorns

1 teaspoon

Turmeric powder (Haldi)

1 teaspoon

Red Chilli powder

2

Green Chillies

, slit
5

Kokum (Malabar Tamarind)

Dry coconut (kopra)

, Handful or grated fresh coconut
How to make Tallyanche Suke Recipe - Sardine Dry
To begin making the Tallyanche Suke Recipe, firstly remove and throw away the head and tail of Sardines. Remove everything out from the belly, wash them thrice or four times using fresh water every time. Apply a teaspoon of salt and keep it aside for 10 minutes.

In the meantime, crush the garlic and keep it aside. Also crush the Sichuan Pepper for a few seconds to release the flavours. Make sure that you don't have to make powder out of it.

The next step is to cook the Sardines. In a medium saucepan, drop in the Sardines.

Add turmeric powder, red chilli powder, crushed ginger, slit green chilies, coconut and 1/4 cup water. Mix it properly, cover with a lid and let it cook on medium heat for about 10 minutes.

After 10 minutes, remove the cover and check if the fish is cooked using a toothpick.

Once it is done, switch off the flame and add salt, dry kokum and crushed sichuan pepper.

Mix everything well by shaking the saucepan because at this point, sardines are cooked and delicate and if you mix with spoon or spatula too much, then they might release fish bones all over in the dish and mess it up. Remove from heat and it is ready to be served.

Serve Tallyanche Suke as a side dish along with Goan Chana Ros and Steamed Rice for a delicious Goan meal.