Tandoori Chickpea & Cauliflower Curry Recipe (Vegan Curry)

Archana Doshi
On

Wednesday, 18 November 2015 00:15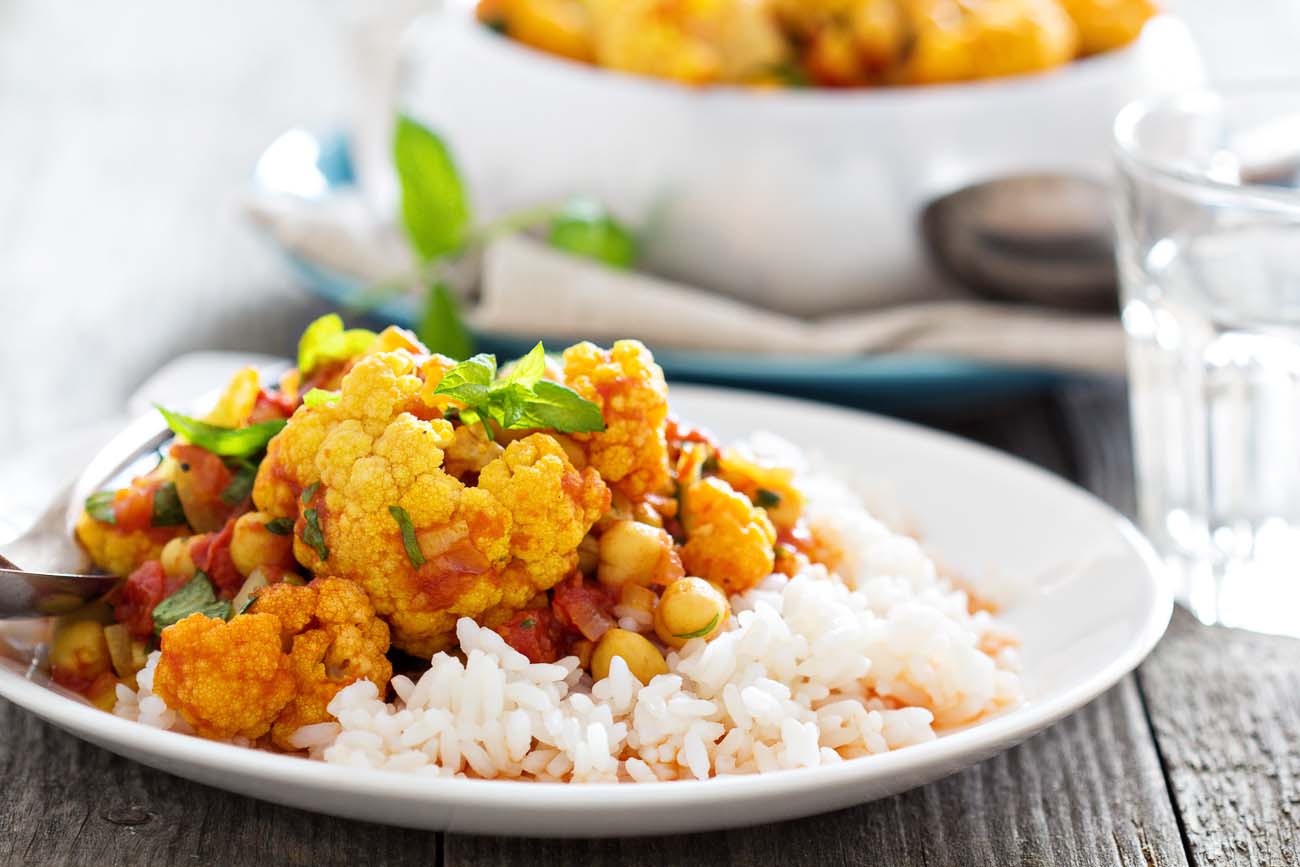 The Tandoori Chickpea & Cauliflower Curry is a delicious twist to a curry that is packed with smoked flavors from the coal and crushed fennel seeds. The addition of chaat masala powder along with the spices gives this Gobi Curry a delectable taste. You can choose to make this dish dry or even in gravy form by adjusting the amount of tomato puree you add to it.
Serve the Tandoori Chickpea & Cauliflower Curry in Tomato Curry along with hot steamed rice and a kachumber salad for a wholesome weeknight dinner.
If you would like more choice for curries then you might also like
Ingredients
1

Cauliflower (gobi)

, cut into florets
1 cup

Kabuli Chana (White Chickpeas)

, boiled
2 cups

Homemade tomato puree

2 cloves

Garlic

2 teaspoons

Fennel seeds (Saunf)

, roasted
1 teaspoon

Turmeric powder (Haldi)

1 teaspoon

Kashmiri Red Chilli Powder

1 teaspoon

Garam masala powder

1/2 teaspoon

Chaat Masala Powder

Salt

, to taste
3 sprig

Mint Leaves (Pudina)

, finely chopped
1 or 2

Coal

, pieces of coal for smoking

Oil

, for cooking
How to make Tandoori Chickpea & Cauliflower Curry Recipe (Vegan Curry)
To begin making the Tandoori Chickpea & Cauliflower Curry in Tomato Curry Recipe, we will first have to get all the ingredients ready. Have 1/2 cup of raw chickpea soaked for 8 hours and cooked until soft.You should have one cup of cooked chickpeas. Keep this aside.

Puree the tomatoes according to the instructions (link) and keep aside.

Pound the fennel seeds in a pestle and mortar until it becomes a coarse powder and keep aside.

The next step is to cook the cauliflower to make the tandoori curry.

In a large wok or a kadai, heat a teaspoon of oil. Add the cauliflower florets, sprinkle some salt and stir fry the cauliflower until it is cooked through. It should be firm, and yet cooked.

This will take anywhere between 5 to 10 minutes. Once the cauliflower is cooked, add the turmeric powder, red chili powder, garam masala powder, fennel seed powder and give it a stir. Add the tomato puree, chickpea and stir well to combine the curry.

Check the salt and spice levels and adjust to suit your taste. Turn the heat to medium high and give the curry a brisk simmer for about 5 minutes. While it is simmering we will prepare the coal for smoking.

To begin, first take a piece of coal (about 3 inches big) and hold it over a gas flame with the help of tongs. The coal will begin to turn red hot and grey in about 5 minutes. This indicates that the coal is ready to be used for smoking. Place this in a a small steel or a glass bowl

Make a small well in the centre of the kadai where the cauliflower is simmering and place the cup into it. Pour a spoon of ghee on the coal.

It will begin to smoke. Immediately cover the pan and reduce the heat to low and allow it to rest for about a minute until all the smoke as died down. Open the lid and remove the coal cup.

The Cauliflower and Chickpea Curry will have a smoked tandoori effect into the dish.

Once done, turn off the heat and transfer the Tandoori Cauliflower Chickpea Curry into a serving dish and sprinkle some mint leaves.

Serve the Tandoori Chickpea & Cauliflower Curry in Tomato Curry along with hot steamed rice and a salad for a wholesome weeknight dinner.