Tandoori Gobi Tikka Recipe
Tandoori Gobi Tikka Recipe, a simple Cauliflower recipe that can be made for your party appetisers or as a side dish with your Festive meals. Try this and we are sure you will love it.

Archana Doshi
On

Thursday, 07 May 2015 00:06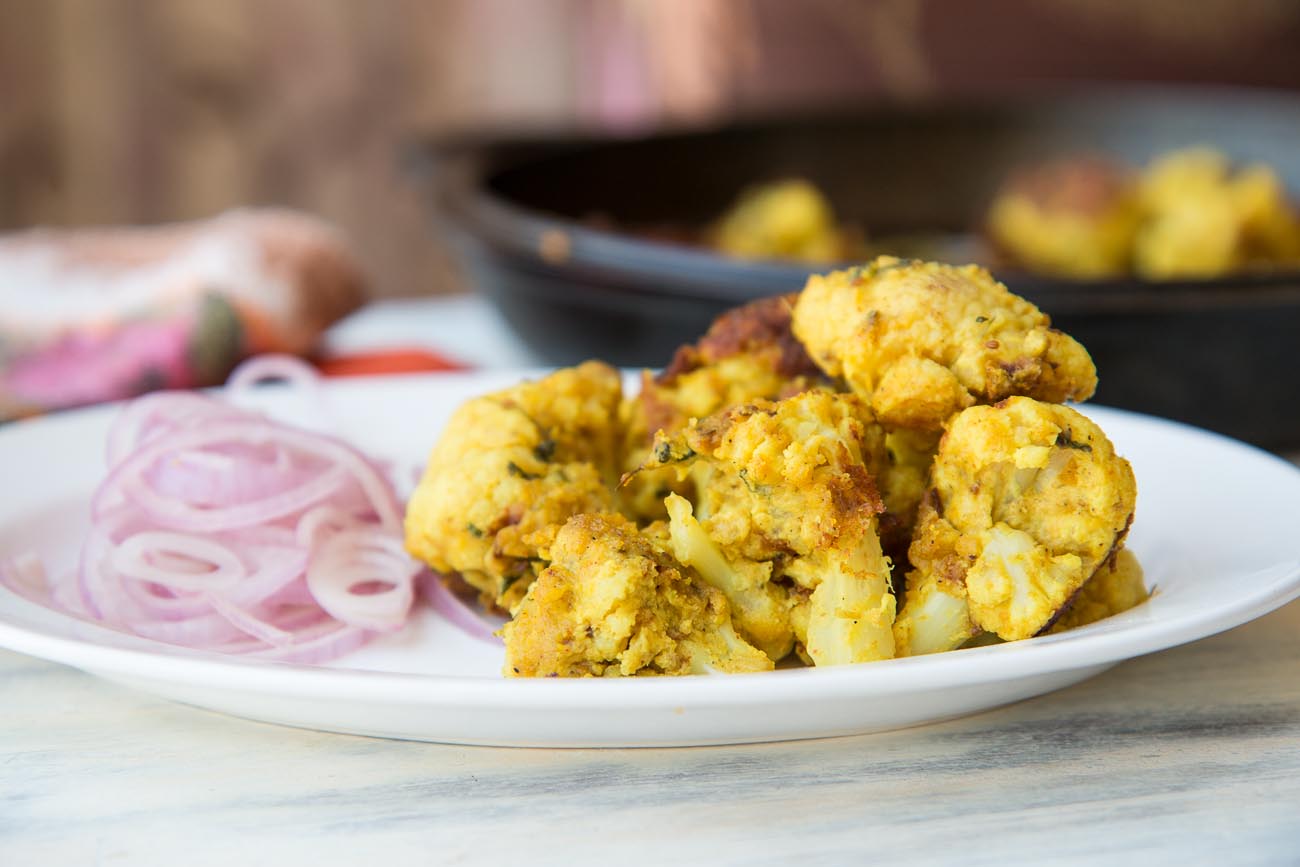 Tandoori Gobi Tikka Recipe is a super simple and yet super delicious variation of the Paneer Tikkas. The addition of hung curd, along with spices like ajwain, chaat masala and kasuri methi, bring out fantastic flavors of the Tandoori Gobi Tikka.
The most important of the flavors to get the Tandoori taste is to do the Coal Smoking Method that gives the BBQ or the restaurant style taste to these tikkas.
Serve Tandoori Gobi Tikka along with Green Chutney and Pickled Onions by the side for your party appetisers.
If you are looking for more Tandoor Recipes, here are some :
Did You Know: Cauliflower is a member of the cancer-fighting cruciferous family of vegetables. Cauliflower is anti-inflammatory and antioxidant-rich, and may boost both your heart and brain health. Eating cauliflower will provide your body with impressive amounts of vitamin C, vitamin k, beta-carotene, and much more while supporting healthy digestion and detoxification.
Ingredients
1

Cauliflower (gobi)

, cut into large florets
1 cup

Hung Curd (Greek Yogurt)

, (or greek yogurt)
1/2 teaspoon

Red chilli powder

1 teaspoon

Garam masala powder

1 teaspoon

Chaat Masala Powder

1/2 teaspoon

Turmeric powder (Haldi)

1 teaspoon

Coriander Powder (Dhania)

1/2 teaspoon

Ajwain (Carom seeds)

1 teaspoon

Kasuri Methi (Dried Fenugreek Leaves)

3 tablespoons

Gram flour (besan)

Cooking oil

, for cooking

Salt

, to taste
How to make Tandoori Gobi Tikka Recipe
To begin making the Tandoori Gobi Tikka Recipe, make sure you have all the ingredients ready. The most important being the hung curd (greek yogurt).

To make the Tandoori Gobi Tikka Recipe, we will first power steam the cauliflower. Power steaming is a process there the vegetable is partially cooked, but when you take a bite, it is edible enough to eat and yet firm. Steaming the cauliflower helps it to absorb the tikka masala well.

To steam the cauliflower, place the florets in a Steamer and steam for about 4 minutes on high heat. Once done, turn off the heat and transfer to a large mixing bowl.

Into the cauliflower add the remaining tikka ingredients including hung curd, red chilli powder, garam masala powder, chaat masala powder, turmeric powder, coriander powder, ajwain, kasuri methi, gram flour, salt and give it a good stir.

Cover the cauliflower and allow it to marinate for at least 30 minutes before you can make the Tandoori Tikkas with the coal smoking method

Once the marination is done, our next step is to cook the Tikka's. There are two ways you can make these. If you have a Barbeque Grill then you can grill the Tandoori Gobi Tikka or flavor the Tikkas using the Coal Smoking Method.

*Barbeque Method:

To grilling the tikkas, we will first soak skewers in water for few minutes. This prevents skewers from falling apart while grilling. Thread the gobi pieces into wooden skewers.

Prepare your charcoal barbecue. Grill the Tandoori Gobi Tikka skewers from both the sides applying little oil till they turn brown on all sides and charred marks appear on the paneer.

*Wok (Kadai) Method:

Heat oil in a Wok (Kadai); add the marinated Gobi tikka pieces and stir-fry for a few minutes on low to medium heat.

In the meanwhile; prepare the coal for the coal smoking method. Once the coal reaches red hot, place the hot coal in small steel or glass bowl.

Place this bowl in the center of the Kadai that has the Tandoori Gobi Tikka, pour a teaspoon of ghee. You will notice that the coal will begin to smoke. At this stage, cover the pan and allow the smoke flavors to get into the tikka. Keep it covered for about a minute.

Open the pan and the tikkas will be ready to be served.

*Method to Serve

Transfer grilled Tandoori Gobi Tikka to a serving plate. Serve Tandoori Gobi Tikka along with Green Chutney and Pickled Onions by the side for your party appetisers.
How to make pickled onions:
Slice one large onion into rings. Squeeze lemon juice and add in some black salt. Cover the bowl and allow the onions to rest in the lemon juice for about an hour. The pickled onions will be ready, with soft and juicy flavors that goes well with Paneer Tikka's, Dal's and Vegetables in Gravy Dishes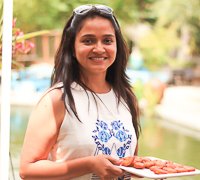 Archana Doshi is the founder of Archana's Kitchen. Archana launched Archana's Kitchen in 2007 as a way to keep track of her and family's recipes, and along the way grew it into one of the most popular cooking websites in the world. Archana is dedicated to helping home cooks be successful in the kitchen. Archana says "I hope you enjoy cooking recipes from my website where the sole effort is to make cooking simple for you. When you try out one of our recipes, we are longing to hear back from you. Do take your time to come back and share your comments, as your feedback means a lot to me"