Thandai Panna Cotta With Strawberry And Mango Coulis Recipe
Make the lip smacking Thandai Panna Cotta Recipe that is packed with flavors from the Thandai Masala and when you serve it along with a strawberry coulis, it tastes absolutely delicious. It also makes a great dessert for Holi.

Swayampurna Mishra
On

Sunday, 03 April 2016 00:44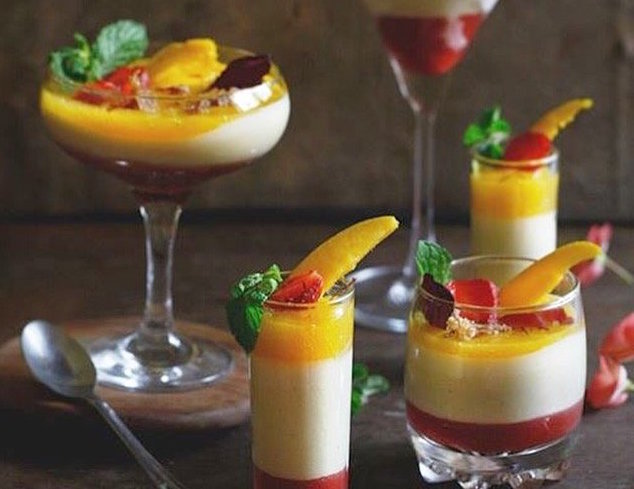 Thandai Panna Cotta with Strawberry and Mango Coulis is everything you want a summer dessert to be. It is light, creamy, cold, sweet, fruity and definitely exotic.
It's not just the thandai (Indian spiced almond milk) that makes this exotic. This perfect combination of the classic Indian drink with an Italian dessert is taken further by the addition of Mango Coulis and Strawberry! This is a perfect dessert to impress your guests anytime especially for the festival of Holi.
Serve Thandai Panna Cotta With Strawberry And Mango Coulis as a Dessert after your delicious dinner meal.
If you like this Panna Cotta recipe, you can also try other similar recipes such as:
Ingredients
For the thundai panna cotta
2 cups

Fresh cream

1/2 cup

Milk

2 teaspoon

Gelatin

4 tablespoons

Sugar

2 tablespoons

Thandai Masala

, or syrup
For the mango coulis
1 cup

Mango Pulp (Puree)

1 tablespoon

Lemon juice

2 tablespoons

Water

For the strawberry coulis
200 grams

Strawberries

, hulled
3 tablespoons

Sugar

2 teaspoon

Lemon juice

2 tablespoons

Water
How to make Thandai Panna Cotta With Strawberry And Mango Coulis Recipe
To begin with Thandai Panna Cotta With Strawberry And Mango Coulis, firstly we will start making the strawberry coulis.

Puree together the chopped strawberries, sugar, lemon juice and just 1-2 teaspoon of water. Transfer mixture to a saucepan over medium-high heat and bring it to a boil.

Continue to boil until mixture thickens to syrup consistency. Strain and set it aside to cool. Pour into glasses, cover with foil/ cling film and freeze till set.

In the meanwhile, prepare the thandai. Pour 1/2 cup of milk into a mixing bowl and evenly sprinkle some gelatin on top; set aside for two minutes.

Place 1-1/2 cups of cream, sugar and the thandai into a small saucepan and bring to a simmer (don't boil it). Use a whisk to stir the mixture together till its mixed well.

Strain the gelatin mixture into the cream-thandai mixture and stir until gelatin is completely dissolved (mixture should be free of grit when rubbed between two fingers).

Simmer for 5 mins and remove from heat. Keep whisking almost continuously.

Let the thandai cream mixture come to room temperature. Once cool, whip up the remaining 1/2 cup of cream and gently fold it into the panna cotta.

Now pour it over the strawberry coulis and chill for 2 hrs. Make sure the strawberry is set first or the layers will run into each other.

If you are making this well ahead of time, cover with foil tightly, and keep in fridge overnight.

While that's setting, make the mango coulis in a similar way as you made the strawberry coulis. You just have to use chopped mangoes instead of strawberries. Once it is done, let it cool to room temperature.

Make sure the thandai layer is set, then gently spoon the mango on top. Wrap and freeze to set completely.

Remove when needed, taking the Thandai Panna Cotta out 5 mins before serving time and garnish it and serve.

Serve Thandai Panna Cotta With Strawberry And Mango Coulis as a Dessert after your delicious dinner meal.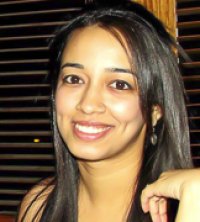 Swayam is a banker by profession who must work to pay for a dirty little eating habit. "I love my books, am yet to meet a piece of chocolate I didn't like and I love rainbows". Swayam cooks from her memory and her heart. She loves to experiment a lot with various cuisines of the world. Recently she had one of her recipes featured on the menu of a restaurant, The Egg Factory in Bangalore. She is self-confessed coffee friend, a quintessential night owl and kicks off her mornings with Yoga. She is also an Odissi dancer that she uses to unwind after a long day.