Thandai Shrikhand Tart Recipe
The Thandai Shrikhand Tart Recipe is a creamy sweet yogurt dessert which mildly flavored with crushed cardamom and saffron strands. It makes a Indian dessert for parties like Holi and Diwali.

Alka Jena
On

Tuesday, 22 March 2016 03:45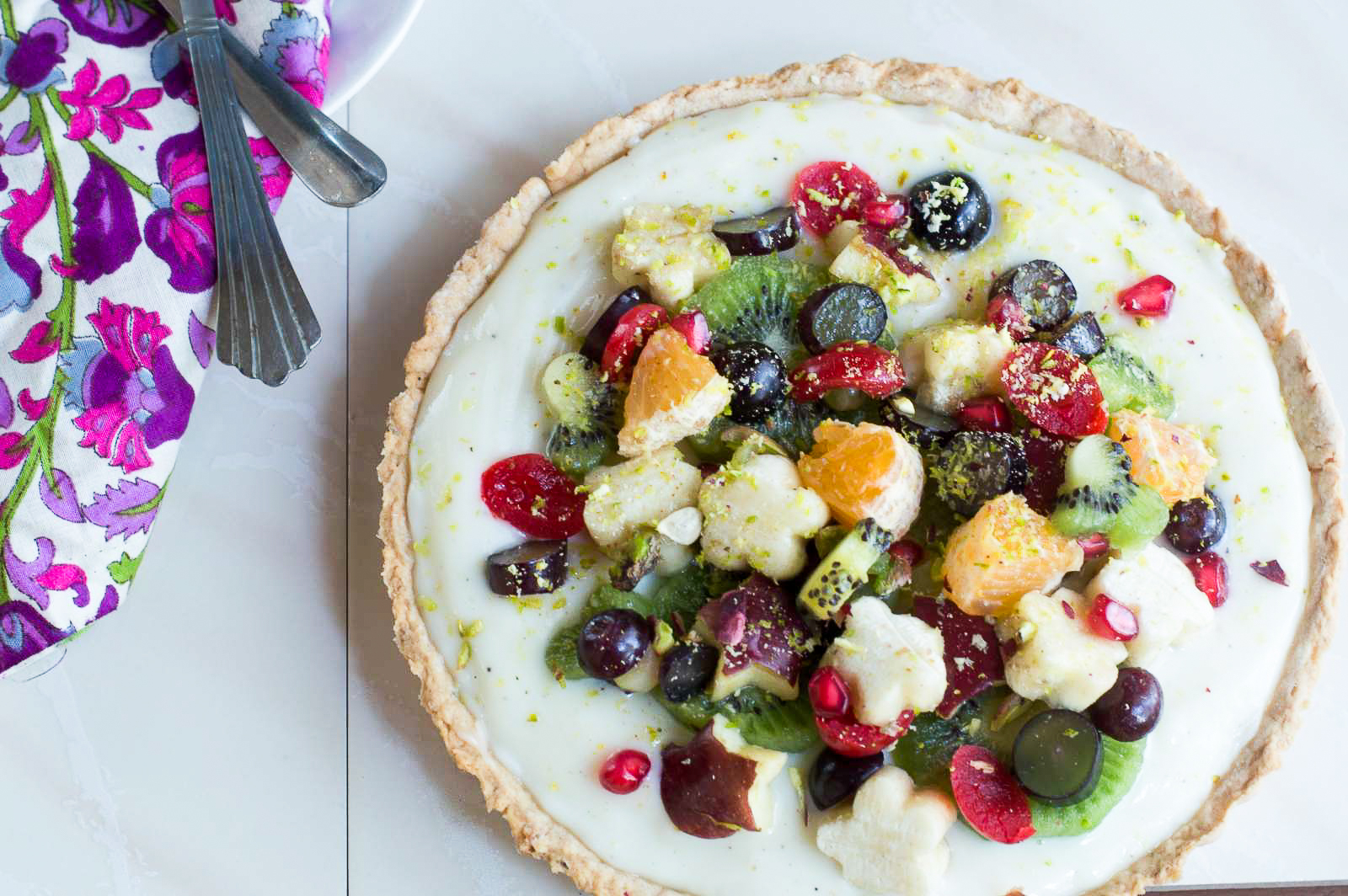 Shrikhand Recipe is a creamy sweet hung curd, mildly flavored with crushed cardamom and saffron strands is a magical transformation of simple curd into a sweet delicacy befitting for GOD's.
That's why "Shrikhand" is supposed to mean "Ambrosia of the Gods". In this recipe we are making a Thandai Shrikhand Tart which uses low fat, rich and creamy hung yogurt or greek yogurt and involves no cooking.
The Thandai Shrikhand Tart Recipe is a twist to the original adding rich flavors for the holi festival.
If you like Indian sweets and mithai recipes, then you must try some of our specials like -
Ingredients
Ingredients for the Thandai Tart
1-1/2 cups

All Purpose Flour (Maida)

1 pinch

Salt

1/4

Cardamom Powder (Elaichi)

1/4 teaspoon

Cinnamon Powder (Dalchini)

1 teaspoons

Black pepper powder

1 pinch

Nutmeg powder

5 tablespoons

Butter (Unsalted)

, cold
1/4 cup

Fresh coconut

, grated
2 tablespoons

Whole Almonds (Badam)

, blanched and peeled
2 tablespoons

Cashew nuts

2 tablespoon

Pistachios

1 teaspoon

Poppy seeds

1/4 cup

Sugar

, powdered

Chilled water

For filling & topping
2 cups

Shrikhand

Pistachios

, few for garnishing
For the garnish

Mixed fruits

, Assortment of fruits like, banana, kiwi, grapes, red apple, orange, pomegranate, cherries etc.
How to make Thandai Shrikhand Tart Recipe
To begin making the Thandai Shrikhand Tart Recipe, first prepare the shrikhand according to the Shrikhand recipe and keep it refrigerated for at least 4 hours.

The next step is to make the Thandai Flavored Tart recipe.

Powder the nuts together until you get a coarse mixture.

In a large mixing bowl, add all the ingredients including the powdered nuts, chilled butted and knead well till you get a coarse crumb like mixture.

Add a little cold water at a time and knead to make a firm dough. Take care to add a tablespoon of cold water at a time.

Once the thandai tart dough is ready, cover it with cling film and keep it in the refrigerator for 30 minutes.

Preheat the oven at 180 degrees and line a parchment paper in a 7" tart pan.

Take out the dough from the fridge. Dust the surface with flour and roll the tart dough to make a circle large enough to fit the 7 inch tart pan.

Now carefully invert the rolled dough over the tart mould. Press the dough on to the sides and bottom of the tart pan.

Prick the tart dough with a fork all around and place it in the preheated oven to bake for about 30 to 40 minutes until you notice the tart is browned and golden in color.

Once tart is baked, remove it from the oven and allow it to cool completely. Keep the Thandai tart in its pan.

Once the Thandai tart is cooled, pour the shrikhand mixture over the tart and tap the pan gently on the counter to release any air bubbles.

Top the Thandai tart with your choice of fresh fruit or berries before serving.

Sprinkle nutmeg powder and pistachios on it and enjoy this fruity flavoured Thandai Shrikhand Tart Recipe for Holi Festival or any other special occasion.