Maggi, one of the most favourite instant noodles of India, unanimously liked by all ages, be it kids or grandparents. Whether at home or in the midst of Himalayas, Maggi has been a saviour in our lives, readily quenching our hungriness. For many, Maggi has been synonymous with our lifestyles and a reason for happiness & togetherness, bringing in a whole bunch of memories & experiences.
With many flavours to choose from, Maggi has again come up with a range of surprising flavours. Maggi have launched their "Masalas of India" range showcasing authentic flavours of four different regions from Amritsar , Bengal, Chennai, and Mumbai and the masalas being named as Amritsari Achari, Bengali Jhaal, Super Chennai and Mumbaiya Chatak.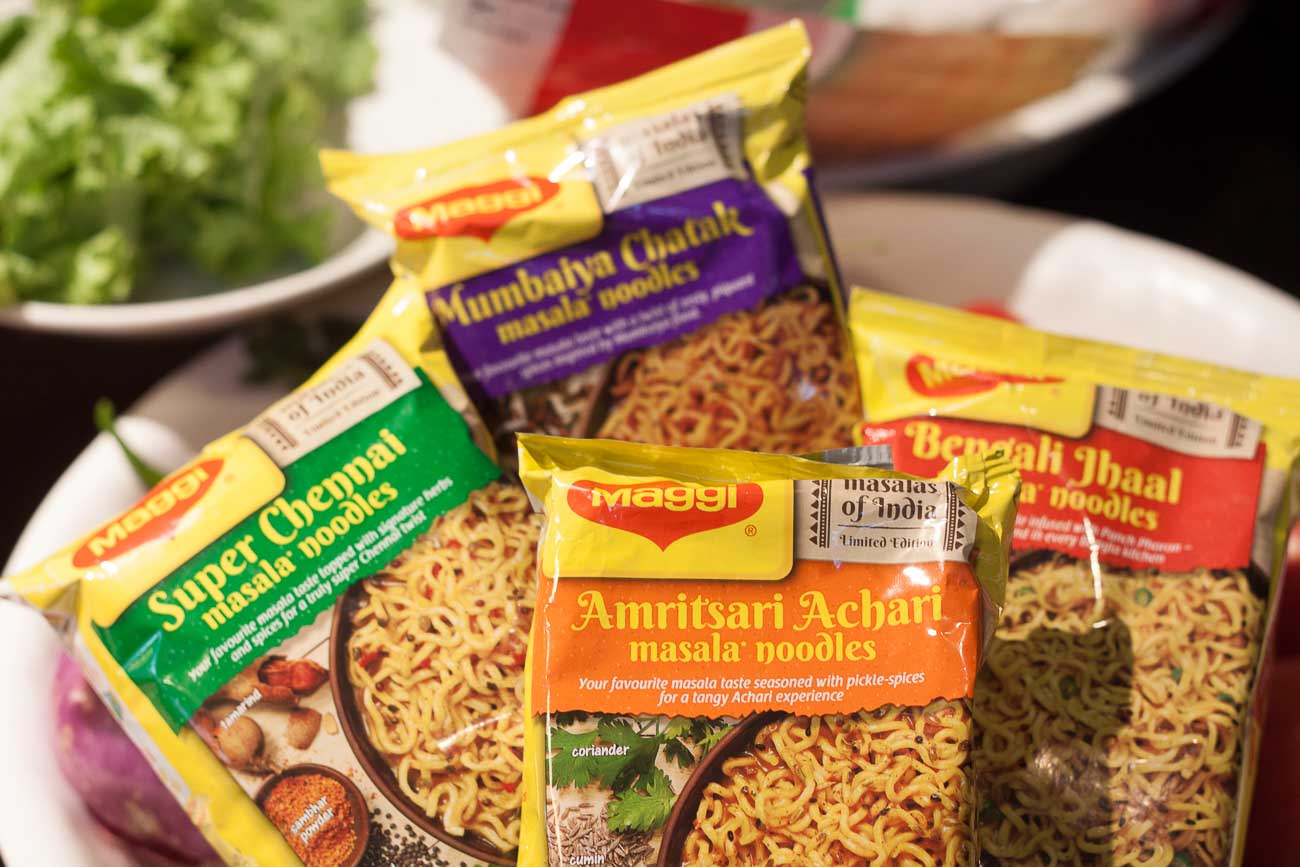 At the launch that was recently held at Slurp studios, Chef Zaheer Khan from Nestle demonstrated how innovative we can get with Maggi. It was quite interesting to see him try a Chicken Teriyaki with Mumbaiya Chatak Masala Maggi Noodles. The fusion of Indian and Japanese flavours was just irresistible and to say it tasted delicious is an understatement. He also tried his hands on the Bengali Jhaal Masala Noodles and quickly prepared a Bengali Jhaal Muri. The addition of onions, nuts, namkeen and pomegranate along with the maggi noodles just turned out appetizing.
The best part about the whole event was when we were divided into teams and had a cook-off session. Our task was to come up with an innovative recipe using either of the four types of Maggi flavours as the base ingredient and they were
Chicken Teriyaki with Mumbai Chatak Masala Maggi Noodles

Bengali Jhaal Muri with Bengali Jhaal Masala Maggi Noodles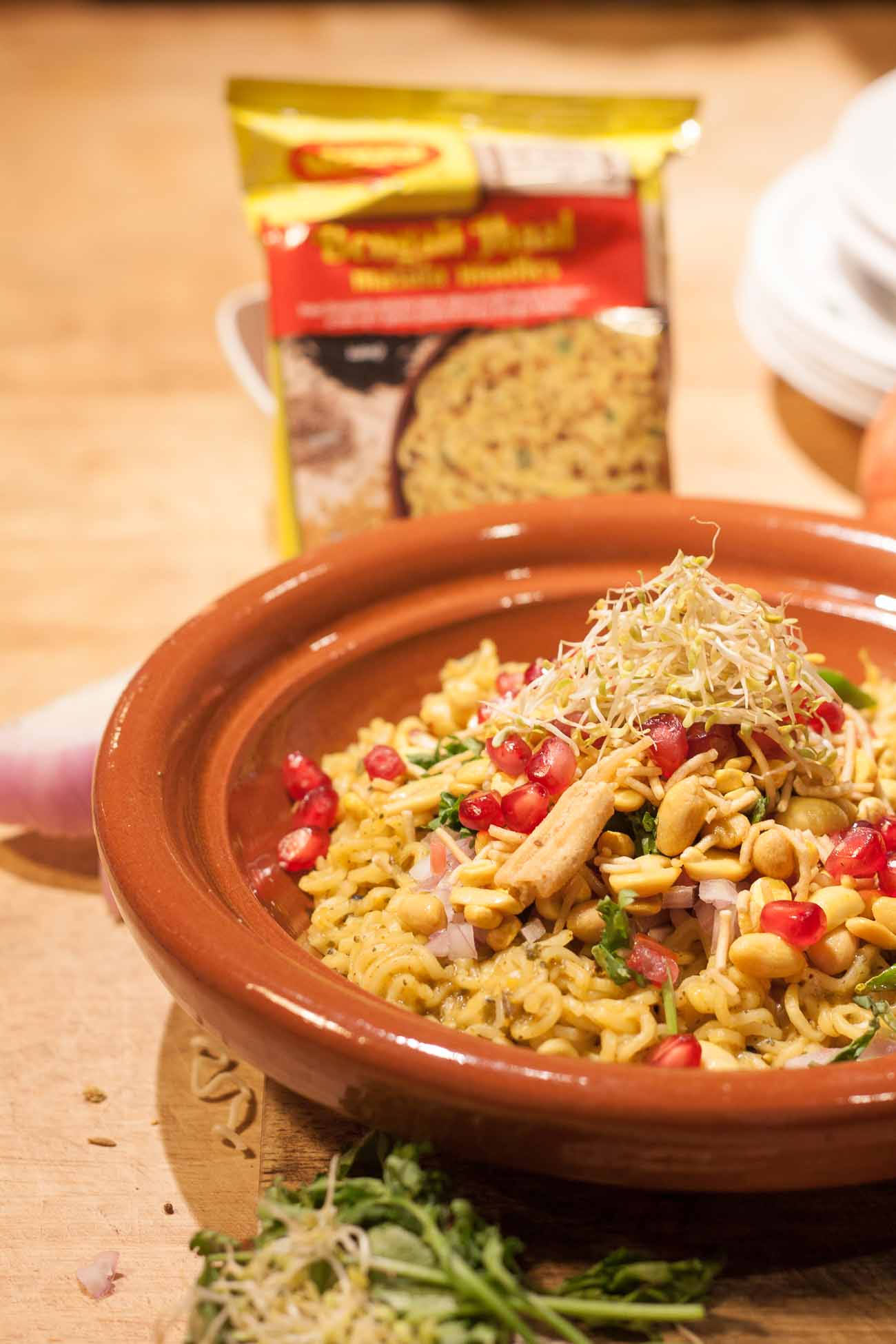 Here is what our team did for Moussaka with Mumbaiya Chatak Maggi Noodles.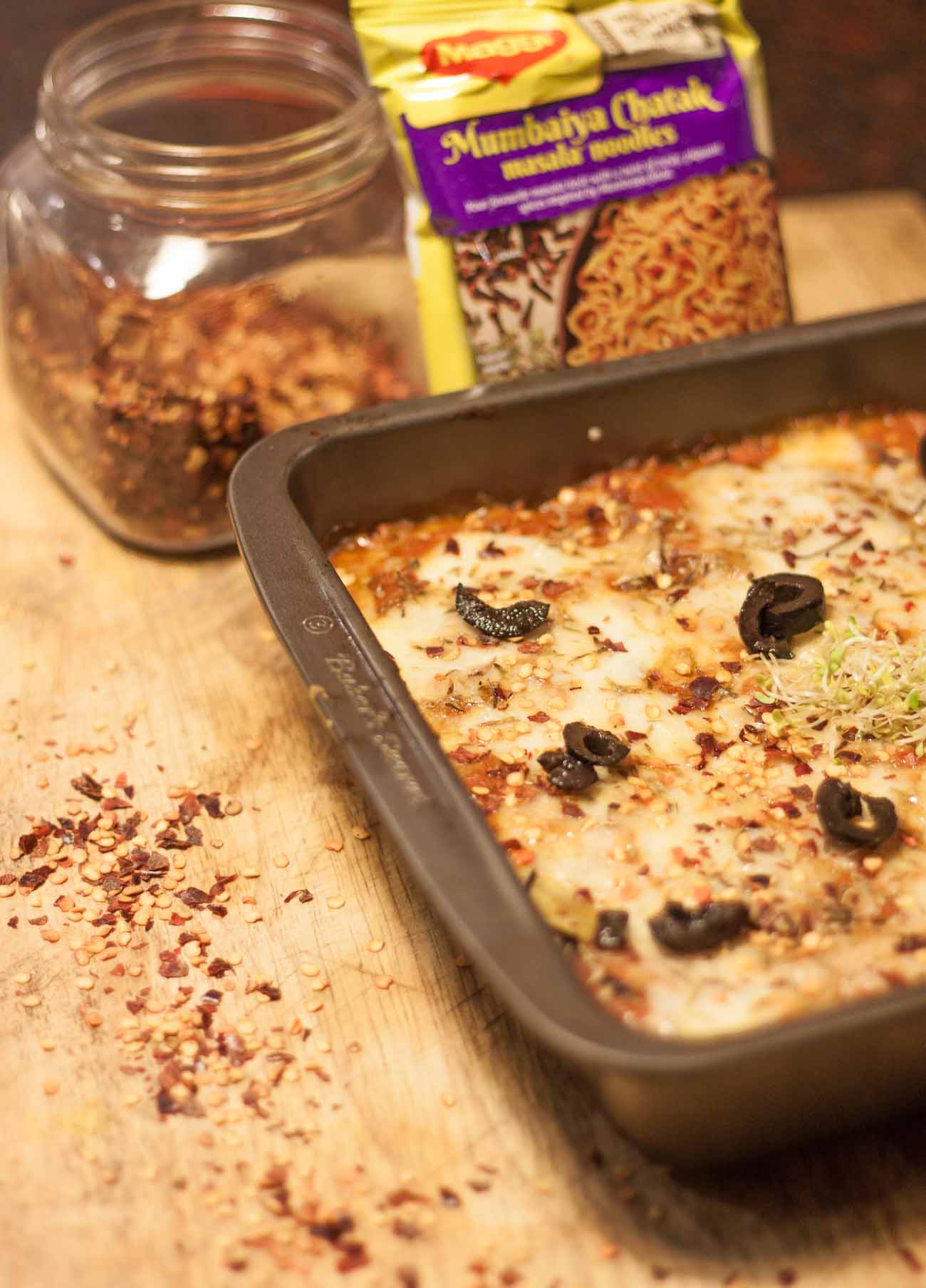 ---
Recipe for Moussaka with Mumbaiya Chatak Maggi Noodles.
Ingredients
1 packet of Mumbaiya Chatak Maggi Noodles
1 Eggplant (brinjal), cut into rounds, sprinkled with salt and kept aside
1/2 cup cheese, grated
*For the red sauce
1 red capsicum ( red bell peppers), finely chopped
4 tomatoes, blanched finely chopped
4 cloves garlic, chopped
1 teaspoon oregano
1/2 teaspoon red chilli powder
1 teaspoon sugar
salt and pepper to taste
*For the white sauce
1 cup milk
1/4 cup cheese spread (pepper flavor)
1 teaspoon corn flour
salt and pepper to taste
Method for cooking the Moussaka with Mumbaiya Chatak Noodles
To begin making the Moussaka with Mumbaiya Chatak Noodles, prep all the ingredients and keep ready.
For red sauce
Heat oil in a pan; add the garlic and red capsicum and saute until the capsisum has well softened. Add blanched the chopped tomatoes, salt, chilli, sugar, oregano, salt and pepper. Saute all ingredients until it comes together and have softened to a sauce like consistency. Turn off the heat.
For white sauce
In a sauce pan, combine to the milk, corn flour, cheese spread, salt and pepper. Cook until the sauce thickens. Ensure you keep stirring continuously to prevent lump formation. Once done, keep aside.
In another pan, cook the Mumbaiya Chatak Noodles as per package instructions and keep aside.
Finally cook the eggplant slices in a pan until it has softened and looks roasted.
The final step to make the Moussaka is to layer it in a pan. Begin with a layer of sauce, then the egg plant slices, then red sauce, cheese, cooked noodles, and repeat till you get the top layer as cheese.
Since all the ingredients are already cooked, all we needed to do was place it in the oven and melt the cheese and the dish was ready.