The Homemade Hard Taco Shells Recipe
The Homemade Hard Taco Shells Recipe is a basic method to make the hard shelled tacos at home. There are plenty of fillings you can add to these hard Taco shells and make a great weekend dinner.

Archana Doshi
On

Wednesday, 05 March 2014 18:43
The Homemade Hard Taco Shells recipe is super simple. Its not fried and baked making it healthy too. All you need is a few homemade corn tortillas and the Hard Taco Shells will be ready in just 7 minutes.
Serve the Hard Taco Shells along with Baked Beans, Salad, Refried Beans, Chilli Paneer, Chicken Tikka Filling & more.
You can use these Homemade Hard Taco Shells recipe to make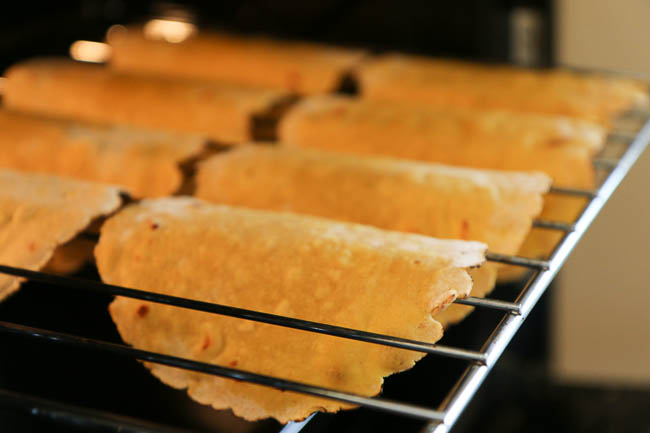 Ingredients
1 cup

Makki Ka Atta (Yellow Corn Meal Flour)

1/2 cup

All Purpose Flour (Maida)

1/4 cup

Oil

Salt

, to taste
How to make The Homemade Hard Taco Shells Recipe
To begin making the Homemade Taco Shells Recipe, we will first preheat oven to 180 C.

Place top rack of oven on middle level and line bottom rack with a drip tray or even foil.

Sieve the makki ka atta flour, maida and salt together in a deep bowl. Add oil and little warm water at a time and knead into a stiff dough.

Divide the Taco dough into 15 equal portions.

Roll out a portion into a 4 inch diameter circle by dusting in maida while rolling.

Once rolled, prick the taco dough with a fork. This will prevent it from puffing.

Next drape the corn taco on the baking grill rack. They will spread over two rows of the grill rack. Once you have arranged all the tacos in the grill rack like shown in the picture, place them in the oven.

Bake for 7 to 10 minutes until you see the taco are crispy and lightly browned.

Keep a watch on the taco as each oven acts differently. Mine turned over brown the first time I made. So monitor till you understand how the oven behaves with the taco.

Once done, remove the Hard Taco Shells from the oven and allow it to cool completely. The Taco Shells will continue to harden while it cools down.