Tirunelveli Style Mor Kuzhambu Recipe

Uma Raghuraman
On

Friday, 22 January 2016 00:08
Mor Kuzhambu is a mildly spiced yogurt based south indian curry. Tirunelveli Style Mor Kuzhambu Recipe is a variation to the regular Mor Kuzhambu. The spiciness of the red chillies and the sourness from the tamarind brings in a distinct flavour variation from the regular Mor Kuzhambu. You can try making Tirunelveli Style Mor Kuzhambu Recipe using local ingredients like Green Bell Peppers, Cayote Squash (Chow Chow), Carrots or Drumsticks. I have tried using variety of these local ingredients and it came out really well when cooked using ash gourd or yellow pumpkin.
Tirunelveli also known as Nellai widely known as the Halwa city is situated in the south of Tamilnadu. Nellai cuisine is regarded as one of the most aromatic cuisines in Tamilnadu. Tirunelveli Style Mor Kuzhambu Recipe is a speciality from this region. Enjoy it with Steamed Rice, Lemon Sevai, Kerala style Appam and some crunchy vadam..
You can also try other kuzhambu recipes like Kerala Style Puliserry Recipe (Mor Kuzhambu), Vendakkai Puli Kuzhambi (Kerala Bhindi Curry) by Saransh Goila, Chettinad Style Mulaikattiya Pasi Payaru Kuzhambu (Sprouted Green Gram Curry)
Did you Know: Ash Gourd is a highly nutritive vegetable packed with vitamin B and C along with minerals like calcium, potassium,iron and phosphorous. With its good fiber content Ash Gourd helps in keeping the stomach free of ulcer and intestinal parasites. It also aids in weight loss and helps in fighting against mental illnesses like anxiety, insomnia and neurosis and paranoia.
Ingredients
250 grams

Vellai Poosanikai (Ash gourd/White Pumpkin)

, peeled and cubed
2 cup

Curd (Dahi / Yogurt)

1 tablespoon

Tamarind Water

Salt

, to taste
For making the spice paste
2 teaspoon

Cooking oil

1 teaspoon

Black Urad Dal (Split)

3/4 teaspoon

Methi Seeds (Fenugreek Seeds)

5

Dry red chillies

Fresh coconut

, pieces (adjust quantity according to taste)
for seasoning
2 teaspoon

Cooking oil

1 teaspoon

Mustard seeds

8-10

Curry leaves
How to make Tirunelveli Style Mor Kuzhambu Recipe
To begin making Tirunelveli Style Mor Kuzhambu recipe, start preparing the spice paste first. For this place a frying pan on medium heat and heat 2 teaspoon of oil in it. Once the oil is hot, add all the ingredients under the ingredients for making the spice paste except the coconut. Stir fry them gently till the dal turns golden and chillies start releasing their pungent aroma. Turn of the heat and let the spices cool for about 5 minutes.

Once the spices are cooled, add the coconut and grind the spice and coconut mixture. The mixture should have smooth consistency. Add 1-2 tablespoon of water to get the smooth texture. Keep this spice paste aside.

At this stage, proceed to prepare the tempering. Place a pan on medium heat and add oil to it. Once the oil is hot add in the mustard seeds. Once the mustard seeds crackle, add in the curry leaves followed by the ash gouard and tamarind water. Give all the ingredients a good stir. Cover the pan and let the vegetables simmer for about 7-8 minutes stirring occasionally.

Meanwhile take 2 cup curd in a bowl and whisk it till it becomes smooth. Add in the spice paste and salt to taste. Mix well so that the spice paste is mixed with the curd homogeneously. Keep it aside.

After 7-8 minutes, check if the vegetables have softened. Use your stirring spoon to cut a piece and check if they have cooked through. At this stage add in the spiced curd and stir continuously for 2-3 minutes to avoid curdling. Turn off the heat. Your Tirunelveli Style Mor Kuzhambu is ready to serve.

Transfer the Tirunelveli Style Mor Kuzhambu in a serving bowl and garnish it with freshly chopped coriander. Serve hot with Steamed Rice or Lemon Sevai or Kerala style Appam along with some crunchy vadam.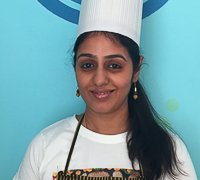 Masterchefmom aka Uma Raghuraman is passionate about cooking and loves to experiment with Indian and World cuisine. She shares her experiences step by step and amazing recipes through her blog, www.masterchefmom.blogspot.in. A self taught and compulsive baker she tries to bring in right balance of taste, nutrition and presentation to all her dishes. A mother to two teenagers and having been with children as a school teacher for over five years, she understands child psychology and the role played by food in influencing their eating habits.