Tomato Kurma Recipe - Thakkali Kurma For Biryani & Parotta
A South Indian Style Tomato Kurma Recipe with a coconut, tomato and onion gravy simmered with Indian spices and garnished with coriander leaves. Serve hot along with Kerala Parotta or any Biryani of your choice.
In association with Preethi Kitchen Appliances


Krithika Ramesh
On

Wednesday, 07 March 2018 09:00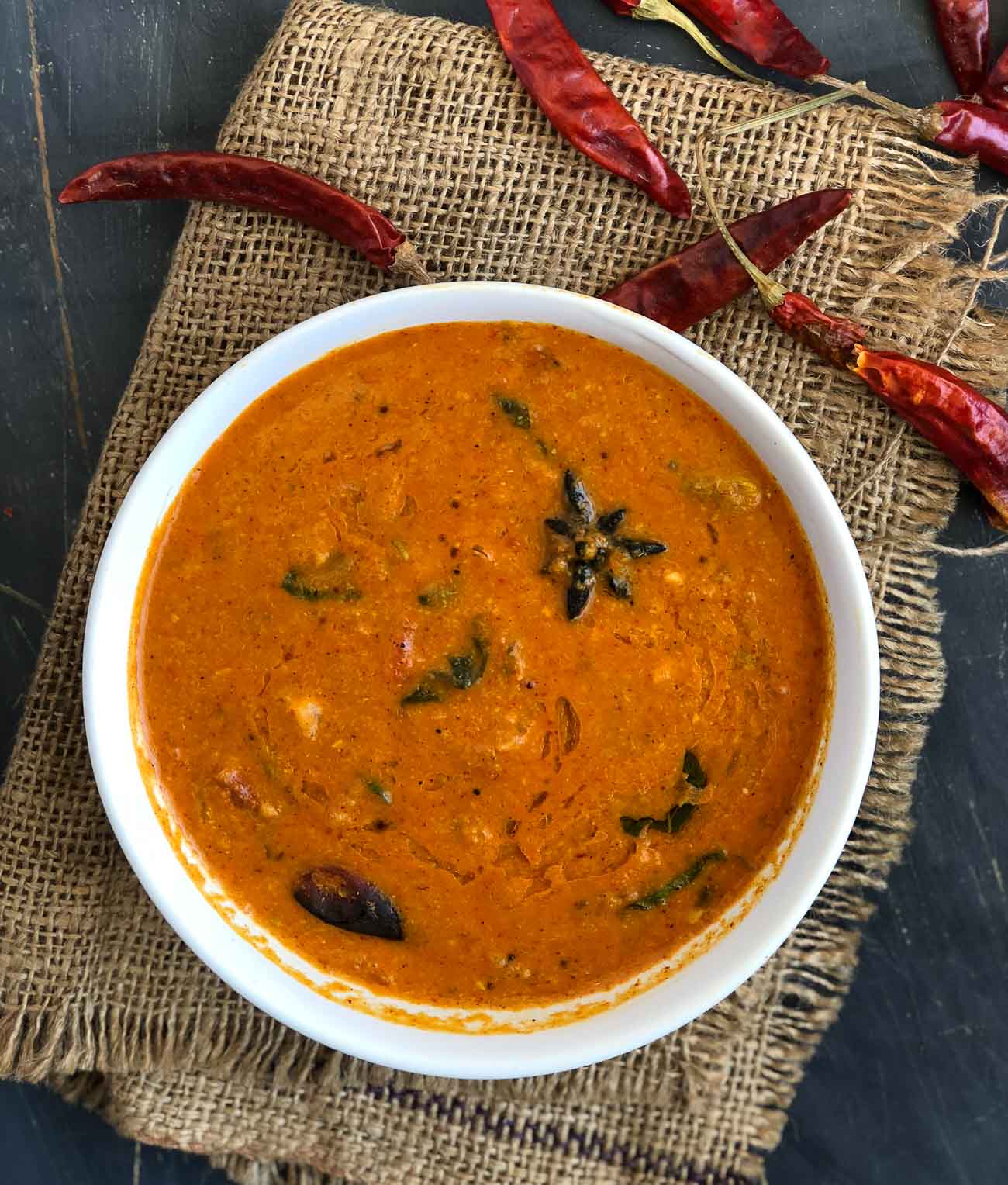 Tomato Kurma Recipe is a delicious gravy recipe that is prepared with ingredients that are found in every South Indian Kitchen. A ground masala of coconut, fried gram dal, green chillies and fennel are added to a flavourful tomato onion gravy and garnished with chopped coriander leaves.
This sort of gravy is really easy to make and be prepared in less than 30 minutes. While you are cooking this recipe up, you call roll out your parathas or prep for your biryanis/pulavs and get your whole meal done by 45 minutes.
Serve Tomato Kurma along with Vegetable Biryani and Tomato Onion Cucumber Raita. You can also serve Tomato Kurma along with Kerala style Parotta for a weeknight dinner.
If you like this recipe of Tomato Kurma, here are a few more Kurma Recipes for your South Indian Meals:
Ingredients
2

Onions

, finely chopped
4

Tomatoes

, finely chopped
1 inch

Cinnamon Stick (Dalchini)

1 teaspoon

Cumin seeds (Jeera)

2

Star anise

2 tablespoons

Sambar Powder

Salt

, as per your taste
2 teaspoons

Ghee

To grind
2 tablespoons

Roasted Gram Dal (Pottukadalai)

3 tablespoons

Fresh coconut

, grated
3

Green Chillies

1 tablespoon

Fennel seeds (Saunf)

1 tablespoon

Water
How to make Tomato Kurma Recipe - Thakkali Kurma For Biryani & Parotta
To begin making Tomato Kurma Recipe, we will first grind all the ingredients needs for the Kurma paste.

In a mixer combine, add roasted gram dal, fresh grated coconut, green chillies, fennel seeds and a tablespoon of water. Grind the ingredients until you get a smooth paste. Keep aside for later.

Next, place a heavy bottomed pan on medium heat and add 2 teaspoons of ghee. Once the ghee is warm, add cumin seeds and allow it to sizzle.

When the cumin seeds are sizzling, add the star anise, cinnamon and saute it for about 30 to 35 seconds.

Add the chopped onions and stir until they are caramelized. Next, add the chopped tomatoes along with sambar powder and saute until the tomatoes are soft and mushy.

Once the tomatoes are mushy, add the ground kurma paste, salt to taste and simmer the flame to low. Add 1/4 cup water, stir and close the lid of the pan. Let the tomato kurma simmer for 5 minutes.

After 5 minutes, open the lid of the pan, give it a good stir and turn off the flame. Garnish it with coriander leaves and it is ready to be served.

Serve Tomato Kurma Recipe along with Vegetable Biryani and Tomato Onion Cucumber Raita. You can also serve Tomato Kurma along with Kerala Style Parotta for a weeknight dinner.
Cooking for others and feeling happy when they enjoy that food is the great feeling ever right ?? I'm so excited to participate in a cooking contest "Indian curry and gravy" hosted by @archanaskitchen .Thank you Archana for coming up with a simple yet interesting contest.So what's in my kitchen for the contest - Thakali(Tomato) kuruma.I chose this because it's the simplest gravy ever and will go as an accomplishment with anything and everything.Be it Idli,Dosai,Idiappam,Appam,Roti,pulav,Curdrice,Plain rice,Fried rice anything with this Kuruma will taste great.Even though we all want to make different fancy dishes by looking at recipes online,these simple recipes will help on the lazy or busy days.Best thing about this recipe is even beginners,bachelor's any one can make easily.So here is the recipe. Onion -2,Tomatoes-4,cinnamon,Jeera,Staranise- few,Oil and ghee - little,Sambar powder - 2 tbs,Salt to taste To bring- Handful of coconut,Fried dal(Pottukadalai) - Handful,Chillies-3,Fennel seeds-1 tbsp.(Grind everything to a fine paste adding little water to it) In a pan add little oil and ghee,once it is hot add cinnamon,jeera,Staranise then add onions fry till it's brown,now add tomatoes fry it well and now add salt and sambarpowder.Let it cool for 10 mts.Now add the paste to the onion tomatoes and add required water.Let it boil for fews mts.Once you get the kuruma consistency transfer it to a serving bowl and garnish with a tsp of ghee and coriander leaves. Serve hot and trust me this will be a mandatory dish every week at your house :) :) And don't forget to add your love when you cook anything,that's the secret ingredient to make any dish tastier :) - Happy cooking!!