Tomato Uttapam Recipe
A delicious and wholesome breakfast recipe of uttapam topped with chopped tomatoes

Jyothi Rajesh
On

Friday, 13 November 2015 09:13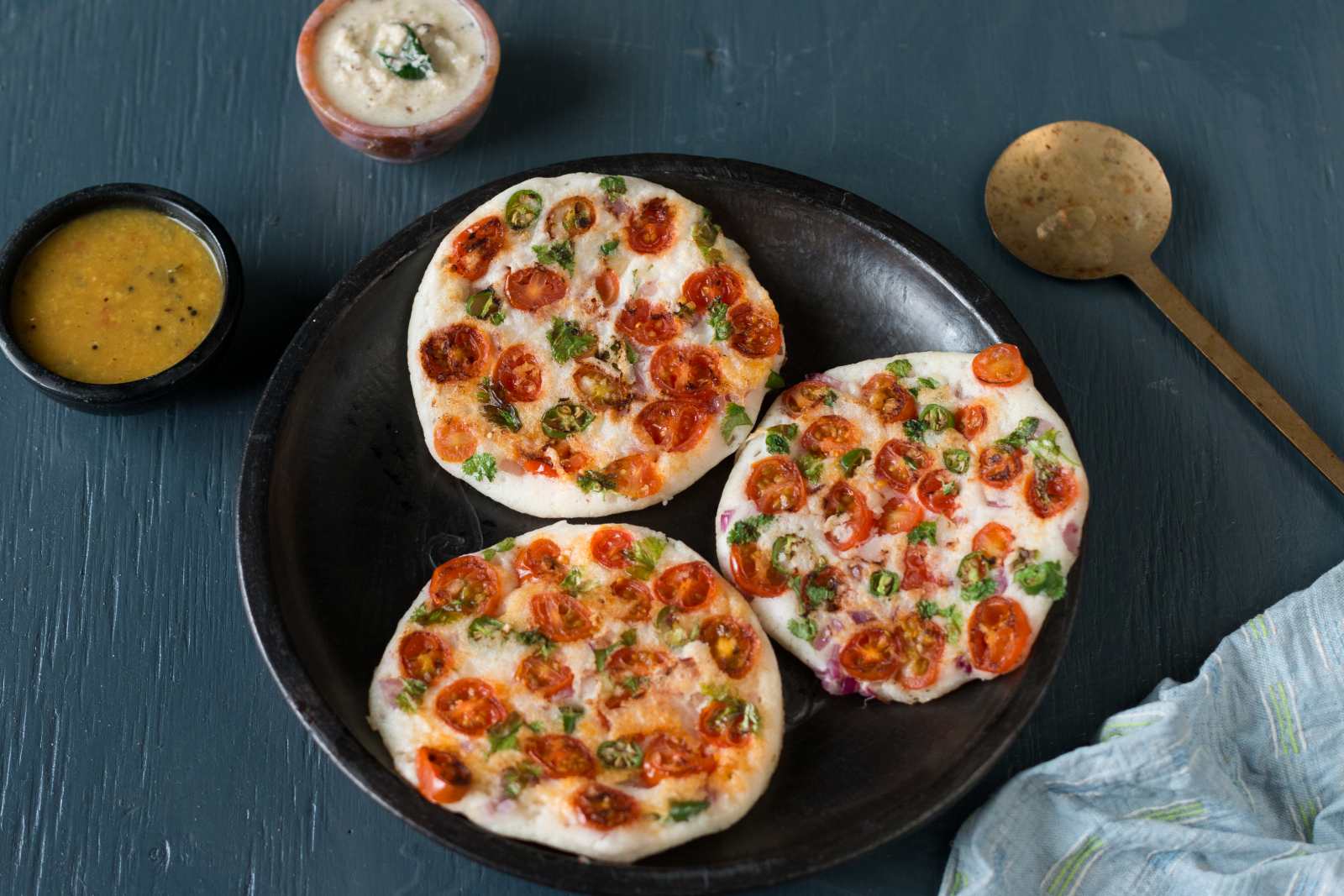 Tomato Uttapam Recipe is yet another classic South Indian Breakfast item. Similar to dosas, but made thicker, giving them a soft and fluffy texture, Dosa Batter may be used to make uttapam and a choice of toppings can vary from onions to tomatoes or even paneer and cheese. Grated coconut, shredded carrots, minced vegetables are also popularly used. The toppings are usually added to the uttapam as it cooks on the griddle, so they cook along with the batter. Uttapam is also a common street food and healthy too since it is rich in carbohydrates, and contains no sugar or saturated fats. Use less oil while preparing and load up on the vegetables to keep them healthier.
Serve the Tomato Uttapam Recipe along with Mixed Vegetable Sambar with Coconut Chutney or Red Chilli Chutney.
Other recipes that you can try are:
Course:
South Indian Breakfast
Ingredients
Ingredients for the batter (OR refer to this recipe for homemade Dosa Batter)
1 cup

Idli Rice

1/2 cup

Rice

1/2 cup

White Urad Dal (Split)

1/2 teaspoon

Methi Seeds (Fenugreek Seeds)

Salt

, to taste

Water

, as required
For tomato uttapam
1/2 cup

Onions

, chopped
1/2 cup

Tomatoes

, chopped or sliced cherry tomatoes
1 to 2 tablespoon

Green Chillies

, chopped
2 tablespoon

Coriander (Dhania) Leaves

, chopped

Oil

, or ghee to cook uttapam
How to make Tomato Uttapam Recipe
To begin making Tomato Uttapam first you have to prepare the batter for the uttapam. To do this, first soak raw rice and idli rice together, by combining the two and covering them with water in a deep dish, for 6-7 hours. Similarly, soak urad dal and methi seeds in another dish.

After 6-7 hours, rinse the rice mixture and urad dal mixture 2 to 3 times free of the soaking water.

Then, using a mixer-grinder and using very little water, grind the urad dal with methi to a fine and fluffy batter. Remove and keep aside.

Next, grind the rice mixture into a smooth batter. Mix both the batters together and mix well.

Pour the batter into a large vessel, cover and set the batter aside to ferment for at least 8 to 10 hours. Ensure that the vessel has enough space to allow for the rise of the batter as it ferments. This fermentation process can be done overnight.

When the batter is ready, add salt, and mix well till you have a runny batter.

Chop all the ingredients under "For Tomato Uttapam" and mix well in a bowl. Set aside till later use.

Pre-heat a griddle or non stick tawa on a medium heat. Take 1 ladle of uttapam batter and pour it on the griddle. Slightly spread it around in concentric circles like you would make a dosa, but ensure that you're making a thick pancake.

Next, sprinkle the mixture of toppings all over the surface of the uttapam. Drizzle a little oil or ghee to allow it to cook well. Cover the uttapam with a lid and cook on medium heat for 2 to 3 minutes or until the base is cooked.

Flip the uttapam when the base is cooked to cook the reverse side as well. Then remove from griddle and serve immediately

Serve the Tomato Uttapam Recipe along with Mixed Vegetable Sambar with Coconut Chutney or Red Chilli Chutney.