Torcettini Di Saint Vincent (The Twisted Cookie Recipe)

Rekha Vengalil
On

Tuesday, 18 June 2013 14:15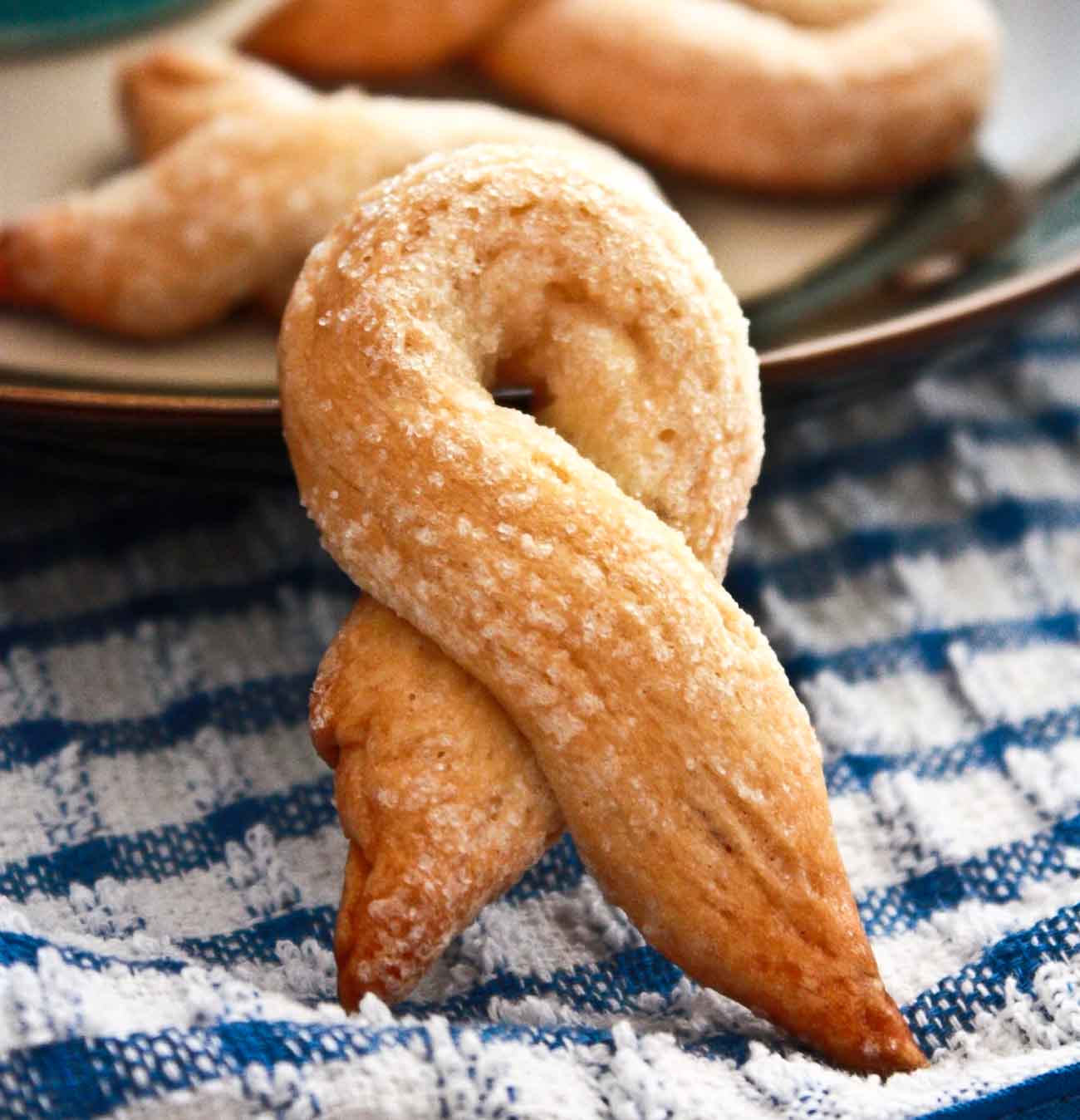 Torcettini Di Saint Vincent - The Twisted Cookies are yeasted cookies are from Val d'Aosta, north western part of Italy. They are somewhere between a bread and cookie. They are caramelized on the outside and crunchy. Just perfect along with an earl grey tea.
Serve Torcettini Di Saint Vincent along with hot Masala Chai for your tea time break.
If you like this recipe, you can also try other Cookie recipes such as
Ingredients
1/2 cup

Water

, warm
1-1/4 teaspoon

Active dry yeast

, active
1-1/12 cups

All Purpose Flour (Maida)

1/4 teaspoon

Salt

35 grams

Butter (Unsalted)

, cold and cut into cubes  
1/3 cup

Sugar

, for rolling the cookies
How to make Torcettini Di Saint Vincent (The Twisted Cookie Recipe)
In bowl combine the yeast and water. Mix well and set aside.

In mixing bowl, add the flour and salt and mix well. Add in the butter and with clean hands combine the butter and flour. Once done the flour should look like fine crumbs. To this add the yeast mixture and gently mix till everything comes together and form a ball. Please make sure not to over knead. You could use a processor to do this for you.

Oil a bowl, put the dough into the bowl and turn the dough so its greased well on the top and bottom. Cover the bowl with a cling wrap and let it rest for an hour or until in has risen well.

Once the dough has raisin , press it down to deflate. cover and refrigerate for at least 1 hour or to a maximum of 24 hours.

To form the cookies, place the dough on the work surface. roll to a square shape about 6 inch thick. Using a pizza cutter, cut the dough into equal squares. Take each square and roll into a pencil think and 5'inch long using your palm. Spread the sugar on a plate and roll the dough to coat well.

Form a loop of the rolled dough by crossing over the edges. Place them on a baking tray lined with parchment paper with 1 1/2 inches space between each cookie. Let it sit for 20 minutes until they slightly puff up. Bake them in pre-heated 160 C over for 20-25 mins or until they are light and the sugar has caramelized to a light golden crust.

Cool the cookies on wire rack before you store them in air tight containers.

Serve Torcettini Di Saint Vincent along with hot Masala Chai for your tea time break.