Uparghi Laadu Recipe - Whole Wheat Flour & Banana Squares
Uparghi Laadu is a traditional Gujarati mithai, that is flat diamond in shape, unlike a ladoo like the name suggests. MAde with jaggery and ghee, this mithai will simply leave you asking for more.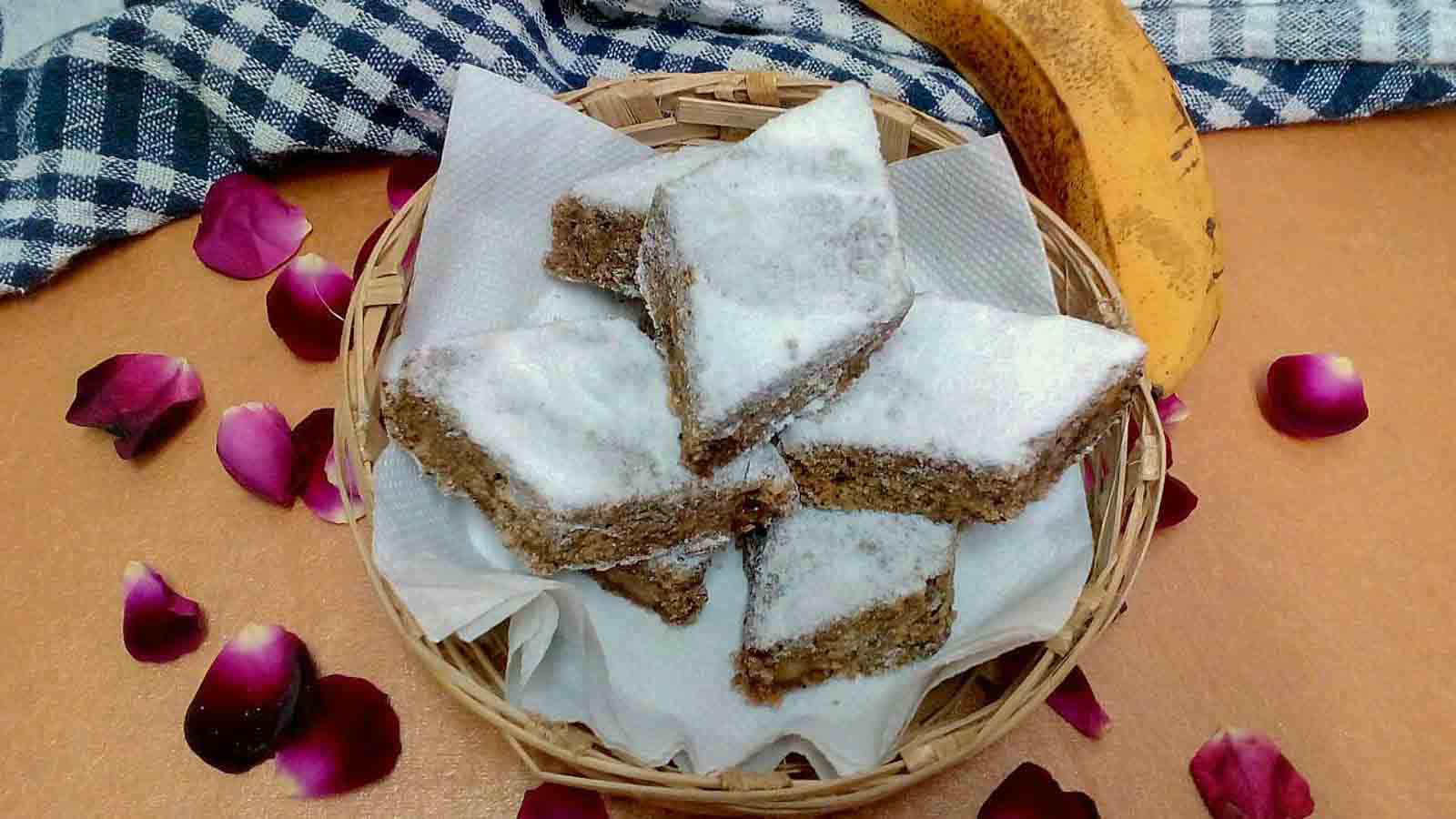 Uparghi Laadu Recipe is a recipe of a ladoo, however not spherical in shape. This is a traditional recipe from Gujarat and is made during winters, especially at the time of Uttarayan festival. It is called ladoo but it is square shaped.
Uparghi is a Gujarati name which means coated with ghee on top, where upar stands for top and ghi stands for ghee/clarified butter. Instead of making muthias and frying them, thick bhakhris are made from dough and cooked on a tava.
Serve Uparghi Laadu Recipe during festivals.
If you like this recipe, try our other popular sweet recipes like
Ingredients
How to make Uparghi Laadu Recipe - Whole Wheat Flour & Banana Squares
To prepare Uparghi Laadu Recipe, combine the whole wheat flour, oil and ghee in a deep bowl and knead into a stiff dough adding water gradually. Dough should be firm, hard and stiff. It should not be soft and sticky.

Divide the dough into 4 equal portions and make balls out of it.

Dust a little flour and roll out the dough into a circle of medium thickness like that of a bhakhri. Prick with the help of a fork or make small cuts with a knife.

Traditionally bhakris for this ladoo are cooked on an earthen tawa. But if we don't have one, we can make them on a non stick tava/griddle.

Heat a tawa and place the bhakri. Cook on a low to medium flame from both sides till golden brown spots appear on it. While cooking, press it with the help of a flat spoon or spatula. Make all the 4 bhakris like this.

Let them cool down. Once it cools down, make small pieces with hands and put them into a mixer jar and grind. Once it is coarsely crushed, add jaggery and grind again to make a smooth mixture.

Take out the mixture in a wide bowl and add chopped bananas to it. Mix well. Heat ghee in a small pan. Now add melted ghee and mix everything well by hand. Be sure jaggery and ghee are blended well with the mixture.

In a greased plate, spread the mixture evenly.

Sprinkle powdered sugar on it.Cut into square or diamond shaped pieces with a knife.

Uparghi Laadu Recipe can be stored for 1-2 days at room temperature and 2-3 in refrigerator.