Vegetable Paella Recipe (Spanish Style Vegetable Rice)

Madhuli Ajay
On

Friday, 04 December 2015 00:48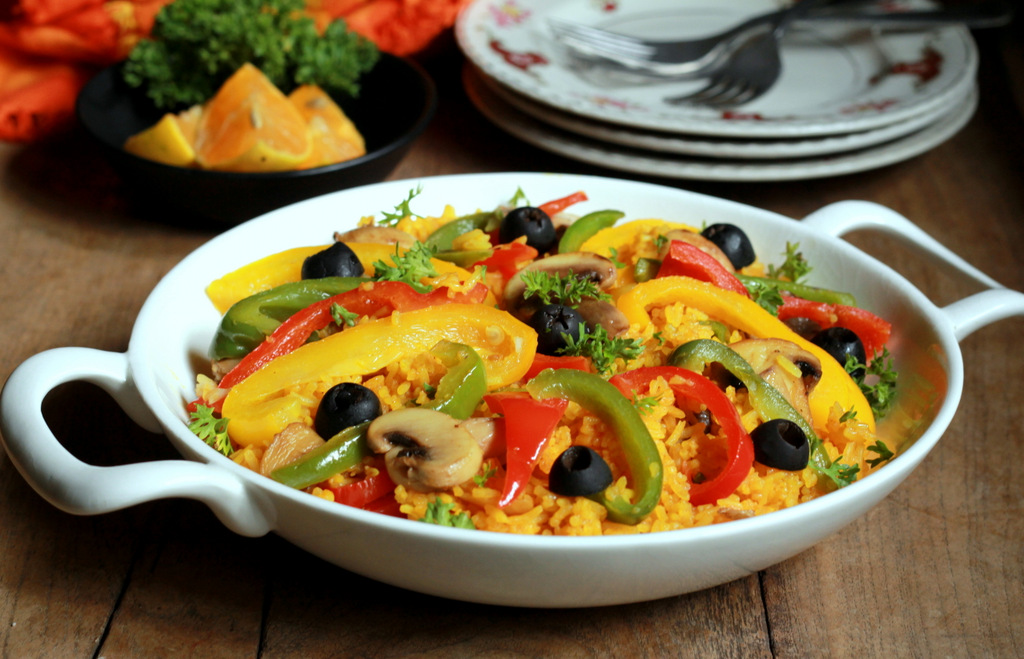 Vegetable Paella Recipe is the vegetarian take on the typical Spanish style rice dish usually made with a variety of seafood and meat. Traditionally, it is cooked and served in a special shallow Paella pan called Paellera. This vegetarian version uses an assortment of healthy and colourful vegetables instead of meat, to make a heart One-Dish Meal. It is also a great way to use up leftover vegetables lurking in your fridge, that you don't know what to do with. It not only looks appetising and vibrant, but also makes for a hearty meal by itself. If you do not have the Paellera, you can use any wide, flat bottom pan to make it, but choose a suitable pan size that is wide enough, so the rice cooks in a relatively thin layer instead of a pile. Don't worry if you get a crisp layer of rice that sticks to the bottom of the pan as this is a sign of a good Paella!
You can use any short/medium grain rice so that it absorbs all the flavours well, but refrain from using basmati rice. Saffron is added for a subtle flavour and colour, while the smoked Paprika adds a distinctive 'smoky' flavour to the Paella.
Serve the Vegetarian Paella hot along with Watermelon Panzanella Salad.
Try some of our other World Food dishes like:
Ingredients
1 cup

Rice

, short/medium grain
1

Onion

, chopped
3 cloves

Garlic

, crushed or finely chopped
1

Red Bell pepper (Capsicum)

, sliced lengthwise
1

Green Bell Pepper (Capsicum)

, sliced lengthwise
1

Yellow Bell Pepper (Capsicum)

, sliced lengthwise
1/2 cup

Button mushrooms

, sliced (you can alternatively use a combination of vegetables like beans, peas, eggplants, zucchini - all chopped up)
1 tablespoon

Extra Virgin Olive Oil

1/4 teaspoon

Turmeric powder (Haldi)

1/2 cup

Homemade tomato puree

2 1/2 cups

Vegetable stock

1 pinch

Saffron strands

1 teaspoon

Paprika powder

1/2 teaspoon

Whole Black Peppercorns

, crushed

Salt

, to taste
5-6

Black olives

, pitted, cut in half for garnish

Parsley leaves

, chopped for garnish

Lemon wedges

, to serve
How to make Vegetable Paella Recipe (Spanish Style Vegetable Rice)
To begin making the Vegetarian Paella Recipe, first crush the saffron with a pinch of salt in a small mortar pestle and keep it aside for later use.

Next, proceed to make the sauce. First, heat oil in the pan, till warm. Then add onion and the garlic to it, and sauté for 1-2 minutes till the onions just turn pink.

Once the onions are pink/translucent, add the mushrooms and bell peppers to the pan and sauté them for 1-2 minutes more. Cook till they are slightly softened. Next, reserve some of these sauteed mushrooms and bell pepper slices to be used later as a garnish.

Continue to cook the remainder of the veggies in the pan. Next, add the turmeric, smoked paprika and the tomato puree to it and simmer for a few minutes.

Next, add the stock, salt and the saffron and stir well. Continue to simmer it until a few bubbles appear.

The next step is to add the rice to it, stir well and cover the pan. Cook the rice till it is just cooked/al dente (about 12-15 minutes) and the water has been absorbed, leaving fluffy grains of rice. If the rice dries up without getting fully cooked, you can adjust by adding stock as required to cook the rice till it is soft and fluffy, but not mushy.

When the rice is cooked, turn off the heat. You can either serve the Paella in the same pot that you cooked it, or transfer ir into a serving dish or rice platter.

Garnish the paella with sliced mushrooms and peppers along with the olives. Sprinkle with chopped parsley and arrange lime wedge.

Serve the Vegetarian Paella hot along with Watermelon Panzanella Salad.