Vegetarian Pot Pie Recipe

Madhuli Ajay
On

Saturday, 05 December 2015 00:39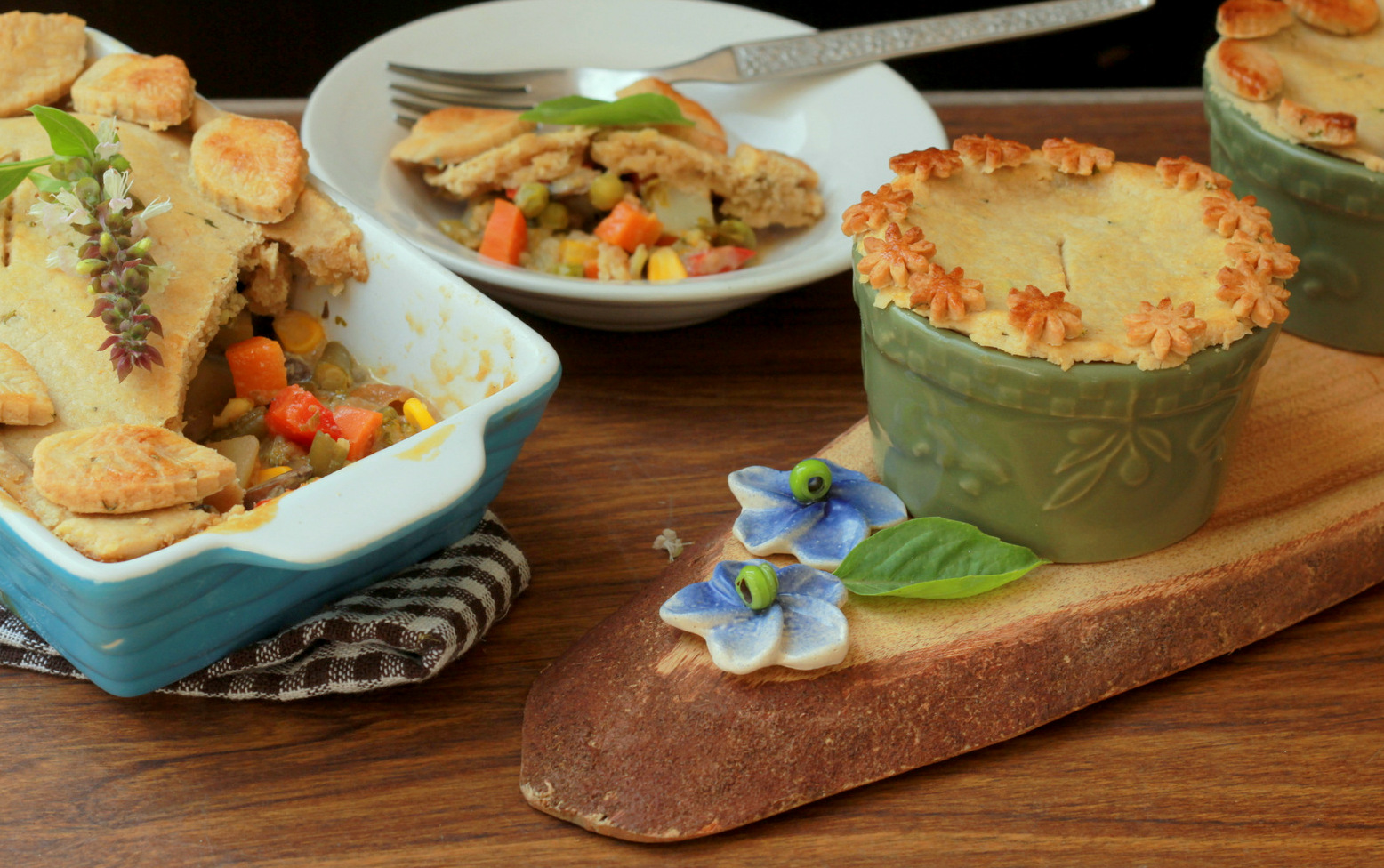 Vegetarian Pot Pie Recipe is a hearty dish that brings the best things together - a flavorful medley of vegetables, topped with a flaky crust best eaten when families gather around a dinner table. This Vegetarian Pot Pie Recipe is best cozy weeknights with the family, as much as it is for sharing with guests at a dinner party. Use whatever seasonal fresh vegetables you have on hand, or make this when you want to finish up leftover bits and bobs from your fridge. You can even add in flavorful leftover curries or vegetables for a wholesome dish and a versatile way to finish up leftovers too. The flaky whole wheat crust uses a considerable amount of butter, but it is a rare indulgence and well worth the calories!
You can serve these pot pies as mini individual portions or bake them in a large pot for a crowd.
Serve the Vegetarian Pot Pie hot along with Garlic Bread for a dinner party.
Other recipes that you can try are:
Ingredients
For the flaky crust
1 1/2 cups

Whole Wheat Flour

1/2 cup

All Purpose Flour (Maida)

100 grams

Butter

, cold, cut into small pieces
1/2 teaspoon

Salt

3 tablespoons

Chilled water

1 teaspoon

Fresh Thyme leaves

, crushed
1 teaspoon

Parsley leaves

, chopped
For the filling
2

Carrots (Gajjar)

, diced
10

Green beans (French Beans)

, ends removed and cut into 1" pieces
1/4 cup

Green peas (Matar)

1/4 cup

Corn Kernels

7

Button mushrooms

, sliced
1

Onion

, chopped
3 cloves

Garlic

, crushed
1/2 cup

Broccoli

, or cauliflower florets
1

Red Bell pepper (Capsicum)

, chopped
1

Yellow Bell Pepper (Capsicum)

, chopped
1

Potato (Aloo)

, diced (or sweet potato)
3 tablespoon

Whole Wheat Flour

1 1/2 cups

Vegetable stock

2

Bay leaves (tej patta)

3 tablespoon

Worcestershire sauce

, (optional)
1 tablespoon

Hot Sauce (Tabasco Original)

, 3/4 teaspoon red chilli powder
1/2 cup

Fresh cream

, (or milk)
2 teaspoon

Butter

2 teaspoon

Cooking oil

3 sprig

Fresh Thyme leaves

, chopped
3 sprig

Parsley leaves

, chopped

Salt

, to taste

Whole Egg

, whisked, or milk to brush the crust
How to make Vegetarian Pot Pie Recipe
To begin making the Vegetarian Pot Pies, first make the crust. To do this, mix the flours, herbs and salt under "For the flaky crust" into a mixing bowl. Using your finger tips, rub the butter into the flour so it breaks down and the flour resembles resembles bread crumbs.

Next, add ice cold water, 1 tablespoon at a time, and bring the dough together, gradually till the mixture comes together to form a ball.

Do not knead the dough, it should just come together and hold shape. Flatten the dough into a small disc, wrap it in plastic wrap and refrigerate for 30 minutes.

Meanwhile, proceed to make the filling. To do this, place a wok on the heat. Melt the butter in the wok along with a dash of oil.

Add the onions and garlic to the wok and sauté for 1-2 minutes, till the onions turn soft and translucent.

Next, add the bay leaves, carrots, green beans, green peas and potatoes. Sprinkle some salt and cook for a 3-4 minutes, stirring once or twice in between. Add the other vegetables next and mix together.

Then, sprinkle the whole wheat flour on the vegetables and stir in the vegetable stock and the cream. Mix well so it turns glossy.

Add the Worcestershire sauce (if using) and the hot sauce (or the red chilli powder). At this stage you can check the salt and spice levels and adjust according to your taste.

Cook the mix together for a few more minutes. Then take it off the heat and add the herbs.

To assemble the Vegetarian Pot Pies first of all, pre-heat the oven to 190 degrees celsius.

If you are cooking a large batch for a large crowd, use a 8" baking dish or a pie plate. If you are making individual servings, use small ramekins. Fill the choice of your bakeware with the vegetable filling, right to the top.

Then, take the dough out of the dough and place it on a well-floured work surface. Gently, but swiftly roll it out to a large piece of about 1/4" thickness.

If using a large baking dish, carefully drape it over the dish to cover the filling. Allow it to hang over the sides. Trip off the excess dough, leaving a margin overhanging, which you can pinch/crimp to make a pretty edge.

If you are using individual ramekins, cut the large piece of dough into smaller pieces and drape them over the ramekins and seal, the same way.

Using a sharp knife, make small slits on the top of the crust, to allow the steam to escape when it will bake.

Brush the tops of the Pot Pie with whisked egg or milk and place the baking dish or ramekins on a baking sheet/tray (since the liquid may bubble from the edges and spill) and into the oven to bake for 35-40 minutes.

Bake until the crust is golden brown. Remove the pot pies from the oven.

Serve the Vegetarian Pot Pie hot along with Garlic Bread for a dinner party.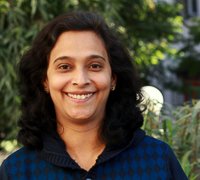 Giving up a lucrative career tinkering with Analytical equipments, Madhuli Ajay chose to tinker in her Food lab- developing new recipes & satisfying her culinary travel cravings. She has been sharing heirloom recipes on her blog 'My Foodcourt' for the past 9 yrs. Madhuli bakes to feed her soul. Testing recipes & photographing food for a cookbook, has fuelled her food photography passion. Based in the gorgeous 'Wine Capital' of India Nashik, Madhuli also loves spending time in her little kitchen garden.