Vegetarian Shepherd's Pie Recipe
Pie with medley of vegetables baked in tomato sauce and layered with mashed potato

Hina Gujral
On

Sunday, 21 December 2014 05:30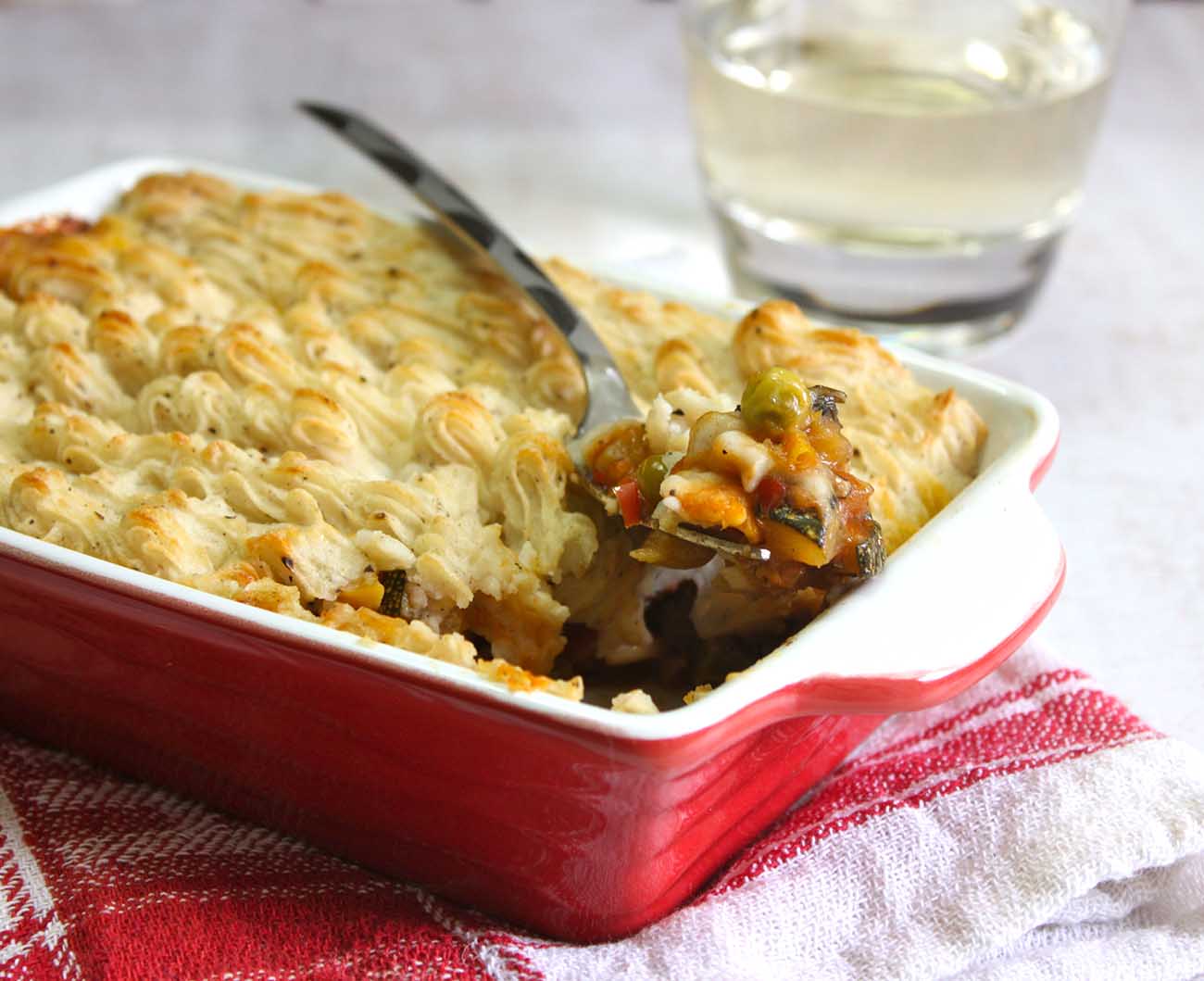 Vegetarian Shepherd's Pie is a medley of vegetables baked in tomato sauce and layered with smooth and creamy mashed potato. This rustic pie filled with colorful vegetables makes a perfect dish for the Holiday Parties. Shepherd's Pie is one pot dish in itself or you could serve it along with toasted Garlic Bread.
Serve Vegetarian Shepherd's Pie Recipe as a one pot dish for dinner along with Pumpkin Creme Brulee Recipe and a cocktail likePomegranate Mint Cocktail Recipe.
If you like this recipe, try more recipes like
I have not used Cheese in the recipe to keep the fat and calorie level low but if you prefer 1/4 Cup of grated cheese can be added over the layer of mashed potato just before baking to get nice golden crust.
Ingredients
Ingredients for the pie filling
1

Onion

, finely chopped
4 cloves

Garlic

, finely chopped
2

Carrots (Gajjar)

, peeled and diced
1

Green zucchini

, diced into fine cubes
1

Red Bell pepper (Capsicum)

, finely chopped
1

Yellow Bell Pepper (Capsicum)

, finely chopped
6

Button mushrooms

, diced
2 tablespoon

Extra Virgin Olive Oil

1 cup

Homemade tomato puree

1 tablespoon

White wine vinegar

1 cup

Vegetable stock

Salt and Pepper

, as per taste
1 teaspoon

Fresh Thyme leaves

, finely chopped
Ingredients for the topping
30 grams

Butter (Salted)

4

Potatoes (Aloo)

, boiled and peeled
1 cup

Milk

, hot

Salt and Pepper

, as per taste
How to make Vegetarian Shepherd's Pie Recipe
To prepare the Shepherd's Pie filling; first clean, wash and chop all the vegetables as mentioned above. Arrange in separate bowls near to the cooking stove.

To begin, heat oil in a heavy bottom saucepan over medium heat, add chopped onion and garlic. Saute for a couple of minutes until onions turn translucent and are softened.

Next add chopped carrots, bell peppers, zucchini and thyme. Saute for 3 - 4 minutes, vegetables are lightly softened and are shining with the moisture and oil.

Add in chopped mushroom and saute for another minute. Stir in the white wine vinegar or the red wine vinegar along with the tomato puree. You will notice the pie filling begins to release liquids and will look lightly saucy. Keep stirring until the vegetables get well coated with the tomatoes.

Season the pie filling with salt and pepper as per taste and stir in the hot vegetable stock. Stir the Shepherd's Pie mixture and allow it to simmer for about 10 - 15 minutes until vegetables are al dente and much of the liquid is evaporated, but yet the filling looks saucy.

While the Shepherd's Pie Filling is simmering, we will go ahead and prepare the potato topping.

To prepare the mashed potato filling; place the boiled soft potatoes in a large bowl, add the salt, pepper and butter. Adding little milk at a time, use a fork and mash the potatoes until light and fluffy. Add the entire milk slowly until you get a smooth, non-lumpy consistency of the potatoes.

Our final step is to assemble the pie - Preheat oven at 190 C.

In an oven proof, rectangular baking dish spread the vegetable filling evenly to the bottom of the pan. Spoon the mashed potato over the vegetable filling. You will have to drop dollops of it evenly and use the back of the spoon to spread it very gently. You can also use a piping bag to pipe the potatoes over the vegetables (like I have done)

Bake in the preheated oven for 15 to 20 minutes or until potato layer turns light brown in color. Remove the pie from the oven and serve hot.

You can assemble the Vegetarian Shepherd's Pie much ahead and bake it in the oven when you are ready to serve. This makes a great weeknight dinner or even as a main course for the Holiday Parties.

Serve Vegetarian Shepherd's Pie Recipe as a one pot dish for dinner along with Pumpkin Creme Brulee Recipe and a cocktail like Pomegranate Mint Cocktail Recipe.