Vegetarian Thukpa Recipe
Vegetarian Thukpa is a popular spicy noodle soup across India. This easy to make one pot meal is a great weekend lunch or dinner option.

Archana's Kitchen
On

Wednesday, 16 September 2015 18:57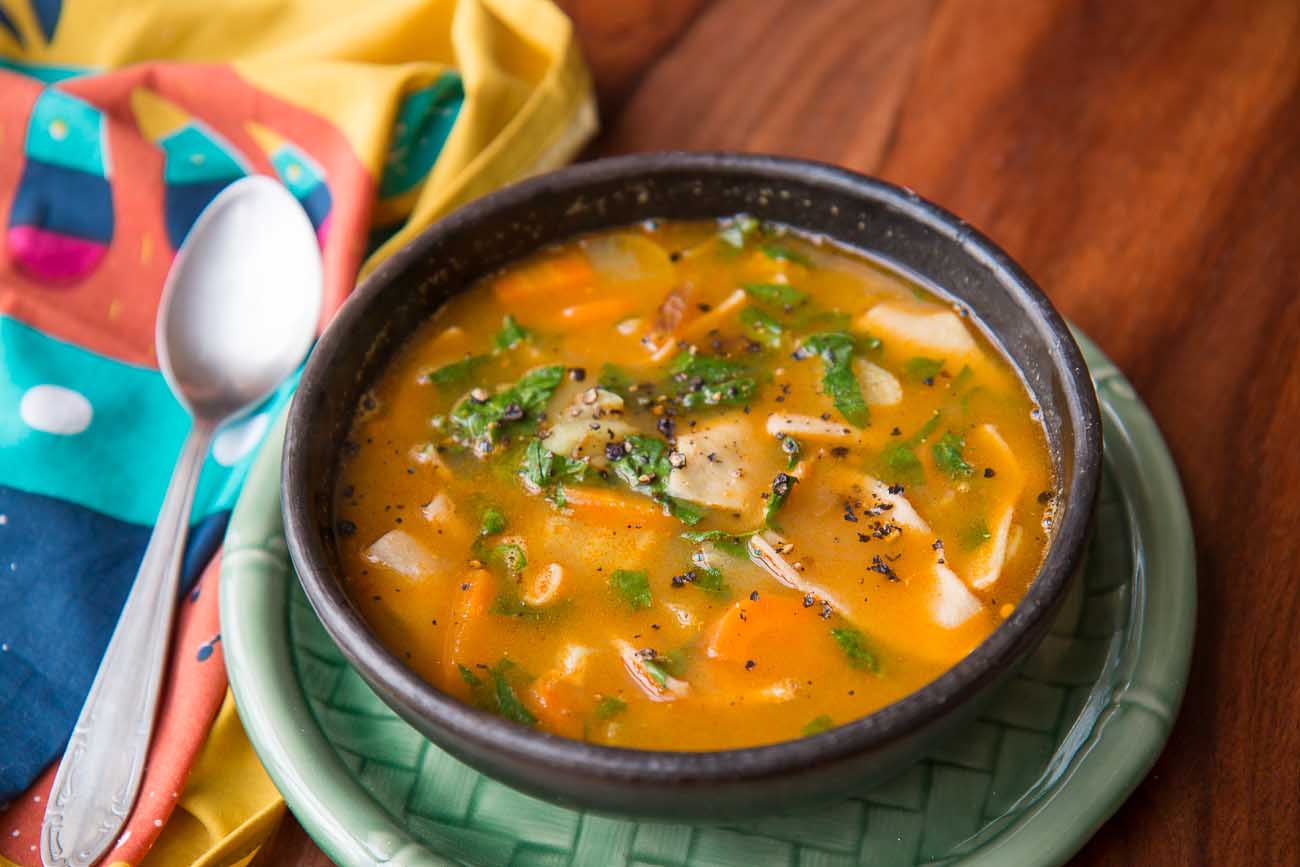 The Vegetarian Thukpa is a classic soup like dish from North Eastern Cuisine and also very popular in Leh Ladakh. This is a special edition recipe, that is adapted from celebrity Chef Saransh Goila best selling book. Watch the video of me in action along with Chef Saransh where we cook the Thukpa from his bestselling book "India On My Platter".
Some classic vegetables which are added to the thukpa are radish, tomatoes, spring onions and spinach leaves. You can add other vegetables of your choice as well. Garlic added to the Thukpa also adds more flavour to the the broth. It is a great recipe to have when your feeling sick or want something to warm you up on a cold day.
Serve the Vegetarian Thukpa Recipe hot along with Vegetarian Momo Recipe-Steamed Dumplings/A Street Food from the No for a relaxing Sunday Meal.
If you are looking for Similar Recipes here are some:
Ingredients
1 teaspoon

Mustard oil

2

Spring Onion (Bulb & Greens)

, finely chopped (or regular onions)
4 cloves

Garlic

, finely chopped or crushed
2

Tomatoes

, finely chopped
1 teaspoon

Cumin powder (Jeera)

1/2 teaspoon

Garam masala powder

1 teaspoon

Whole Black Peppercorns

, freshly pounded
1 cup

Spinach Leaves (Palak)

, roughly chopped
2

Mooli/ Mullangi (Radish)

, chopped
2 sprig

Coriander (Dhania) Leaves

, chopped
1

Lemon juice

Ingredients for hand rolled noodles (Paape)
2 cups

Whole Wheat Flour

1

Whole Eggs

, optional

Salt

, to taste 
How to make Vegetarian Thukpa Recipe
To begin making the Vegetarian Thukpa Recipe, first get all the ingredients ready for the soup.

Add the wheat flour, a pinch of salt into a large mixing bowl. Add little water at a time to make a firm and smooth dough. Cover the dough and let it rest for 10 minutes. Knead once again and divide the dough into 3 large portions. Roll each portion into very thin rounds, tossing on flour to prevent it from sticking. Cut the rolled portions into strips to make noodles and keep it aside.

The next step is to make the Thukpa in a single pot.

In a large saucepan, heat the mustard oil on medium heat. Add the onions and garlic and saute until you can smell the aromas coming through and the onions are translucent.

Once the onions are translucent, add the chopped tomatoes and cook them on low to medium heat until they become soft and mushy. Add the cumin powder, garam masala and pepper. Give it a stir.

Add the chopped spinach and radish and saute for a couple of minutes until it gets combined into the masala. Cover the pan and simmer for 2 to 4 minutes on low heat, until the radish and spinach get cooked through.To this add 3 cups of water and bring the Thukpa to a brisk boil.

Once it comes to a brisk boil, add the cut wheat strips (paapes) into the boiling Thukpa. Continue to boil the thukpa for 3 to 4 minutes. You notice the wheat strips start rising to the top.

Finally add the salt and lemon juice to taste and give it a stir. Turn off the heat. Stir in the freshly chopped coriander leaves and serve it hot as a one dish meal for a quick weeknight dinner.

Serve the Vegetarian Thukpa Recipe hot along with Vegetarian Momo Recipe-Steamed Dumplings/A Street Food from the No for a relaxing Sunday Meal.