Vellai Seedai or Cheedai (A Gokulashtami Recipe)
Sweetened rice marbles offered as prashad

Archana Doshi
On

Thursday, 22 August 2013 10:01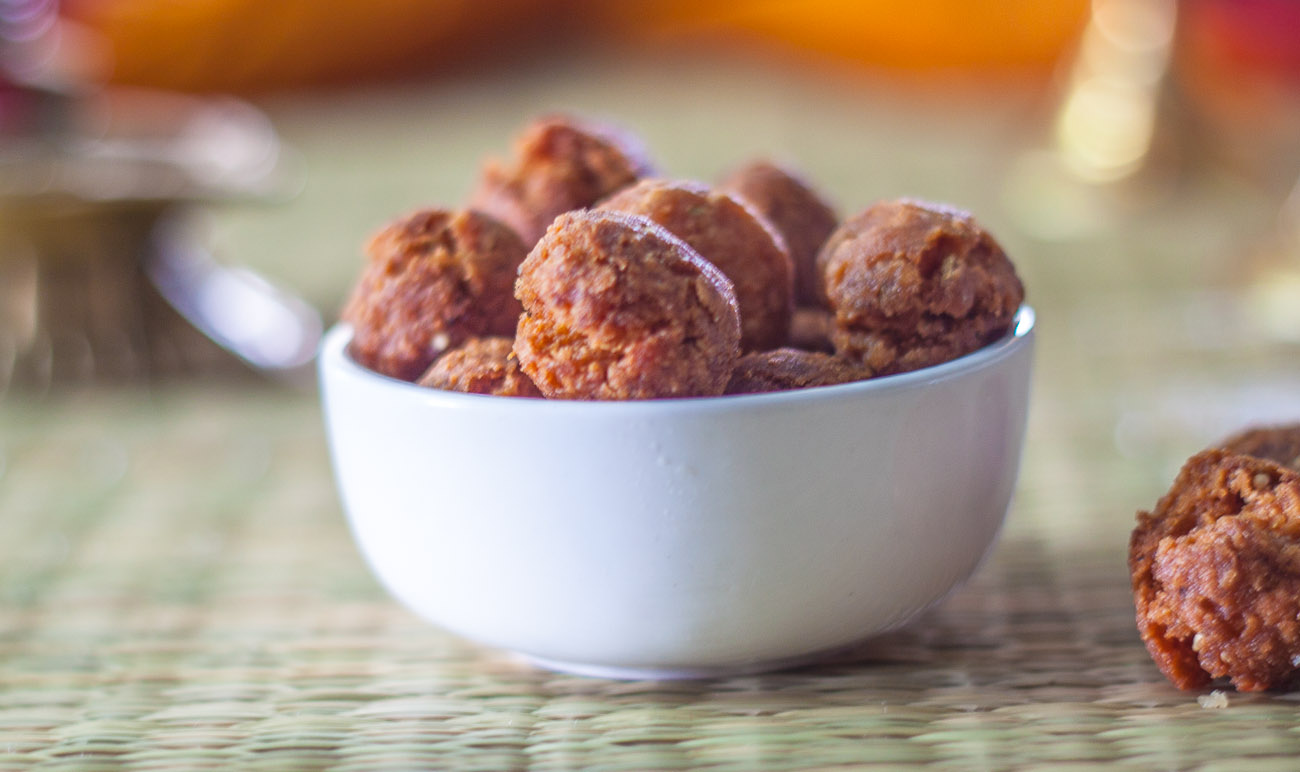 Vellai Seedai or Cheedai is a traditional recipe made during the festival of Krishna Jayanthi also known as Gokulashtami, or Janmashtami. This festival is the most popular festivals amongst the Hindus. The Uppu Seedai (Salted Crisp Rice Marbles) and the Vellai Seedai (Sweet Rice Marbles) are made on this special festival for the Lord Krishna.
Here are more festival recipes to try
Ingredients
2 cups

Rice

, washed, soaked for 2 hours and dried completely with a dry cloth
1/4 tablespoons

White Urad Dal (Whole)

2 cups

Jaggery

1/4 cup

Fresh coconut

, grated
1 tablespoon

Cashew nuts

, finely chopped
1/2 teaspoon

Cardamom Powder (Elaichi)

1/2 teaspoon

Sesame seeds (Til seeds)

2 tablespoons

Ghee

Sunflower Oil

, for deep frying
How to make Vellai Seedai or Cheedai (A Gokulashtami Recipe)
To prepare Vellai Seedai or Cheedai (A Gokulashtami Recipe), in a heavy bottomed pan on medium heat, roast the urad until it releases a roasted aroma. Transfer to a bowl and keep aside.

Grind the rice and the roasted lentils together to a fine powder. Transfer the powder to a large wide bowl; add in the coconut, cashewnuts, cardamom powder, sesame seeds and ghee to make a flour of coarse crumbs. Keep this mixture aside.

Heat a saucepan with 1/4 cup of water, add in the jaggery to dissolve it completely. Strain to remove any excess residue. Return the jaggery to the flame and simmer until the mixture thickens. Turn off the heat and allow it to cool slightly to a lukewarm temperature.

Once cooled; add the jaggery to the rice mixture and knead to make a smooth dough. Mould the dough into small marble sized balls and arrange them on a tray.

Prepare the oil for deep frying; once the oil is heated turn the heat to low. Add in a few balls at a time and deep fry until the balls are darker golden brown in color. It is important to make sure the heat is not high, the balls will burn quickly.

Once fried, drain the Vellai Seedai or Cheedai on paper towels. Allow the Vellai Seedai to cool completely, they get crisper and crunchier in the cooling process.

Store the Vellai Seedai or Cheedai an airtight container and serve them as a snack.