Baba Ganoush Recipe (Roasted Eggplant Middle Eastern Dip)

Archana Doshi
On

Tuesday, 29 July 2008 15:12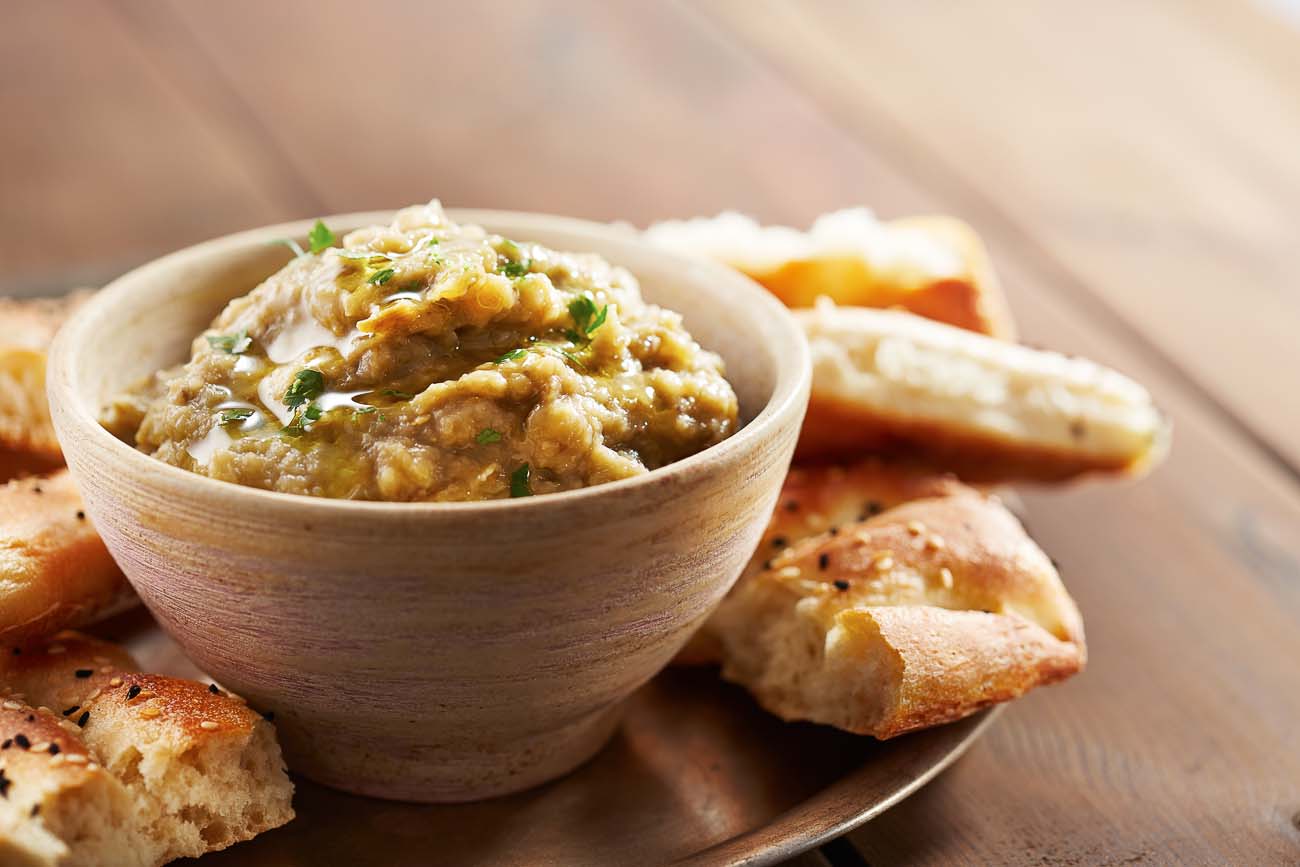 Baba Ganoush Recipe is a quick and simple way to make dips for parties. It is a popular middle eastern dish made from smoked eggplants and mish mashed with olive oil and seasonings. The Baba Ganoush is most often eaten as a dip with khubz or pita bread, and is sometimes added to other dishes as well.
If you are looking for more Dips here are some :
Ingredients
1

Brinjal (Baingan / Eggplant)

3 cloves

Garlic

, finely chopped
1

Lemon juice

2 tablespoons

Tahini

3 sprig

Parsley leaves

, finely chopped

Salt and Pepper

, to taste

Olive Oil

Red chilli powder

, to taste

Pita chips

, for dipping
How to make Baba Ganoush Recipe (Roasted Eggplant Middle Eastern Dip)
There are two ways to roast the eggplants for the Baba Ganoush Recipe
OVEN METHOD
For the oven method: Preheat the oven to 200C. Prick the eggplants all over with a fork, this keeps the eggplant from exploding in the oven. Place on a baking sheet and roast until softened and the skin is crusty about 20 to 30 minutes. Remove from the oven and allow to cool.
STOVE TOP METHOD (shown in the video)
Place the eggplant over the flame. Using a pair of tongs, turn every 5 minutes or so, until the entire surface of eggplant is charred and crispy, about 10 minutes. When you prick with a knife it will go in smoothly and would feel cooked. Don't worry if the eggplant deflates a little. Remove from the burner and place on a plate to cool.

Once the eggplant is cool enough to touch with your hands, carefully peel the charred skin off the eggplant. Discard the skin. Move the eggplant onto your chopping board, slice off the stem and discard. Using your knife, mince the flesh until almost smooth.

Into a mixing bowl, add in the minced eggplant, the chopped onions, garlic and parsley, 2 tablespoons of tahini. Stir to combine all the ingredients and finally add in a generous drizzle of olive oil and juice from one lemon, some freshly pounded black pepper and finally some salt to taste. Stir to combine all the ingredients well.

Transfer the Baba Ganoush to a serving bowl and garnish with more parsley.

The Baba Ganoush is most often eaten as a dip with khubz or pita bread, and is sometimes added to other dishes as well.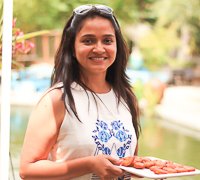 Archana Doshi is the founder of Archana's Kitchen. Archana launched Archana's Kitchen in 2007 as a way to keep track of her and family's recipes, and along the way grew it into one of the most popular cooking websites in the world. Archana is dedicated to helping home cooks be successful in the kitchen. Archana says "I hope you enjoy cooking recipes from my website where the sole effort is to make cooking simple for you. When you try out one of our recipes, we are longing to hear back from you. Do take your time to come back and share your comments, as your feedback means a lot to me"