Vietnamese Pitaya & Calamansi Sorbet Recipe (Dragon Fruit & Small Lime Sorbet)

Neeru Srikanth
On

Saturday, 15 October 2016 00:00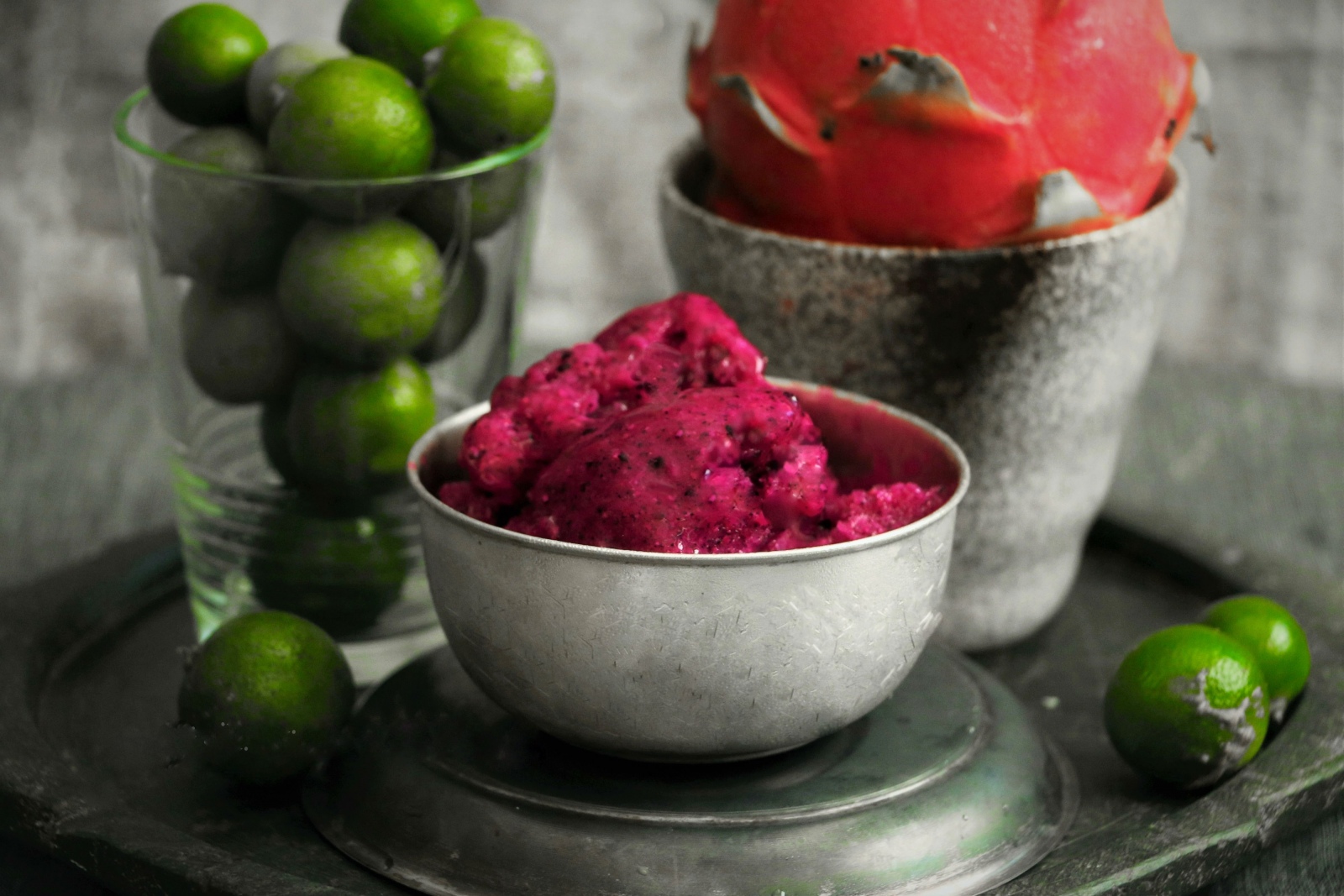 Dragon Fruit is still available and I never miss the chance to buy the pink fruit every time I see it. The sweetness is perfect and the fruit is loaded with fiber & anti-oxidants and is definitely a part of our regular diet whenever it is available in the market. Vietnamese Pitaya & Calamansi Sorbet is very famous in Vietnam, which is the highest manufacturer of pitaya or dragon fruit. Sweet pink flesh dragon fruit is combined with sharp & sour calamansi(lime), sugar and blended to a smooth texture and finally kept in freezer to make a yummy dessert. Calamansi are small limes which are very sour in taste and they are widely used in Thai, Indonesian and Vietnamese cooking. If calamansi is not available, you may replace it with lemon. Make sure the dragon fruit is the pink one. The white one's don't taste as much and won't suit the dish.
Other Sorbet recipes that you can try are:
Ingredients
1

Dragon fruit (Pitaya)

1 tablespoon

Sugar

, adjustable

Water

, If needed
1/2 teaspoon

Kalamansi (Philippine Small Lime)
How to make Vietnamese Pitaya & Calamansi Sorbet Recipe (Dragon Fruit & Small Lime Sorbet)
To begin the preparation of Vietnamese Pitaya & Calamansi Sorbet, cut the dragon fruit into two parts and remove the flesh from the outer skin.

Roughly chop the dragon fruit flesh.

Take a mixer and add dragon fruit, sugar and kalamansi juice.

Blend it once and check if water is needed to make it a smooth paste. My dragon fruit was ripened properly hence I never used any water.

Blend for 5 to 6 minutes. This time is needed because we are not using ice cream maker and we are using a normal mixer.

Transfer it to a container and freeze it for a minimum of 8 hours or overnight.

The Vietnamese Pitaya & Calamansi Sorbet is now ready to be served as a yummy dinner party dessert. Before serving take it out from the freezer and keep it for 10 minutes, else it would be difficult to scoop.