Watermelon Bocconcini Arugula Salad Recipe
Easy and nutritional salad with soft mozzarella

Sujata Shukla
On

Tuesday, 14 March 2017 00:14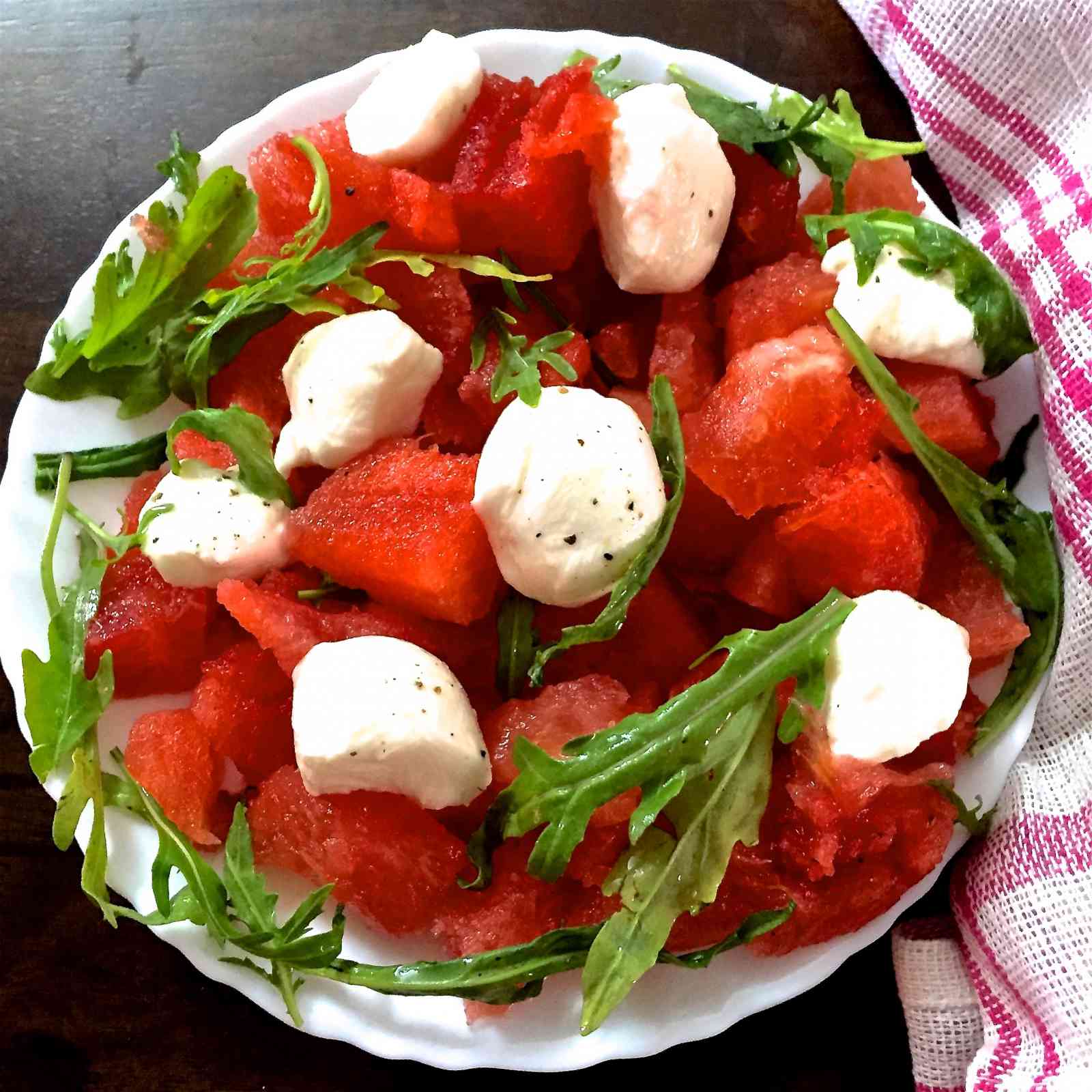 Watermelon Bocconcini Arugula Salad Recipe is a simple salad recipe with special softer mozzarella cheese called Bocconcini. This soft cheese is combined with Watermelon, arugula and feta are the classic combination, but this one is a keeper too. The fresh Bocconcini and the peppery arugula complement the sweet watermelon. A dash of lemon juice to perk it up, or some home made basil oil gives just the right flavour, along with salt and freshly ground pepper. Serve Watermelon Bocconcini Arugula Salad Recipe with a soup of your choice.
About bocconcini: Bocconcini are small, marble shaped, semi soft and white mozzarella cheeses. They were once made only from the milk of water buffalos, though nowadays they are usually made from a combination of both buffalo and cow's milk. They are sold packed in whey or water and are spongy to the touch. Bocconcini has a mild buttery flavour and readily absorbs the flavour and aroma of other foods with which they are mixed. It is rich in proteins as well as in mineral calcium.
Here are a few more interesting salad recipes
Ingredients
4 cups

Watermelon

, diced to large cubes
1/2 cup

Arugula leaves

, shredded
1 cup

Bocconcini Mozzarella Cheese

, cut to halves
1 teaspoon

Whole Black Peppercorns

, freshly pounded
1/2 teaspoon

Salt

, (or to taste)
1 tablespoon

Lemon juice
How to make Watermelon Bocconcini Arugula Salad Recipe
To prepare Watermelon Bocconcini Arugula Salad Recipe, separate the flesh from the watermelon skin, and dice it to bite size pieces. Or you could scoop up little watermelon with an ice-cream scoop - it will look lovely with the bocconcini.

Place the watermelon pieces on each individual salad dish and add the bocconcini.

Shred the arugula after removing the stalks, and add to the salad.

Sprinkle salt and fresh ground pepper on each plate.

Add half a tablespoon lemon juice to each portion, just before serving.

Serve the Watermelon Bocconcini Arugula Salad Recipe chilled or fresh, with a hearty soup.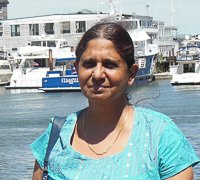 Sujata Shukla is a Chartered Accountant by profession, with Food as much her passion as the world of Audit and Accounting. Travelling outside India on work or vacation, started her on experimenting with available produce and trying out recipes in far off lands. From this it was an easy transition to jotting down her recipes on her blog and on other social media, and sharing them with her family and friends. She enjoys exploring the making of recipes from different cuisines and using different ingredients. Her 'cookshelf' plays a prominent part in her life. Salads and Soups from locally available ingredients to some rather exotic ones, are her favourite creations.