Whole Wheat Bread Recipe With Oatmeal And Flaxseeds
Healthy bread with whole wheat, oatmeal and flaxseeds

Archana Doshi
On

Thursday, 03 May 2012 09:01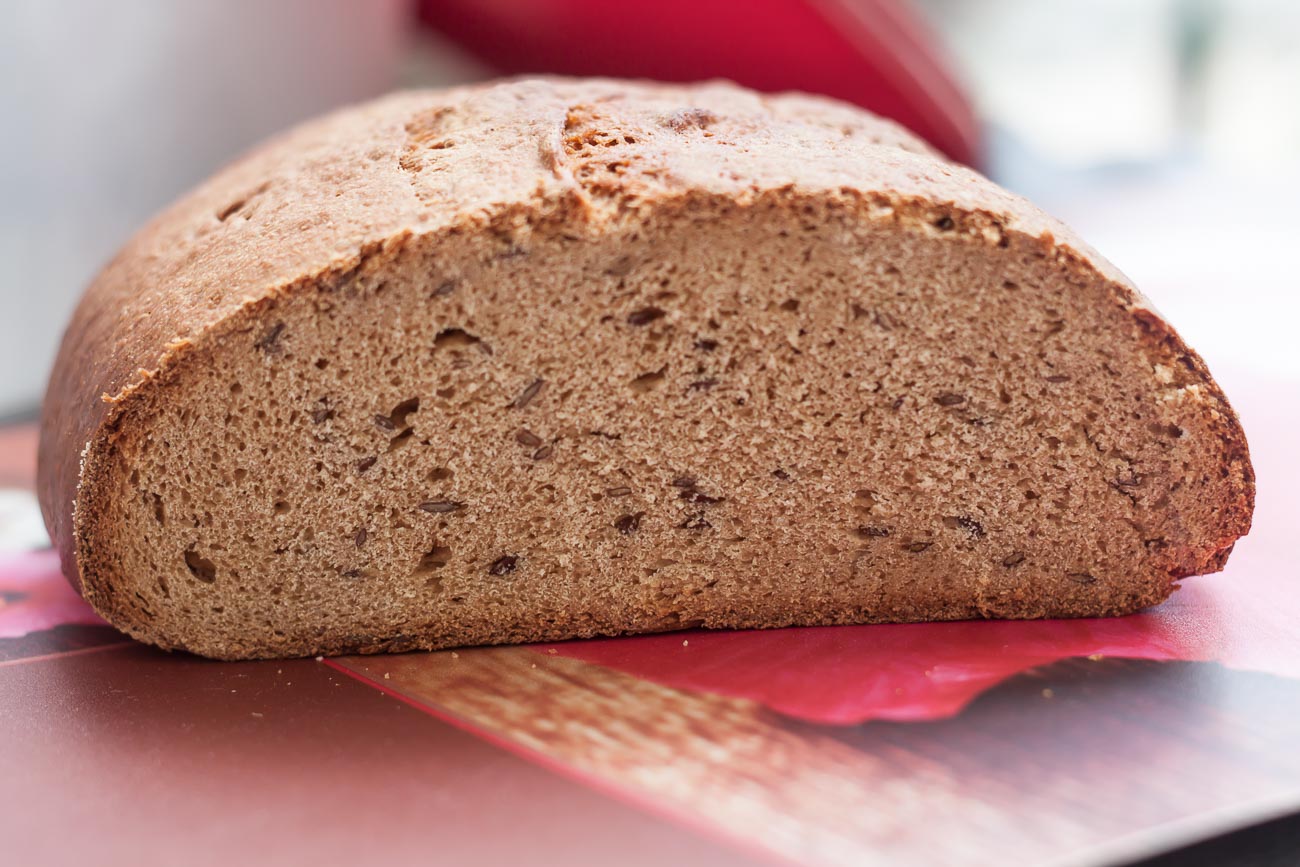 The Whole Wheat Bread with Oatmeal and Flaxseeds is a healthy recipe of a bread that you can make in your own kitchen. This recipe is inspired from one of my favourite books on Bread by James Beard. His recipe mentions making the bread from freshly ground whole wheat flour with the coarseness level that is perfect for bread. Although this would have been ideal, I decided to use the multigrain flour available in the market. Serve Whole Wheat Bread Recipe With Oatmeal And Flaxseeds as breakfast along with Apple Almond Date Smoothie Recipe and cut fruits bowl.
If you like homemade breads then you must try some of our favorites
Whole wheat bread is very different from the normal flour breads. They taste great when they are fresh out of the oven and tend to get dense once they rest for a couple of days. In which case, put them back in the oven to toast for a refreshing taste.
I typically like to keep the risen dough refrigerated so through the week you get to eat fresh bread in small portions. The recipe below I have used half whole wheat and half all purpose flour. You could use 100% whole wheat or 100% all purpose flour and get interesting variations.
Ingredients
1 cup

Whole Wheat Flour

1 cup

All Purpose Flour (Maida)

1 cup

Instant Oats (Oatmeal)

2-1/2 teaspoons

Active dry yeast

1 tablespoon

Honey

1/2 cup

Milk

, warm
1 cup

Lukewarm Water

1/4 cup

Flax seeds

2 tablespoons

Butter

, softened
1 teaspoon

Salt
How to make Whole Wheat Bread Recipe With Oatmeal And Flaxseeds
To begin making the Whole Wheat Bread Recipe with Oatmeal and Flaxseeds, soak the oats in the warm water and allow it to rest until moderately soft.

Sift both the flours together and set aside.

In a large mixer or a bowl, add the flour, yeast begin and all the remaining ingredients and knead to a smooth dough,

Knead well until all the ingredients get combined well. Once the ingredients are well combined, continue to knead the dough for 10 to 15 minutes with your hands.

It is going to be a very heavy dough. Coat your hands with a little butter if the dough is sticky and knead a little more until smooth and satiny.

Cover with a moist cloth and let it rise in a warm spot until doubled in volume.

Once risen, knead the dough again with buttered hands and divide the dough into two parts. Shape them into a loaf and place them in a greased loaf pan and allow it to rise yet again until doubled.

Place the loaf pans in the preheated 180 C oven and bake for about an hour until you notice the tops are crisp and firm.

Remove the loaf from the pans and place them back in the oven to dry out a little for about 5 to 10 minutes.

Remove the Whole Wheat Bread Recipe with Oatmeal from the rack and allow it to cool.

Serve the Whole Wheat Bread with Oatmeal and Flaxseeds warm and toasted along with a dollop of butter for breakfast with Apple Almond Date Smoothie Recipe and cut fresh fruits bowl.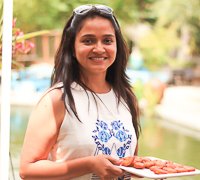 Archana Doshi is the founder of Archana's Kitchen. Archana launched Archana's Kitchen in 2007 as a way to keep track of her and family's recipes, and along the way grew it into one of the most popular cooking websites in the world. Archana is dedicated to helping home cooks be successful in the kitchen. Archana says "I hope you enjoy cooking recipes from my website where the sole effort is to make cooking simple for you. When you try out one of our recipes, we are longing to hear back from you. Do take your time to come back and share your comments, as your feedback means a lot to me"