Whole Wheat Vegetarian Stromboli Recipe
Main course baked recipe with yummy sticky mozzarella with more cheese and vegetables

Archana Doshi
On

Sunday, 20 May 2012 11:34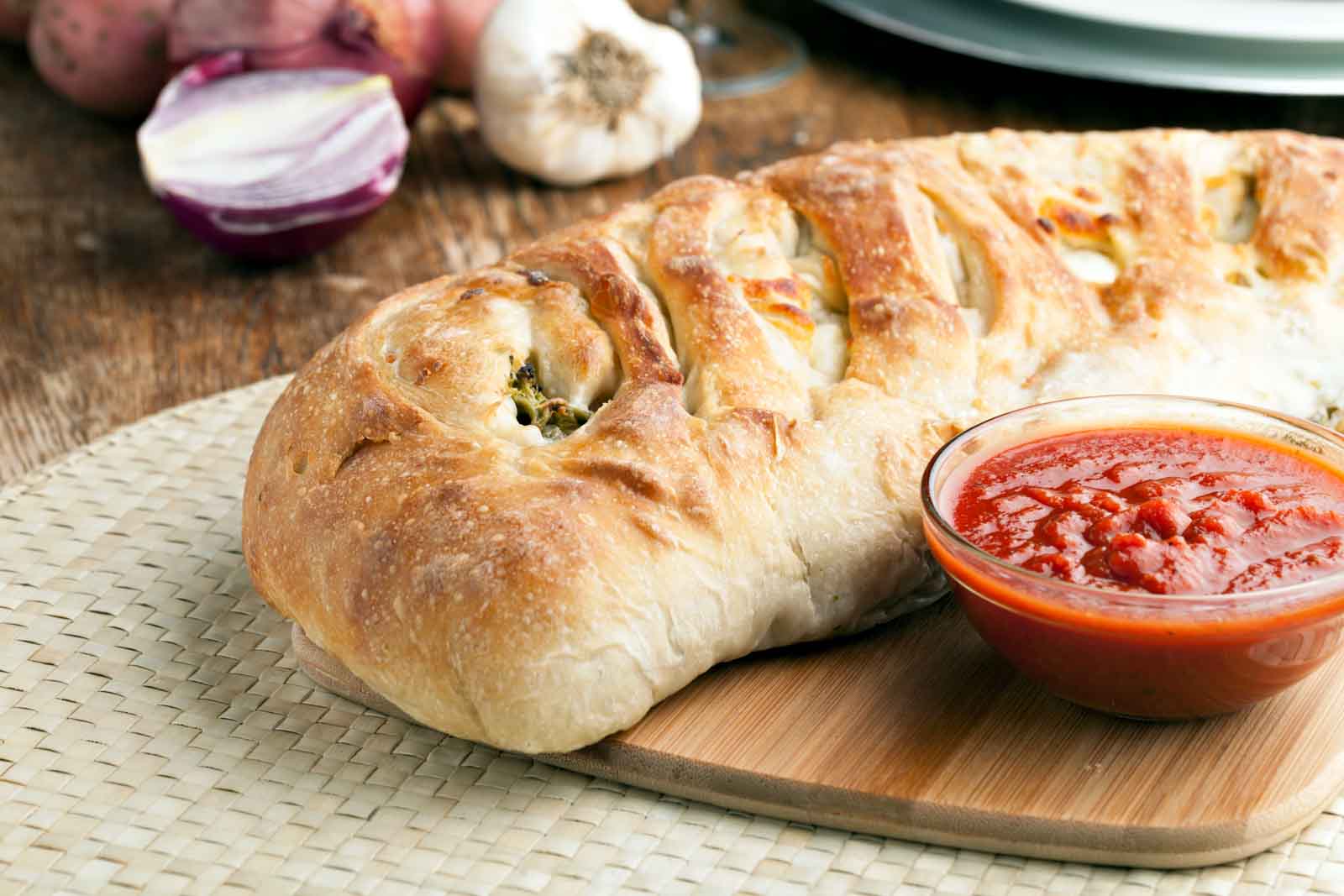 The Whole Wheat Vegetarian Stromboli Recipe is a type of turnover filled with various cheeses, typically mozzarella, and vegetables. The dough is Italian bread dough or a pizza dough.
A stromboli is made with a square shaped pizza dough that can be topped with any pizza toppings and is then rolled into a log and baked.Stromboli's are very similar to calzones, just that it is rolled instead of a half moon shape.
The Whole Wheat Vegetarian Stromboli make a perfect snack box for children/ adults where it is easy to consume and not messy as well. Can be served with Italian Style Potato And Cucumber Salad Recipe and Apple Crumble Pie Recipe.
If you like Italian food, you must try some of the recipes below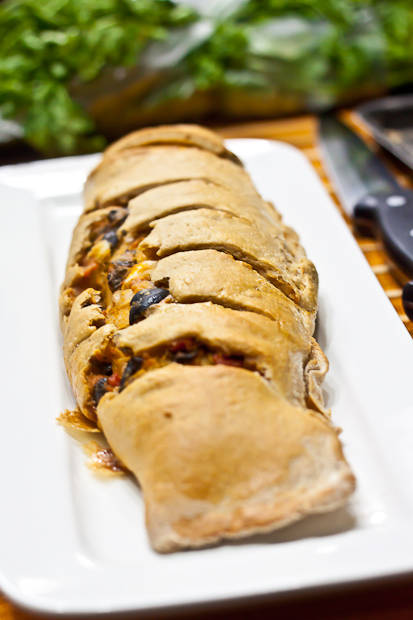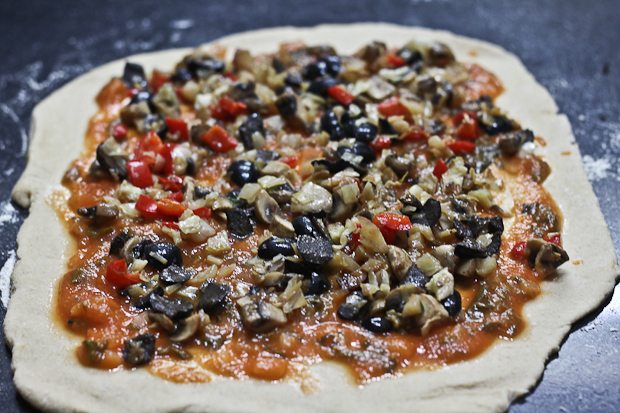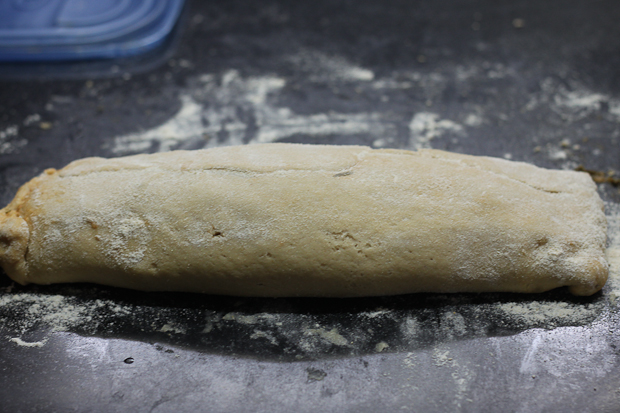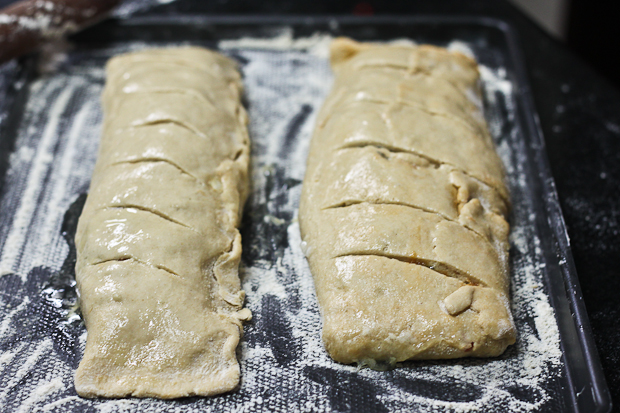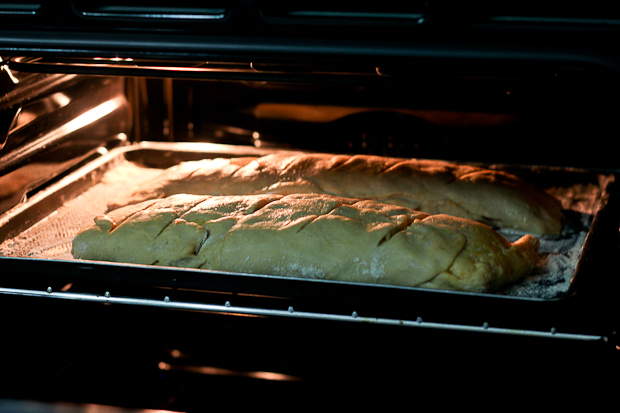 There are many fillings you can use - Here are a few ideas
- Spinach and Cheese
- Spinach and Artichoke and Cheese
- Spinach and Mushroom
- Roasted Vegetables (like zucchini, peppers and more)
- Vegetables flavored with Pesto
Ingredients
Ingredients for the Bread Dough
3 cups

Whole Wheat Flour

2-1/2 teaspoons

Active dry yeast

1 tablespoon

Honey

1 tablespoon

Extra Virgin Olive Oil

1 teaspoon

Salt

1 cup

Lukewarm Water

Ingredients For Stuffing
1

Onion

, thinly sliced
1 cup

Tomato Basil Pasta Sauce

1

Red Bell pepper (Capsicum)

, thinly sliced
200 grams

Button mushrooms

, roughly chopped
1/2 cup

Black olives

, chopped
2 cups

Mozzarella cheese

, grated
1

Whole Eggs

, for egg wash
How to make Whole Wheat Vegetarian Stromboli Recipe
To begin making the Whole Wheat Vegetarian Stromboli Recipe, preheat the oven to 180 C. Grease a large baking sheet and place it inside the oven.
Method for preparing the dough
In a large mixing bowl, combine the water, yeast, sugar, and 1 tablespoon oil and stir to combine. Let sit until the mixture is foamy, about 5 minutes.

Sift the flour and salt. Using your hands keep adding flour and salt to the yeast mixture until all the flour is incorporated but the dough is still slightly sticky. Turn the dough out onto a lightly floured surface and knead for another 5 to 10 minutes adding a little more olive oil if too sticky.

Coat the large bowl with a little olive oil and place the kneaded dough inside and over with a loose fitting lid or a plastic wrap. Allow the dough to rest in a warm place for about 2 hours until the dough is nearly doubled in size.
To Make The Stuffing
Heat oil in a pan and stir fry the onions, red peppers and mushrooms with a little salt and pepper on high heat until lightly roasted. Allow the mixture to cool and stir in the olives.

Prepare a thick flavoured tomato basil sauce using any of the recipes from the link. Just make sure your sauce is not too liquidy, it should be thick, else your stromboli will turn to be soggy.

Punch down the dough and divide into two portions. On a lightly floured surface, roll out half of the dough to a large rectangle, about 10 by 14 inches. Spread the tomato sauce over the rolled out dough.

Now sprinkle half the roasted mushroom mixture and half of the cheese leaving 1 inch border around the sides. Starting from the end facing you roll up the dough into a cylinder, pinching the edges to seal. Apply some water on the edges to seal well. Repeat the process with the remaining dough portion and filling ingredients. Place both the prepared stromboli's on to the baking sheet and allow it to rise for another 30 minutes.

Brush the top of each stromboli with egg wash or honey. Sprinkle the sesame seeds evenly on the top. Place it inside the preheated oven and bake until completely golden brown and starting to crisp, about 20 to 25 minutes minutes.

Turn off the heat and remove the stromboli from the oven and allow it to rest outside for 10 minutes. When you are ready cut into thick slices and serve with Italian Style Potato And Cucumber Salad Recipe and Apple Crumble Pie Recipe.