Whole Wheat Waffles with Caramelised Bananas (Egg and Eggless Recipe)

Archana Doshi
On

Monday, 24 February 2014 17:34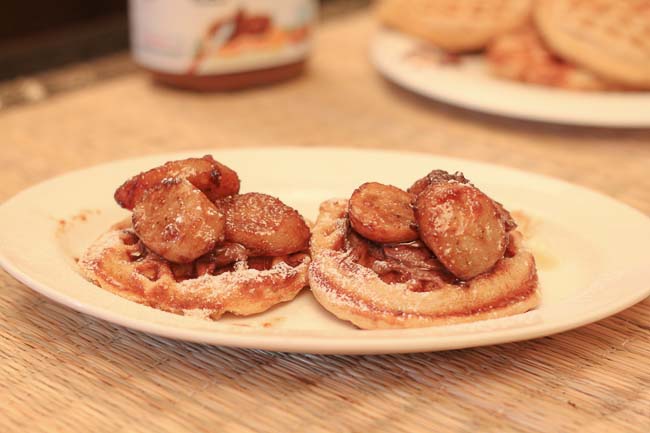 The Whole Wheat Flour Waffles topped with caramelized bananas and nutella are a favorite at home and are super simple to make. Follow the recipe and you will taste the best waffle ever. These waffles when made from scratch are ready in less than 30 minutes. So try it and let me know how you like them.
Serve the Whole Wheat Flour Waffles topped with caramelized bananas as a breakfast recipe along with a Smoothie.
If you are looking for more Waffle recipes here are some :
Ingredients
Ingredients to make whole wheat waffles
1

Flaxmeal Egg Replacer

, or 1 egg
3/4 cup

Milk

1/4 cup

Vegetable Oil

2 teaspoons

Sugar

2 teaspoons

Baking powder

1/8 teaspoon

Salt

1/4 teaspoon

Vanilla Extract

1 cup

Whole Wheat Flour

Ingredients for caramelised bananas
2 tablespoons

Butter (unsalted)

2

Ripe Bananas

, thickly sliced diagonally
1/4 cup

Brown Sugar (Demerara Sugar)

1 teaspoon

Cinnamon Powder (Dalchini)
How to make Whole Wheat Waffles with Caramelised Bananas (Egg and Eggless Recipe)
Preheat waffle iron. Beat eggs in large bowl with hand beater until fluffy. Beat in milk, vegetable oil, sugar, baking powder, salt and vanilla, just until smooth. Finally add in the flour and stir to combine well, until it is smooth with no lumps

Grease the waffle iron pan with oil. Pour mix onto hot waffle iron. Cook until golden brown. Remove from the pan and keep aside till we prepare the caramelized bananas.

Place a large non-stick frying pan over medium-high heat. When hot, sizzle the two tablespoons of butter in the pan for a few seconds, then add bananas.

Allow bananas to brown for about 30 seconds without stirring or moving them. Use a spatula to turn bananas over, then add brown sugar and cinnamon. Shaking pan to keep bananas moving, cook about one minute more, until sugar is melted and bananas are caramelized, but still solid.

Turn off the heat and keep them aside.

To serve, place the waffles on the serving platter and spoon the caramelized bananas over the waffles and drizzle maple syrup or honey over the waffles.

Serve the Whole Wheat Flour Waffles topped with caramelized bananas as a breakfast recipe along with a Smoothie.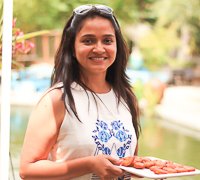 Archana Doshi is the founder of Archana's Kitchen. Archana launched Archana's Kitchen in 2007 as a way to keep track of her and family's recipes, and along the way grew it into one of the most popular cooking websites in the world. Archana is dedicated to helping home cooks be successful in the kitchen. Archana says "I hope you enjoy cooking recipes from my website where the sole effort is to make cooking simple for you. When you try out one of our recipes, we are longing to hear back from you. Do take your time to come back and share your comments, as your feedback means a lot to me"