Aam Ka Achaar Recipe - North Indian Spicy Raw Mango Pickle
The Aam Ka Achaar Recipe is a simple and easy spicy mango pickle from north indian. The addition of kalonji and saunf adds to the special taste of this pickle.

Archana Doshi
On

Wednesday, 30 April 2014 15:20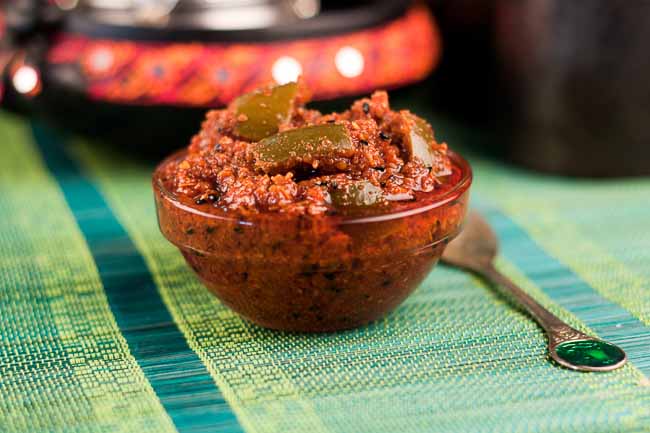 Aam Ka Achaar is simple recipe of a spicy raw mango pickle made from homemade pickle masala. Pickle-making process can be a very easy task, if you have the right guidance and the perfect recipe.
With extensive guidance from my mother and mother-in-law I have managed to attain perfection in the pickle-making process. I have put in my best efforts to put her tips together into this recipe so you could achieve the same perfect result.
Serve Aam Ka Achaar Recipe (Spicy Raw Mango Pickle) with Pyaz Ka Paratha Recipe or Aloo Methi Paratha Recipe for a complete breakfast.
Here are a few more pickle recipes that you must also try
Ingredients
4 cups

Mango (Raw)

2 tablespoons

Salt

, + more (adjust)
2 teaspoons

Turmeric powder (Haldi)

1 teaspoon

Asafoetida (hing)

1 tablespoons

Methi Seeds (Fenugreek Seeds)

, methi kuria-halved
3 tablespoons

Mustard seeds

, halved/coarsely pounded
3 tablespoons

Red chilli powder

, (adjust)
1 tablespoon

Kalonji (Onion Nigella Seeds)

, or kalonji
1 tablespoon

Fennel seeds (Saunf)

, coarsely pounded
1 tablespoon

Coriander (Dhania) Seeds

1/2 cup

Mustard oil
How to make Aam Ka Achaar Recipe - North Indian Spicy Raw Mango Pickle
To begin making the Aam Ka Achaar Recipe (Spicy Raw Mango Pickle), wash the mangoes and dry them completely making sure there is no moisture or dust.

Make sure your knife and the platform you use for cutting the mangoes is clean and moisture free. Cut the mangoes in half, deseed and further cut them into one inch cubes.

In a large bowl, combine the 2 tablespoons salt, turmeric powder and cut mangoes. Allow it to marinate overnight or 8 hours until the mangoes release a large quantity of water.

Drain the water from the mangoes and keep the water aside. Dry the mangoes on paper towels for about 8 hours or overnight, so they lose the excess moisture.

Note: You can use the drained water from the mangoes into cooking rice or into a lentil preparation. They taste delicious.

Heat a small pan on medium heat, and roast the coriander seeds until you start smelling the aroma. Turn off heat and allow it to cool. Once cooled, using a pestle and mortar to coarsely crush the coriander seeds to half.

In a large bowl, combine the mangoes, the remaining salt, turmeric powder, asafoetida powder, fenugreek seeds, mustard seeds, red chilli powder, nigella seeds, fennel seeds, and coriander seeds

Fill the above Aam Ka Achaar mixture tightly into a bottle and keep aside covered for a day, about 24 hours.

Heat the oil in a saucepan and bring it to boiling point. Once it comes to a boiling point, allow it to cool completely while covered. Once cooled add the cooled oil to the bottled Aam Ka Achaar mixture.

It takes approximately two to three weeks for the aam ka achaar to marinate itself and get the flavours from the masala.

Best flavour and tenderness in the Aam Ka Achaar comes after couple of months of marination. Having said that the pickle can be eaten almost immediately as well, if you like the taste of fresh mangoes.
Using and Storage Instructions:
Moisture is the biggest killer for pickles; in humid and hot conditions it is best to store the Aam Ka Achaar in the refrigerator. Wait for the pickle to get marinated for a month before you refrigerate.

Make sure the lid is closed tight at all times without letting moisture in.

Use a clean dry spoon so that there is no moisture when you take the pickle out of the bottle.

For easier and regular usage, transfer little amounts of the Aam Ka Achaar to a smaller jar.

Serve Aam Ka Achaar Recipe (Spicy Raw Mango Pickle) with Pyaz Ka Paratha Recipe or Aloo Methi Paratha Recipe for a complete breakfast.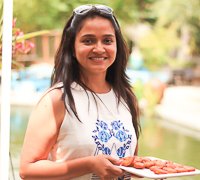 Archana Doshi is the founder of Archana's Kitchen. Archana launched Archana's Kitchen in 2007 as a way to keep track of her and family's recipes, and along the way grew it into one of the most popular cooking websites in the world. Archana is dedicated to helping home cooks be successful in the kitchen. Archana says "I hope you enjoy cooking recipes from my website where the sole effort is to make cooking simple for you. When you try out one of our recipes, we are longing to hear back from you. Do take your time to come back and share your comments, as your feedback means a lot to me"