Gujarati Adadiya Ladwa Recipe - Urad Dal Halwa with Nuts & Spices
A delicious halwa recipe, Gujarati Adadiya Ladwa Recipe is an urad dal flour halwa made with ghee and topped with fry fruits. Savoured after a traditional Gujarati meal or just as is.

Archana Doshi
On

Friday, 04 January 2013 14:50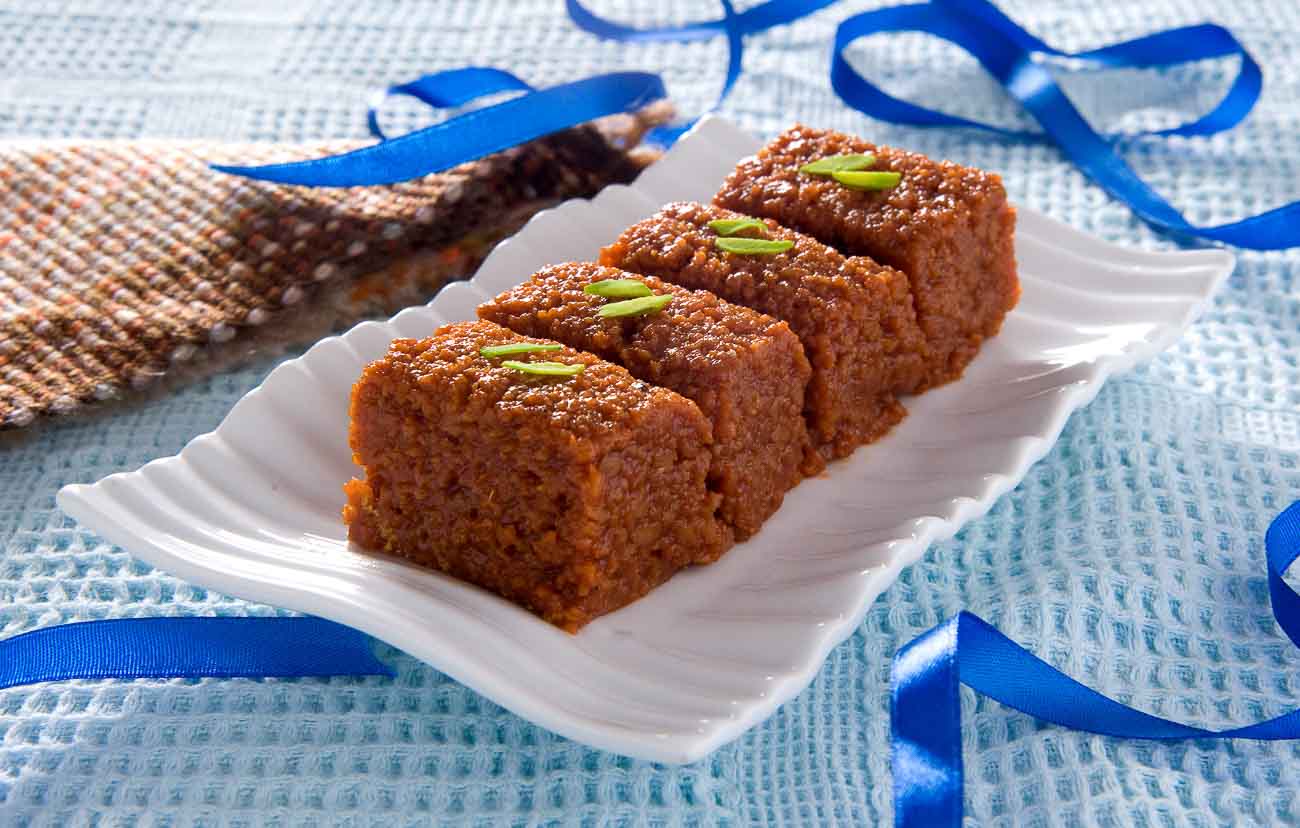 Adadiya Ladwa is a Gujarati delicacy. An urad dal halwa topped with nuts and tinged with Indian spices.
Winter in Gujarati households is incomplete without a bite of this traditional sweet, which is known to bring warmth and comfort. It is a traditional delicacy of the Kutch region and it has helpful healing properties that the body requires during the cold winter months.
The Adadiya Ladwa is prepared using the flour of Arad Ni Dal flour (Black Gram Dal/Urad Dal) which is well roasted along with ghee and naturally healthy ingredients like dry fruits and spice powders. The recipe is made using the most commonly used spices, though some do use many other spices too. The Adadiya Ladwa is a spicy sweet that is filled with richness of taste and goodness of health and something words cannot describe.
Serve the Gujarati Adadiya Ladwa as warm Dessert for the winter monts along with a warm glass of milk.
Serve it after a meal of Gujarati Dal Recipe - Sweet Tangy and Spicy Dal, Steamed Rice, Gujarati Kobi Marcha No Sambharo Recipe, Phulka
Here are some other traditional Gujarati sweet meats that you can also try:
Ingredients
2 cups

Urad Dal Flour

, coarsely ground to a flour
2 cups

Ghee

, + 1/4 cup ghee
1/2 cup

Milk

, lukewarm
1 cup

Sugar

1-3/4 cups

Khoya (Mawa)

, crumbled
2 tablespoon

Gond (natural gum)

, shallow fried in ghee and crushed
1/4 cup

Sultana Raisins

, chopped
1/3 cup

Cashew nuts

, chopped
1/2 cup

Whole Almonds (Badam)

, chopped
2 tablespoons

Pistachios

, chopped
4 tablespoons

Dry ginger powder

2 tablespoons

Cardamom Powder (Elaichi)

2 tablespoons

Cinnamon Powder (Dalchini)

2 tablespoons

Cloves (Laung)

, powdered
1-1/2 tablespoon

Black pepper powder

1 1/2 tablespoon

Peepramul powder (ganthoda)

2

Whole Almonds (Badam)

, sliced or pistachois will also do for garnishing
How to make Gujarati Adadiya Ladwa Recipe - Urad Dal Halwa with Nuts & Spices
To begin making the Gujarati Adadiya Ladwa Recipe, sieve the flour in a broad flat dish. Sprinkle the lukewarm milk and ghee over the flour a little at a time.

With gentle palm pressure of both hands, combine the flour along with the ghee and milk until well combined. The mixture should be such that it should form a lump when you hold it firmly with closed fist.

This entire procedure which is called 'Drabo Devo' would take about 8 to 10 minutes. Cover it and keep it in a warm place for at least 3 hours. The purpose of this is to let the flour bind well together.

After 3 hours have passed, gently crumble the mixture and then sieve it in a medium sized sieve. If you don't have a sieve crumble it between your palms until the mixture feels like coarse crumbs. Keep aside.

In a sauce pan add 1 cup of water and prepare sugar syrup of less than 1 thread consistency and keep aside. The purpose of preparing the syrup first is that it cools down before you finally pour it over the hot Adadiya Ladwa mixture.

Heat a heavy bottomed sauce pan; add the Adadiya Ladwa crumb mixture and saute on medium heat for about 5 minutes. Stir in the crumbled khoya and continue to saute on low heat. Gradually add a little ghee at a time and keep stirring the mixture until you get a roasted aroma. The mixture you have turned a light golden brown.

At this stage add in the chopped nuts, raisins and continue to keep stirring. You will notice that that ghee begins to leave the sides of the pan. Add the crushed edible gum and sauté on low or medium flame till it turns golden brown. Finally add the almonds, pistachios and the rest of the spice powders. Stir all ingredients until well combined and turn off the heat. After about a minute, stir in the sugar syrup to the above ladva mixture.

Spread the mixture into a flat dish and allow it to cool completely ( 8 - 10 hours or overnight). After it has cooled completely, stir the mixture once again and check if you need any more additions to suit your taste. Shape the ladva mixture into balls or a desired shape. Garnish with finely sliced badam and pistachios.

You can store the Gujarati Adadiya Ladwa for upto a month in the refrigerator in an airtight container.

Serve the Gujarati Adadiya Ladwa as warm Dessert for the winter months along with a warm glass if milk.

Serve it after a meal of Gujarati Dal Recipe - Sweet Tangy and Spicy Dal, Steamed Rice, Gujarati Kobi Marcha No Sambharo Recipe, Phulka