आलू पनीर कबाब रेसिपी - Aloo Paneer Kebab Recipe
आलू पनीर कबाब एक कुरकुरा कबाब है जो बाहर से कुरकुरा और अंदर से नरम होता है. यह टिक्की या कबाब बनाने में बहुत आसान है और आप इसे अपनी चाय के साथ परोस सकते है.

Madhuri Aggarwal
On

Wednesday, 12 December 2018 08:06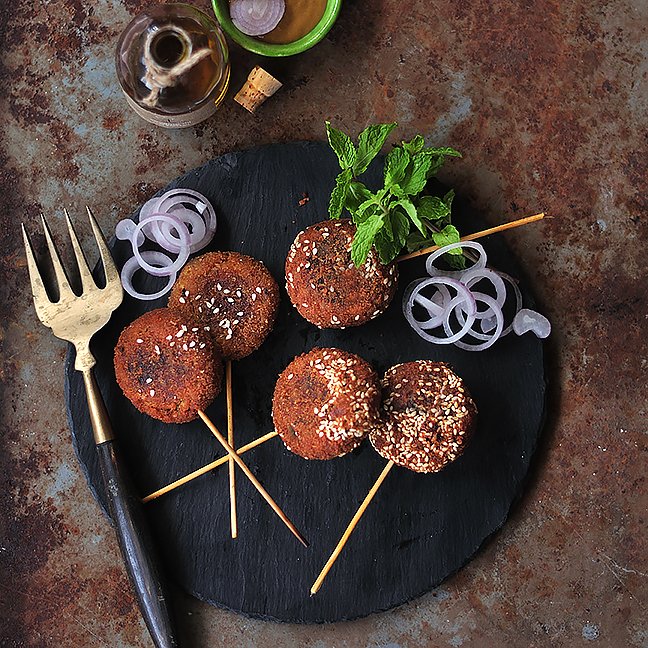 आलू पनीर कबाब रेसिपी एक सरल रेसिपी है जिसे आप सर्दियों या बारिश के दिनों में बना सकते है. आलू और पनर्र, दो ऐसी चीज़े है जिसे सब पसंद करते है. यह बड़ो के साथ साथ बच्चो को भी जरूर पसंद आएगा।
आलू पनीर कबाब रेसिपी को पुदीना चटनी और इमली की चटनी के साथ बारिश के दिनों में परोसे। इसके साथ मसाला चाय भी परोस सकते है.
अगर आपको यह रेसिपी पसंद है, तो आप यह भी बना सकते है
Diet:
High Protein Vegetarian
Ingredients
200 ग्राम

पनीर

3

आलू

, उबाल ले
1 छोटा चम्मच

जीरा पाउडर

1/2 छोटा चम्मच

हल्दी पाउडर

1 छोटा चम्मच

लाल मिर्च पाउडर

1 छोटा चम्मच

अदरक लहसुन का पेस्ट

1/4 कप

ब्रेड क्रम्ब्स

नमक

, स्वाद अनुसार

तेल

, प्रयोग अनुसार
कोट करने के लिए
1/2 कप

ब्रेड क्रम्ब्स

1 बड़ा चम्मच

तिल (सफ़ेद)
How to make आलू पनीर कबाब रेसिपी - Aloo Paneer Kebab Recipe
आलू पनीर कबाब रेसिपी बनाने के लिए सबसे पहले सारी सामग्री तैयार ले. आलू को एक प्रेशर कुकर में प्रयोग अनुसार पानी और नमक के साथ डाले। 4 से 5 सिटी आने तक पका ले.

प्रेशर अपने आप निकलने दे. कुकर खोले, आलू का छिलका निकाले और मैश कर ले. पनीर को भी अपने हाथो से मैश कर ले.

आलू और पनीर को एक बाउल में डाले और मिला ले. अब इसमें जीरा पाउडर, हल्दी पाउडर, लाल मिर्च पाउडर, अदरक लहसुन का पेस्ट, ब्रेड क्रम्ब्स, नमक डाले और अच्छी तरह से मिला ले.

अब एक पैन में तेल गरम करें। अब मिश्रण के गोले बनाए, इन्हे ब्रेड क्रम्ब्स से कोट करें और तिल डाले।

इन्हे पैन में डाले और दोनों तरफ से सुनहरा और कुरकुरा होने तक पका ले.

अगर आप बेक करना चाहते है तो पहले से गरम ओवन में 180 डिग्री सेल्सियस पर 15 मिनट के लिए दोनों तरफ से पका ले. परोसे।

आलू पनीर कबाब रेसिपी को पुदीना चटनी और इमली की चटनी के साथ बारिश के दिनों में परोसे। इसके साथ मसाला चाय भी परोस सकते है.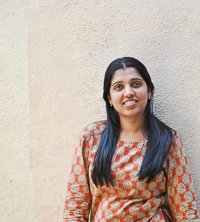 I am a Designer and an Artist by profession. Cooking, baking, photography and styling is an extension of my creative self, another medium of expression. Cooking and Plating was no different from painting for me. Playing with colours on plate, using different textures, composition in photography was all that I had learnt as a student, which I am showcasing using food as a medium. I love everyday cooking and how it can be made exciting. Kitchen is not only about food. I not only respect the food but also the waste we generate while cooking. I am a firm believer of composting and I make sure my kitchen generates as less waste as possible.