Arugula & Fig Salad Recipe
Fresh salad tossed with lemon citrus dressing and roasted figs.

Archana's Kitchen
On

Sunday, 19 February 2017 00:00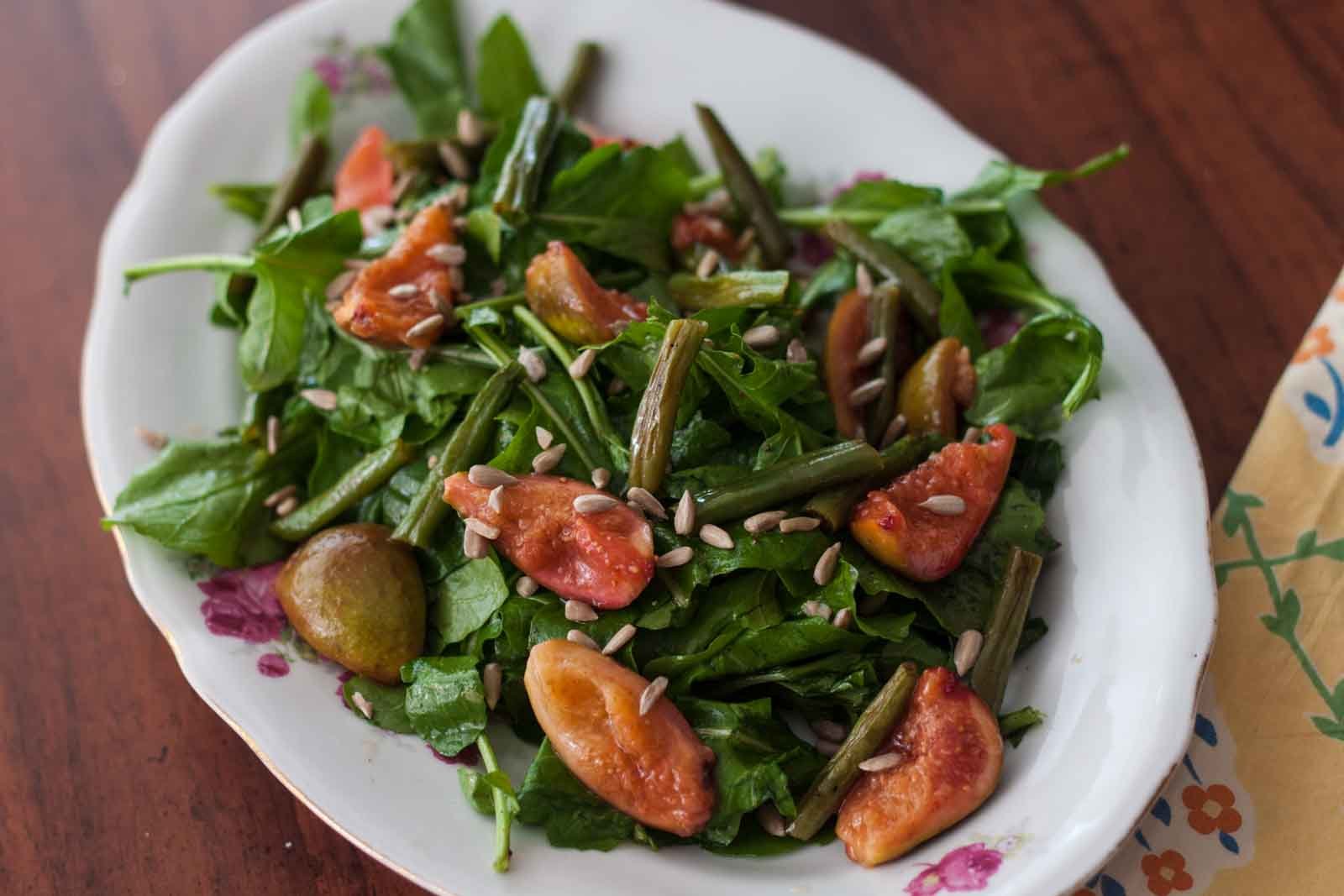 Arugula & Fig Salad Recipe is one recipe that is quick and yum to be eaten anytime of the day. This fresh salad is made with peppery flavored arugula leaves which tossed in some Citrusy dressing and topped up with charred figs and green beans with red wine vinaigerette. The salad is perfect to eaten during the summer or even winter season. As fresh figs are in season it is the classic combination to be had with arugula leaves as these leaves are packed with vitamins and potassium.
Serve the Arugula & Fig Salad Recipe as a healthy appetizer during any party occasion.
If you are looking for more Salad Recipes here are some :
Ingredients
2 cups

Arugula leaves

, roots removed and washed
10

Fresh Figs

, quatered
1 cup

Green beans (French Beans)

, cut into 2 inch lengthwise
2 tablespoon

Red Wine Vinaigrette

2 tablespoon

Sunflower seeds

For the dressing
1/2 cup

Lemon juice

1 tablespoon

Extra Virgin Olive Oil

1 tablespoon

Honey

2 tablespoon

Tabasco Original - Hot Sauce

Salt

, to taste

Black pepper powder

, for seasoning
How to make Arugula & Fig Salad Recipe
We begin making the Arugula & Fig Salad Recipe by washing the arugula leaves well with water and drain all the water and keep it aside.

Next heat a small skillet, add the figs and let it sizzle for few minutes and a tablespoon of red wine vinaigrette and toss it over. Cook for 2 more minutes and set aside. Do the same thing for green beans as well.

Then to make the dressing squeeze in the lemon juice and whisk in all the other ingredients till it it emulsifies.

Drizzle half of it on the arugula leaves and toss over, check for seasonings. Drizzle the remaining over the green beans and figs.

To serve carefully place the tossed arugula leaves on a serving plate and drop in the figs and green beans and sprinkle few sunflower seeds as well.

Serve the Arugula & Fig Salad Recipe as a healthy appetizer during any party occasion.