Bajra Na Rotla Recipe - A Traditional Gujarati Pearl Millet Bread
Bajra Na Rotla Recipe is a A Traditional Gujarati Pearl Millet bread. This healthy rotla can be served as part of Gujarati meals or just as a snack along with some jaggery and butter.

Archana Doshi
On

Friday, 03 January 2014 16:06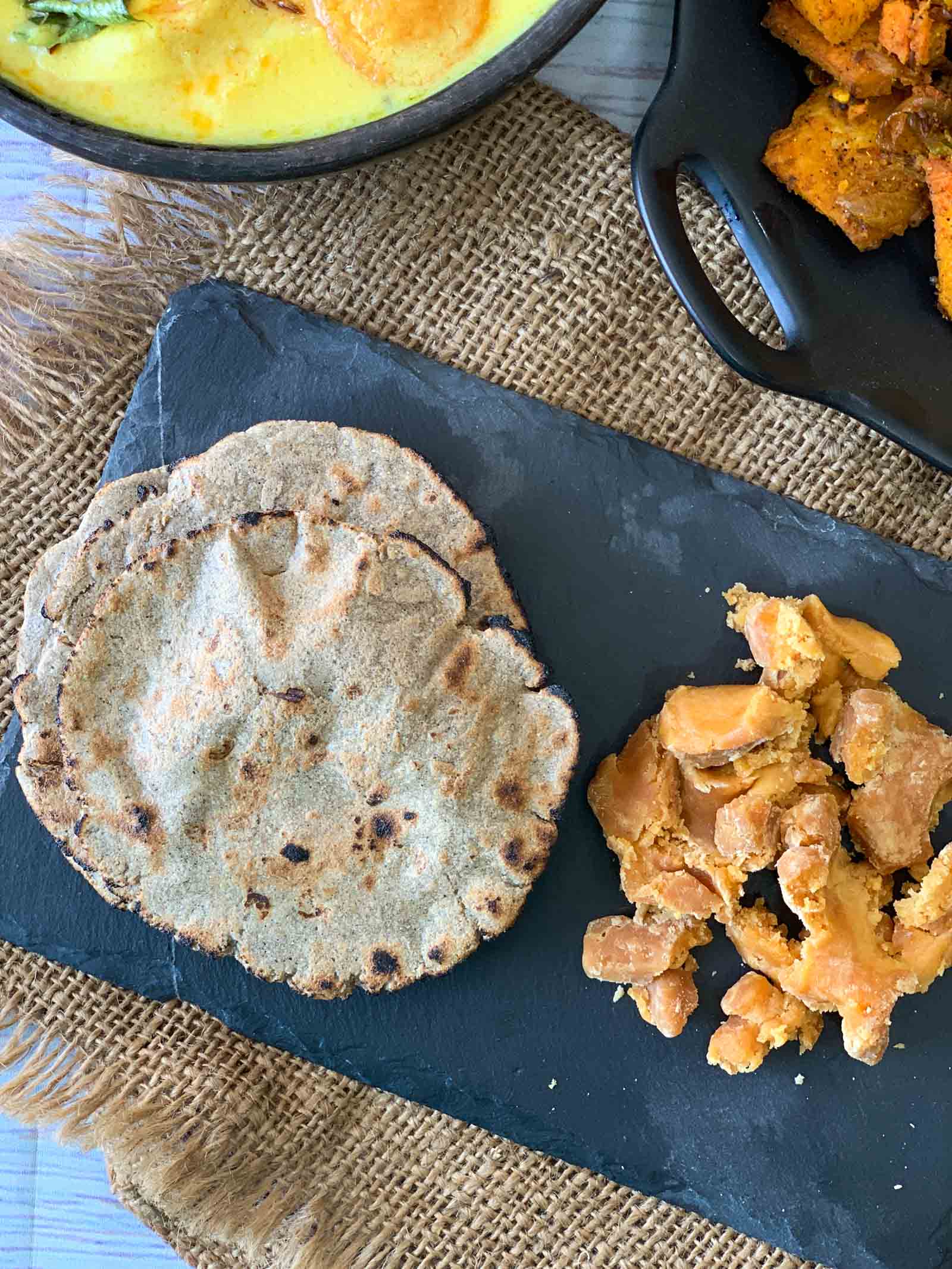 Bajra Na Rotla also known as Bajra Roti is a plain and simple flat bread made from pearl millet flour. Bajra Na Rotla and Ringna No Olo is an all time winter favorite food, especially when the rotla comes straight out of the stove to the plate. The millet flour is rich in proteins, and is also a source of iron, calcium and other minerals like potassium, magnesium and zinc.
In many regions of Gujarat, hot rotla's are also eaten with fresh butter and jaggery and often given to children as a snack.
Serve Bajra Na Rotla along with Green Chilli Pickle Recipe (Gujarati Raiwala Marcha) by the side. Or you can serve it along with Baingan Bharta Recipe and Tomato Onion Cucumber Raita Recipe
Here are more flatbread recipes to try
Course:
North Indian Breakfast
Ingredients
1 cup

Bajra Flour ( Pearl Millet)

Salt

, to taste

Water

, as required
How to make Bajra Na Rotla Recipe - A Traditional Gujarati Pearl Millet Bread
To begin making Bajra Na Rotla in a wide mouth bowl combine the flour and salt; add water a little at a time to make stiff dough. Cover the dough and allow it to rest for 10 minutes. Knead once again and divide the dough into 6 portions. Preheat your iron skillet on medium heat.

Traditionally this rolta is cooked on a clay skillet, if you do have one, go ahead and use it. But for all practical purposes the iron skillet works just as well.

Using wet palms place the ball on flat surface and flatten the ball with your palms. Continue pressing the dough until the rotla has attained a round shape. If you find any cracks, use your finger to pinch the cracks together and seal them. Toss the dough on flour if it gets sticky.

You can also use a wet cloth or a greased plastic sheet to make your rotla on if you are not able to make the rotla on a flat surface.

Place the rotla on the heated iron skillet and cook for a few seconds on one side and turn over gently with a flat spatula to the other side.

Turn the heat to low and allow the rotla to cook slowly. Once again flip and cook on low heat until well done. You will notice that it begins to puff when it is cooking slowly on low heat. There are times the rotla will not puff; so don't get hassled, just allow it to cook evenly and you can still savor it. Continue the process with the remaining portions of the dough. Turn off the heat.

Serve the Bajra Rotla's hot with jaggery and butter or Ringna No Olo. Bajra na Rotla has to be served straight from the stove, if it cools down, it will feel very dry and bland. There are a few things which have to come straight from the stove to the plate and this is one of them.

Serve Bajra Na Rotla along with Green Chilli Pickle Recipe (Gujarati Raiwala Marcha) by the side. Or you can serve it along with Baingan Bharta Recipe and Tomato Onion Cucumber Raita Recipe