Baked Chinese Potato Recipe (Koorka Mezhukuperatti)

Donna George
On

Tuesday, 07 June 2016 00:55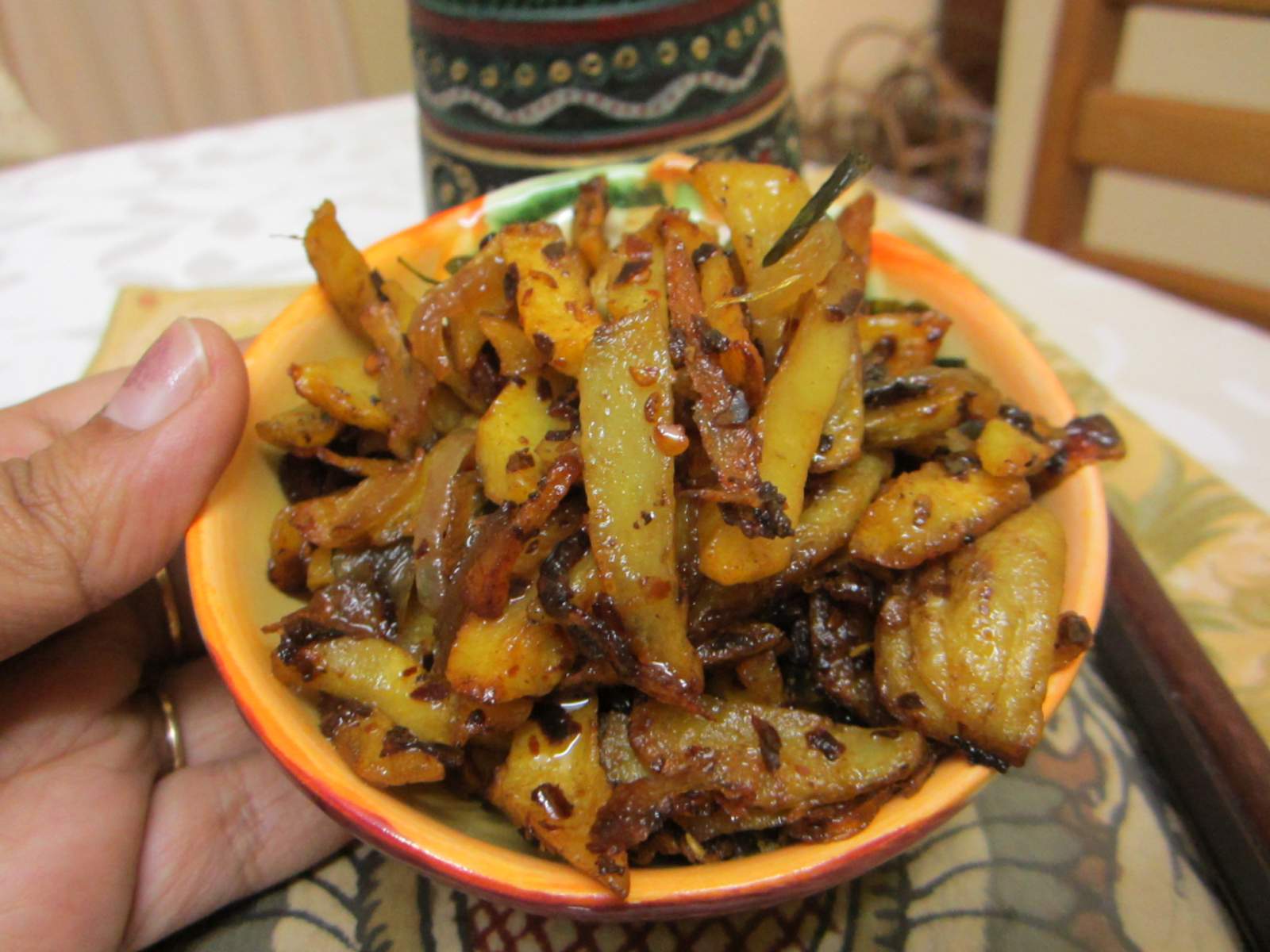 Baked Chinese Potato Recipe is made from Chinese Potato, the eternal favorite 'Koorka' of the people of Kerala. Koorka is a small tuber crop cultivated throughout the length and breadth of Kerala. Koorka is enriched with Calcium, Iron, and valuable vitamins. This dish is regularly prepared in most homes in Kerala. The regular stir fry or Koorka mezhukuperatti is usually fried on the pan. My version is healthier because it is baked in the oven for a few minutes until lightly browned and crisp and uses very less oil. Serve this as a side with plain rice and Avial or any curry of your choice to make it a Kerala style meal for any weekday.
Explore more of our Kerala specialties that are popular
Ingredients
250 grams

Chinese Potato

, cut into medium size pieces
1 pinch

Turmeric powder (Haldi)

10

Shallots

, or 1 large onion, sliced lengthwise
3 cloves

Garlic

, finely chopped
1 teaspoon

Red Chilli flakes

, adjust as per spice tolerance

Salt

, as per taste
1 sprig

Curry leaves

Coconut Oil

, enough to shallow fry
2 tablespoons

Fresh coconut

, pieces
How to make Baked Chinese Potato Recipe (Koorka Mezhukuperatti)
Baked Chinese Potato Recipe also called Koorka Mezhukuperatti in Malayalam is an easy recipe. Firstly, clean the koorka/ Chinese potatoes and cut them into medium sized pieces.

Pre-heat oven to 150 degree Celsius.

Meanwhile, pressure cook the Chinese potato/ koorka with turmeric powder, shallots/ onions, garlic, chili flakes, salt, curry leaves and coconut pieces (if using). Since these koorkas should be firm yet cooked, switch off flame just before the whistle and let the pressure cooker cool by itself.

Grease a baking tray. Spread the cooked koorka on the baking tray.

Drizzle a little coconut oil over the vegetable in the tray (or brush the oil to the potatoes with the help of a cooking brush).

Bake in the oven at 150 degree Celsius for 8 to 10 minutes until lightly browned and crisp. I don't like mine too crisp, so didn't keep in oven for too long. But if you prefer it nice and crisp, bake for extra 4-5 minutes in the oven.

Serve hot with rice plain rice and Avial or a curry of your choice, to make a Kerala style dinner at home.