Barley Salad With Mint, Cucumber & Olives

Archana's Kitchen
On

Sunday, 19 April 2015 00:35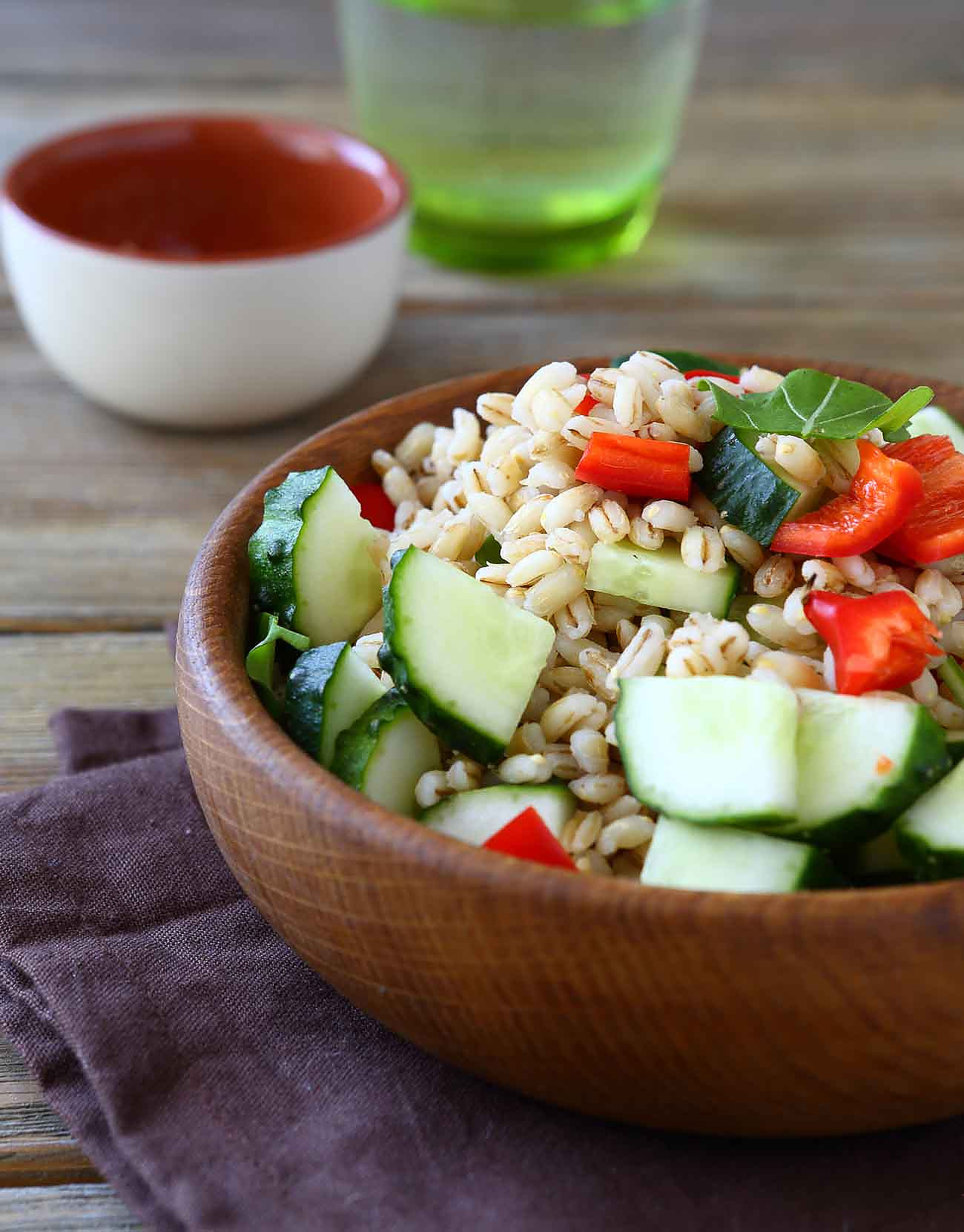 Barley Salad with Cucumber and Mint is a combination of simple flavors of mint and crunchy cucumber. It is a fresh, light salad ideal for weekday lunch or dinner. Store some boiled barley in the fridge and on a busy weekday this salad can be prepared in few minutes only.
Did you know: Barley has a nutty flavor and is a great substitute for Rice or Pasta. Barley helps to reduce the blood sugar, blood pressure and cholesterol. Barley also helps in promoting weight loss. Barley water consumption helps in regulating digestion and stomach problems.
Cucumber's high water content helps ward off dehydration and combat the heat while their refreshing and mild taste appeal to people of all age group.
Here are more salad recipes to try
Ingredients
1 cup

Barley (seeds)

2

Tomatoes

, finely chopped
1

Green Bell Pepper (Capsicum)

, finely chopped
2

Cucumbers

, cut into wedges

Mint Leaves (Pudina)

, small bunch
1/4 cup

Black olives

, finely chopped
2

Spring Onion Greens

, finely chopped
2 tablespoons

Extra Virgin Olive Oil

1 teaspoon

Red Wine Vinaigrette

1 tablespoon

Lemon juice

Salt

, to taste

Black pepper powder

, to taste
How to make Barley Salad With Mint, Cucumber & Olives
To start making Barley Salad with Mint, Cucumber & Olives, place the barley in a bowl and cover with warm water and allow it to soak for 45 minutes.

Once the barley is soaked, drain the water. Place the barley in a medium saucepan, add salt and cover with water and add about 2 cups of water. Bring to boil over high heat and reduce the heat to low and simmer for about 50 to 55 minutes or until barley is tender and cooked and all the water is absorbed.

After cooking the barley, if there is any water remaining, drain the excess water and cool the barley down to room temperature.

Next, heat a teaspoon of olive oil in a pan; add the chopped onions and bell peppers and stir-fry for a couple of minutes until lightly tender. Once tender turn off the heat and allow the peppers to cool.

In a large mixing bowl, toss the barley, tomatoes, roasted pepper and onions, cucumbers, mint, and olives.

In a small bowl whisk together the oil, red wine vinaigrette, lemon juice, salt and pepper. Pour over the salad and toss to coat. Check the salt and adjust to suit your taste and serve chilled.

Serve the Barley Salad with Mint, Cucumber & Olives for lunch that is wholesome and nutritious.