Bhaat Ka Thepla Recipe - Spiced Rice & Millet-Gluten Free
Bhaat Ka Thepla Recipe is a delicious thepla made along with rice and millets, making it a gluten free recipe. With added spice, this is a great way to include millets into your family's diet.

Archana Doshi
On

Wednesday, 26 August 2009 15:41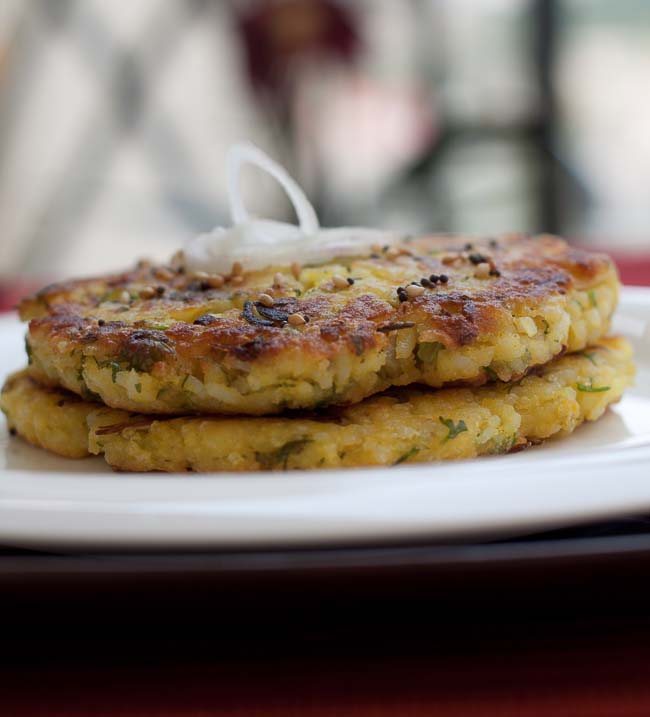 Bhaat Na Thepla's are flat breads made from leftover rice; that is combined with gram flour, asafoetida and vegetables to make a wholesome nutritious one dish dinner.
Thepla's are known to be wheat flour based breads. Here Bhaat Na Thepla is made from rice and unlike wheat theplas these are patted on a wet napkin and inverted on the skillet.
This dish attains beautiful textures and flavours when it gets cooked on iron skillet and tastes its best when served along with freshly made Tamatar ki Chutney.
Here are more Thepla recipes for you to try
Note: Cooking the foxtail millet is similar to rice. You can cook it either in a sauce pan or in the pressure cooker. For every cup of millet, add 1-1/2 cups of water. Soaking the millets in the water for a couple of hours helps cook it faster.
Ingredients
2 cups

Cooked rice

, mashed
1/2 cup

Foxtail Millet

, cooked
1/4 cup

Gram flour (besan)

1/2 teaspoon

Asafoetida (hing)

1/2 teaspoon

Turmeric powder (Haldi)

2

Green Chillies

, finely chopped
1/4 cup

Cabbage (Patta Gobi/ Muttaikose)

, finely chopped
1

Onion

, finely chopped

Coriander (Dhania) Leaves

, small bunch, finely chopped

Salt

, to taste

Sunflower Oil

, to smear

Salt

, to taste
How to make Bhaat Ka Thepla Recipe - Spiced Rice & Millet-Gluten Free
To begin making the bhaat ka thepla, in a large mixing bowl combine all the ingredients - mashed rice, foxtail millet, gram flour, asafoetida powder, turmeric powder, green chillies, cabbage, onion, coriander leaves, salt.

Combine the dough until it all comes together. Divide the mixture into equal portions.

Preheat the skillet on medium heat. Keep water in a separate bowl to wet your fingers and a wet the muslin cloth dipped in water squeezing out any excess water.

Spread the cloth on a smooth countertop. Take a portion of the mixture and pat it on the wet cloth to about 4 inches in diameter. Keep the thepla to medium thickness as you don't want it to be breaking while flipping it on the tawa.

Carefully lift the cloth along with the patted mixture and flip the patted rice thepla over on the skillet. Drizzle a teaspoon of oil around the patted rice and cook on medium heat.

After about 3 minutes, you will be able to flip the Bhaat ka Thepla over to the other side. Allow each side to cook on medium heat for about 3-4 minutes, until the Theplas are slightly crisp and browned. Remove from heat and place on a serving platter.

Continue the same procedure with the other portions.

Serve the Bhaat Ka Thepla along with freshly made Tamatar ki Chutney.