Broccoli & Cheese Filled Crepe Recipe (with Roasted Red Peppers)
sauteed veggies in a whole wheat crepe to be served as a dinner meal n itself when served with yogurt dip

Archana Doshi
On

Friday, 21 November 2014 10:45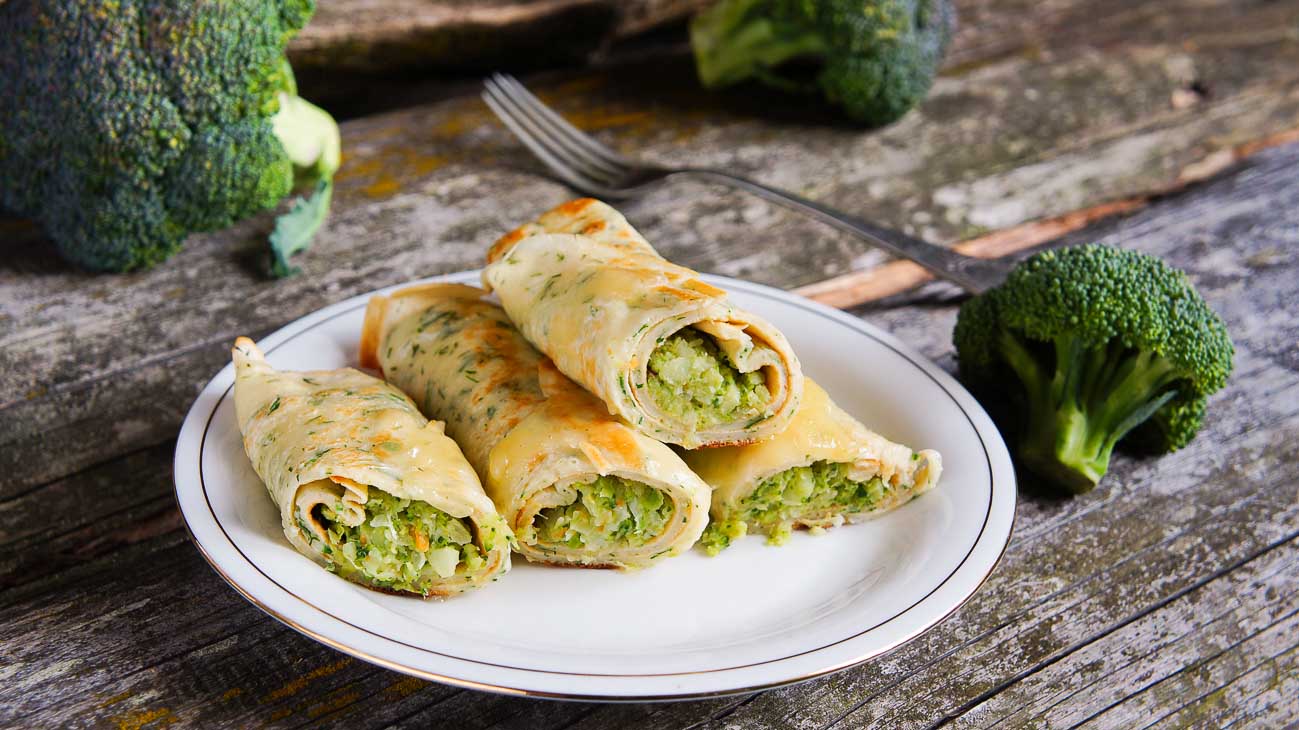 The Broccoli & Cheese Filled Crepe Recipe is simple, nutritious and wholesome that makes perfect delicious appetizer for the parties or even a weeknight meal. We often find that we are bored with this super nutritious vegetable and run out of ideas and this is one recipe you will keep making again and again, as it is packed with flavors from the cream cheese, roasted peppers and dijon mustard. When served with a Greek Yogurt Dip, this recipe completes itself. You can also serve the Broccoli Cheese Crepes for a weeknight dinner.
Ingredients
8

Crepes

500 grams

Broccoli

, washed and chopped
1

Red Bell pepper (Capsicum)

, finely chopped
1 tablespoon

Dijon Mustard

1/2 cup

Britannia Cream Cheese

, (flavored, like jalapeno or red peppers)

Salt

, to taste

Red Chilli flakes

, or tabasco sauce for spice
1 tablespoon

Butter (Salted)

1/4 cup

Cheddar cheese

, grated
How to make Broccoli & Cheese Filled Crepe Recipe (with Roasted Red Peppers)
To begin making the Crepes with Broccoli and Cheese, we will first make the crepes according to the instructions. You will get approximately six crepes with the recipe. Click here to read how to make the whole wheat crepes and make them according to the instructions.

Keep the prepared crepes aside, covered to stay soft.

Next we will begin to prepare the filling for the crepes.

Heat a saucepan or a skillet on medium heat; add in the butter and red bell peppers. Saute the bell peppers on medium heat until lightly roasted for a couple of minutes.

Next add in the chopped broccoli, sprinkle some salt and allow it cook until soft. (make sure to add just a pinch of salt, as the mustard and cream cheese contains salt as well). This will take 3 to 4 minutes.

Once the broccoli is lightly steamed and cooked, turn off the heat. Stir in the dijon mustard and the cream cheese into the broccoli and pepper mixture. The mixture will looks like a thick broccoli sauce.

Check the salt and spice levels and adjust to suit your taste.

Our final step is to spoon the Broccoli and Cream Cheese mixture into the crepes and roll it into a cylinder.

Place the crepe on a flat surface; and spoon a tablespoon or more of the filling on the center of each crepe. Fold the crepe to make a roll and place the seam side down on a baking dish or a baking platter.

Proceed the same way with the remaining crepes.

You can serve the crepes as it is, or sprinkle the cheese on the top and broil in a preheated oven until the cheese melts. You must do this process only when you are ready to serve.

Serve the Broccoli & Cheese Crepes along with Greek Yogurt Dip sprinkled chilli flakes or tabasco sauce.