Carrot Beet Amaranth Super Salad Recipe

Vanita Vasudevan
On

Saturday, 05 September 2015 00:46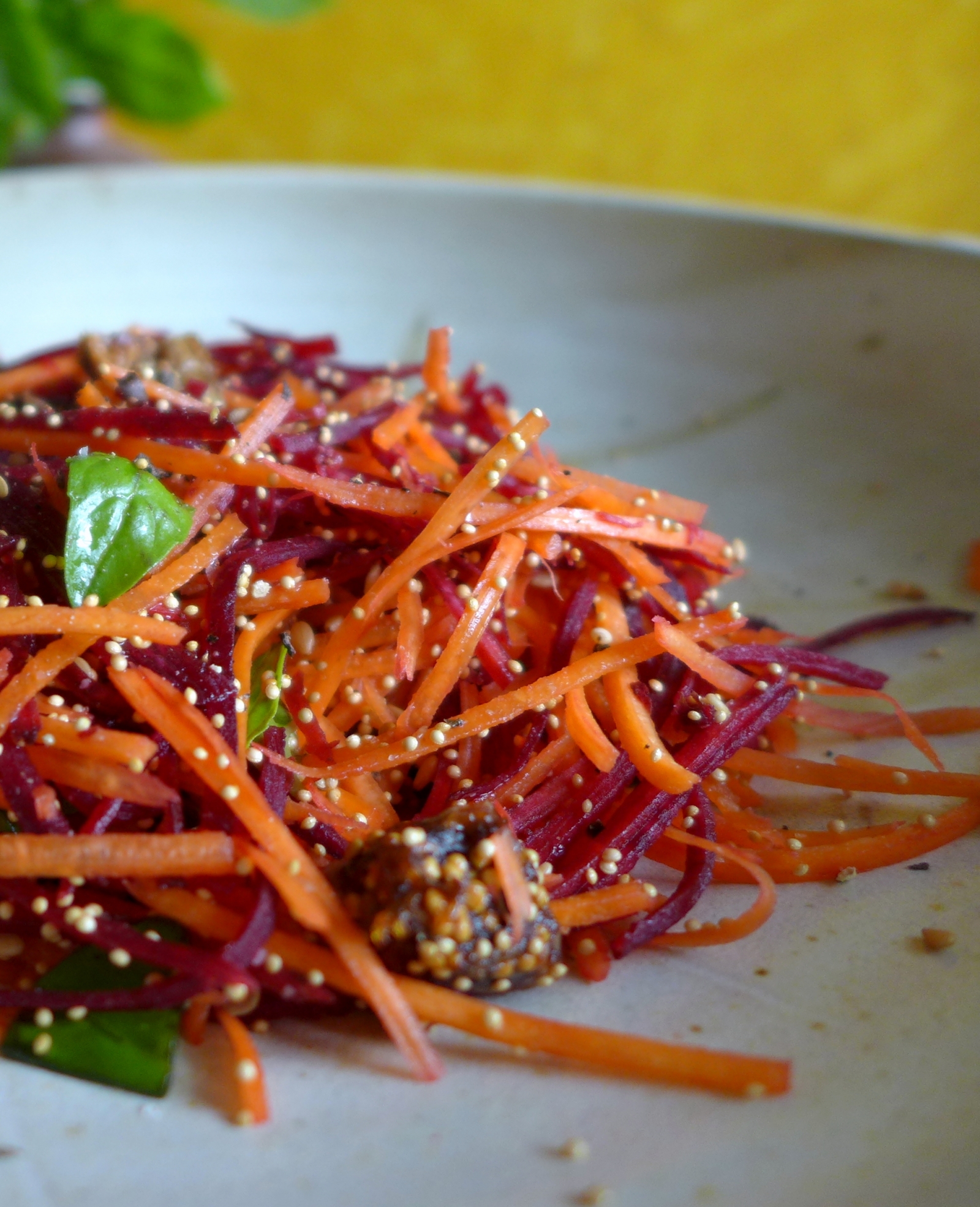 Carrot Beet Amaranth Super Salad Recipe is a simple, healthy salad fortified with two super-foods combined with fruits, seeds and herbs. It is delicious and filling enough to make a lunch by itself too. Incorporating vegetables of multiple colours - bright-red beetroots, orange thinly sliced carrots - and crunch delivered with golden roasted amaranth and sesame seeds, it also has some much-needed soft chew thanks to the dried figs. It comes together with a zesty dressing of homemade tahini, Italian basil, EVOO, Himalayan pink salt and freshly pounded black pepper. Delicious, healthy, and perfectly balanced in terms of nutrients, flavours and textures, you can serve this salad as a meal by itself for a wholesome Dinner.
Did you know: Amaranth seeds, just like quinoa, are not considered a grain. They are the seed of the amaranth plant, and considered a super-food for many reasons. Amaranth is one of the ancient grains that traces it origin to 8000 years and is great source of protein. In addition to being gluten-free, which makes it a great choice for people who are celiac or unable to digest and process gluten, it contains high amounts of lysine, an essential amino acid missing in most other grains. This makes amaranth a complete protein, because it contains all the essential amino acids required.
here are more recipes to make with amaranth leaves
Ingredients
1 cup

Beetroot

, julienned
1 cup

Carrots (Gajjar)

, julienned
1/4 cup

Amaranth Seeds (Rajgira)

, lightly toasted
2 tablespoons

Sesame seeds (Til seeds)

, toasted
2 tablespoons

Tahini

, for dressing
2 tablespoons

Basil leaves

2 tablespoons

Dried Figs

, chopped
How to make Carrot Beet Amaranth Super Salad Recipe
To make the Carrot Beet Amaranth Super Salad Recipe first combine the beets and carrots in a salad bowl.

Drizzle in the tahini and extra virgin olive oil to the beets and carrots. Top it with the chopped dried figs, chopped basil leaves and toss it all very well.

Toast the amaranth and sesame seeds next. To do this, put them in a non stick pan, and saute them lightly over a low-medium flame. Ensure you do not have the heat too high, so that they do not burn. Set them aside to cool.

Once the amaranth is cooled down, add it to the above beet and carrot salad mixture only when you are ready to serve. This is to ensure that they don't get soggy and lose the crunch.

Check the salt and seasoning and adjust to suit your taste. The Carrot Beet Amaranth Super Salad is ready to be served as a meal by itself for a delicious Dinner along with a warm toasted bread and soup.