Cheesy Rice Poppers Recipe
A delicious and cheesy appetizer perfect for your next party

Aparna Parinam
On

Sunday, 23 April 2017 00:00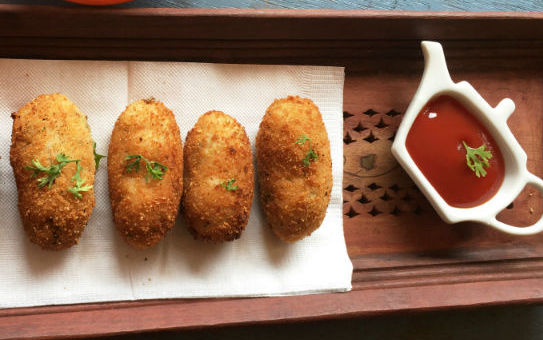 Cheesy Rice Poppers is a delicious recipe that makes for a great appetizer or snack, and can also made for a nice lunch box recipe. The comforting familiarity of rice, coupled with the gooey richness of cheese along with the crunchiness of breadcrumbs makes this snack is a real treat.
Serve the Cheesy Rice Poppers along with Dhaniya Pudina Chutney as a party appetizer or with masala chai as an evening tea time snack.
Other recipes that you can try are:
Ingredients
1 cup

Rice

, cooked or leftover
1

Potato (Aloo)

, boiled
1 teaspoon

Mint Leaves (Pudina)

, chopped
1 teaspoon

Coriander (Dhania) Leaves

, chopped
1 teaspoon

Red Chilli flakes

1/2 teaspoon

Green Chilli

, finely chopped
1/2 teaspoon

Lemon juice

, (optional)
1/2 teaspoon

Black pepper powder

, (optional)
1 teaspoon

Cooking oil

2 teaspoon

Bread crumbs

2

Cheese Cubes

Salt

, as per taste  
For coating the rice rolls:
3 teaspoon

All Purpose Flour (Maida)

4-5 tablespoon

Bread crumbs

Cooking oil

, for frying
How to make Cheesy Rice Poppers Recipe
To begin making Cheesy Rice Poppers, first add rice and mashed potatoes in a wide bowl and mix well.

To this add mint leaves, coriander leaves, chilli flakes, green chilli, lemon juice and black pepper powder, bread crumbs and mix well to form a pliable dough.

(Let the rice grain remain intact. Do not make it into a paste)

Cut the cheese cubes into 4 longitudinal pieces. Make a ball of the rice mixture with your right palm and flatten it in your palm with your left hand fingers.

Place the long piece of cheese in the middle and fold the rice mixture over it. Shape into rolls.

Heat oil in a kadhai. Make a thin maida water mixture, by adding maid to water in a bowl and mixing it well. Dip the rolls in this mixture and then roll it in the breadcrumbs.

Fry it in hot oil. Let it turn light brown. Turn the roll to the other side and fry again until it turns light brown.

Remove from oil and drain on absorbent paper.

Serve the Cheesy Rice Poppers along with Dhaniya Pudina Chutney as a party appetizer or with masala chai as an evening tea time snack.
Do not overfry the rice balls.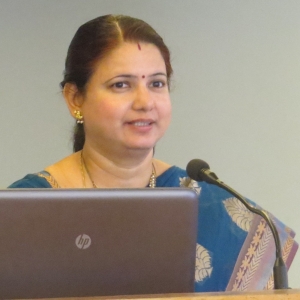 Cooking is devotion - this is my mantra! I am a pharmacist by profession and live in Margoa, Goa. Am also, a tireless vegetarian food and travel lover. I believe in making traditional dishes and preserving the recipes. Through my blog: www.tangytales.com, I endeavor to share healthy vegetarian recipes with you. I salute to all the devoted mothers and fathers (which may be rare….), grandmothers, and all the wonderful women, who have dedicated their immense time towards cooking, for years at a stretch….to ensure their kids and their loved ones, eat tasty and healthy food ! We all love to eat good tasty food, but it isn't imperative that all of us love to cook too. This is because each one of us is not aware of the joy of cooking! I truly believe anybody can cook!