Chettinad Style Puliyogare Gojju Recipe
Thick spice paste with jaggery and tangy tamarind which comes in handy when you need a South Indian Spiced rice

jyothi varne
On

Monday, 14 August 2017 00:19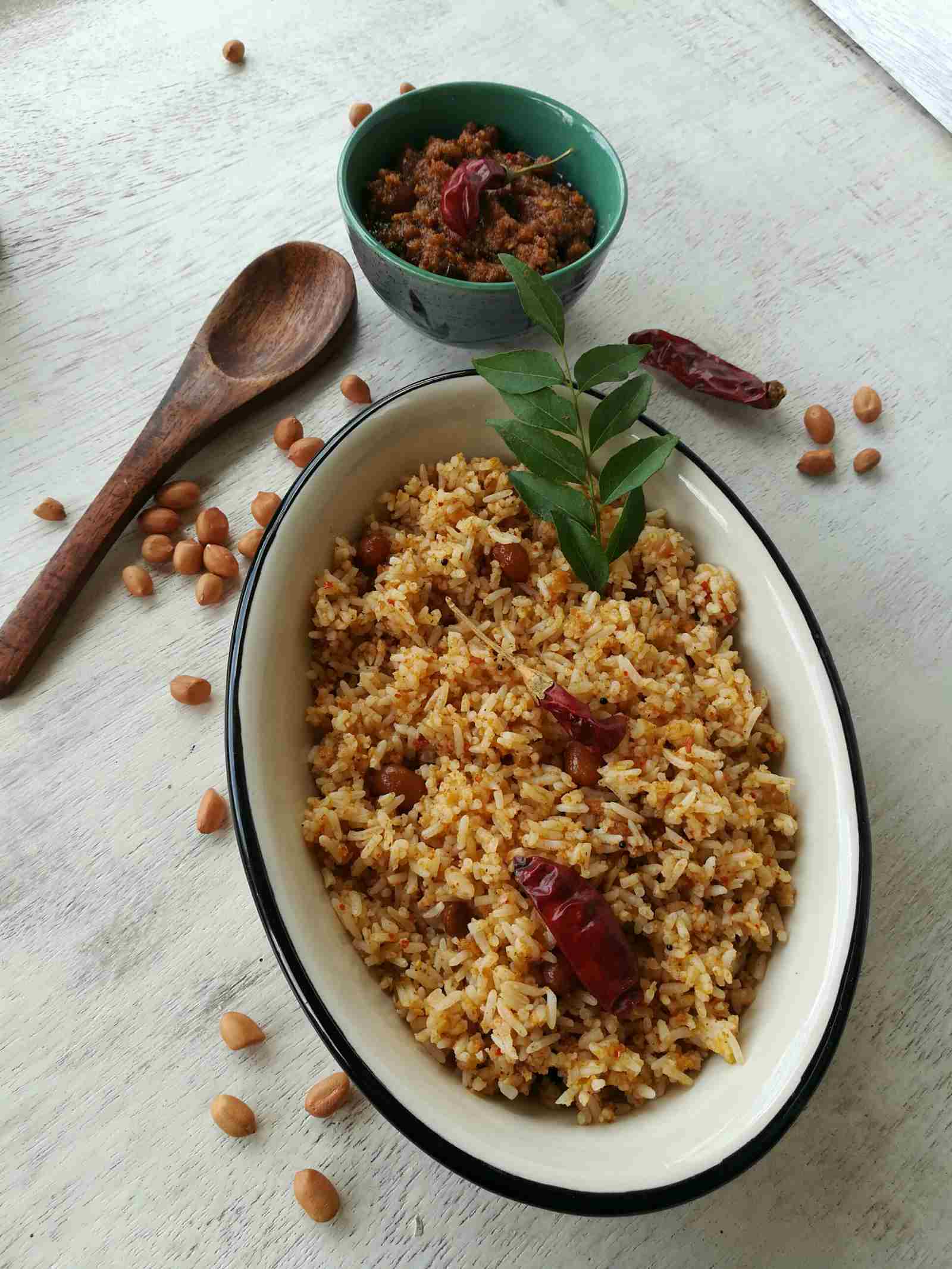 We've all had this tangy, sour rice seasoned with peanuts and curry leaves across South Indian temples, pooja ceremonies, festivals and darshinis. Simply put - this is a thick tamarind and jaggery oily spiced up paste which is mixed with boiled or steamed rice, basis one's preference. Other names by which it is known by is Pulihora or puliyodharai.
As a kid I use to watch my grandma who was from Chettinad side, pick those spices, grind them by using a traditional mortar & pestle. While the entire house had that eccentric aroma of jaggery brewing and spices being roasted. We all knew then lunch time would have puliyodharai with her classic masala vadas. Well, that's a recipe for some other time-the Indian falafel as we all know it.
All the ingredients used in making this recipe can be found in your kitchen. Make it once, store it for weeks together in a refrigerator. Just mix with freshly prepared plain rice and you're good to go - a complete meal by itself, which doesn't require a side dish. I haven't added any twist to this recipe - I've kept it original, as per the steps listed down by my mom.
Serve Chettinad Style Puliyogare Gojju Recipe with Aama Vadai, or Akki Peni Sandige for breakfast or lunch. You can pack this up for lunch boxes when in hurry and also this recipe is useful when you travel or back from travel and need something to eat immediately with rice, freshly steamed or leftover.
If you like this recipe, try more recipes like
Ingredients
12

Dry Red Chillies

, (keep aside half of them for seasoning)
3 tablespoons

Whole Black Peppercorns

6 tablespoons

Cumin seeds (Jeera)

1/2 cup

Chana dal (Bengal Gram Dal)

1/4 cup

White Urad Dal (Split)

1/2 cup

Sesame seeds (Til seeds)

1 cup

Dry coconut (kopra)

, grated
1 teaspoon

Mustard seeds (Rai/ Kadugu)

20

Curry leaves

1/2 teaspoon

Asafoetida (hing)

1/2 cup

Jaggery

1/4 cup

Tamarind Paste

, (Or Soaked tamarind pulp - 1/2 cup)
1/2 cup

Roasted Peanuts (Moongphali)

1-1/2 cups

Oil
How to make Chettinad Style Puliyogare Gojju Recipe
To begin making Chettinad Style Puliyogare Gojju Recipe, get prep with all the ingredients mentioned and keep them handy.

In a kadai, dry roast each of the ingredients individually one at a time, on a low heat - Urad Dal, Chana Dal - both until slightly brown, black pepper, Cumin seeds, Red Chillies a bit until fragrant.

Allow to cool by spreading them on a large plate. Once cooled, grind all the above dry roasted ingredients by using a mixer grinder. Set aside.

Next dry roast these ingredients: Sesame seeds, Dry coconut. Coarsely grind both of these ingredients and mix it with the ground spices you prepared in mixer earlier.

In an aluminium vessel, or a thick bottomed Kadai, heat about 2 cups of water, add jaggery, tamarind pulp, salt to taste and bring to a boil. Check on the tangy v/s sweet admixture of flavours. Adjust as per requirement by adding in more jaggery/tamarind pulp - as this is the mixture that gives the rice its unique flavour.

Allow to cool. Once the jaggery - tamarind mixture cools down add the ground dal spice & coconut powder and stir well to form a nice thick semi dry dough like consistency. Set aside.

In a kadai/wok, heat oil, add in the mustard seeds to splutter, curry leaves & dry red chillies.

Add the groundnuts and fry for about 2-3 minutes on a low flame.

To the above mixture, finally, add asafoetida/ hing powder.

While it's still hot transfer it into the kadai in which is the jaggery tamarind and spice powder mixture is resting. Stir well so that the oil and tempered spices coat the overall mixture and help in preserving it for a longer time.

Chettinad Style Puliyogare Gojju Recipe is ready, you can store this in an air tight container in a refrigerator for weeks together.

Just take a few table spoons of the gojju and mix it with cooked plain rice, as and when you want to relish this tangy goodness.

Serve Chettinad Style Puliyogare Gojju Recipe with Aama Vadai, or Akki Peni Sandige for breakfast or lunch.