Aam Peda Recipe - Delicious Mango Peda Recipe
The Aam Peda Recipe is a lip smacking peda recipe that is packed with flavors from the fresh mango puree, condensed milk and milk powder. It makes a perfect dessert for the summers or even for Raksha Bandhan.

Pooja Nadkarni
On

Friday, 27 October 2017 12:08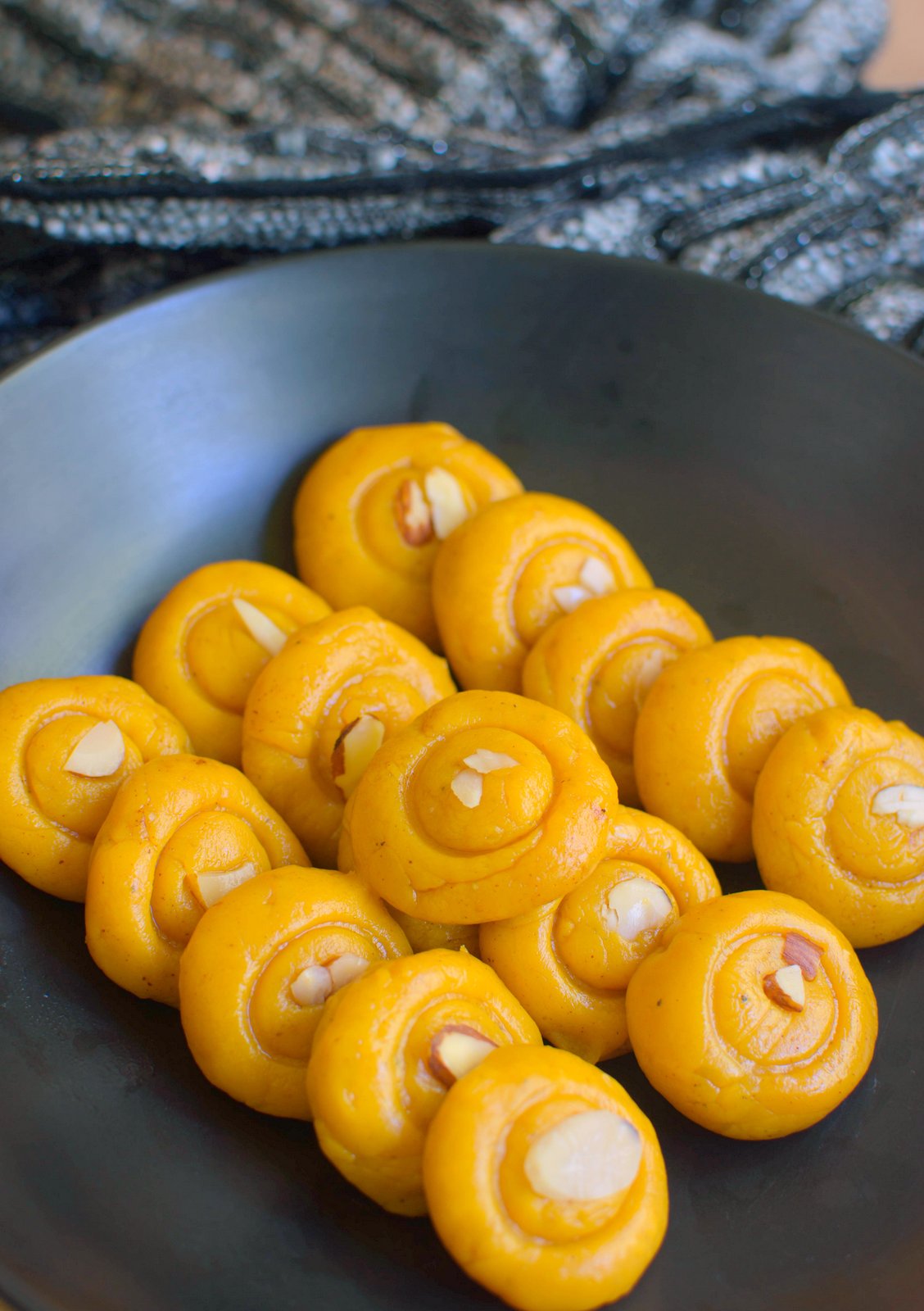 Ingredients
1-1/2 Cups

Mango Pulp (Puree)

1 Cup

Milk Powder

3/4 Cup

Condensed Milk

2 tablespoons

Ghee

, (more for greasing palms and plate)
1 teaspoon

Cardamom Powder (Elaichi)

1 tablespoon

Corn flour

Slivered Almonds (Badam)

, to garnish
How to make Aam Peda Recipe - Delicious Mango Peda Recipe
To begin making Aam Peda Recipe - Mango Peda Recipe, get all the ingredients ready and handy. Prepare cornstarch paste by mixing in a tablespoon of cornstarch in a tablespoon of cold water.

Grease a plate with some ghee and keep aside.

In a big bowl, mix together, condensed milk and milk powder until smooth paste .

Add 2 tablespoons melted ghee. Mix again and keep aside.

Take mango puree in a non stick saucepan kept on medium heat. Add the prepared corn starch paste, the condensed milk mixture in the mango puree and mix well.

Let it cook on medium high heat until the mango peda mixture thickens.

Keep scraping the bottom and the sides of the pan.

After about 10 minutes, add cardamom powder and continue cooking till the mango peda mixture starts leaving the pan and forms into a dough. Once done turn off the heat.

Remove the Mango Peda on a greased plate and let the mixture cool down for about 5 minutes or till you can handle the hot peda mixture.

After about 5 minutes, grease your palms with ghee and take a tablespoon of the aam peda mixture on your palm and shape up into a ball.

Press it a little to give it a disc shape and place on a plate. I have used my icing tip coupler to slightly press on these pedhas in order to make a design, but you can skip this step if you like them plain.

Repeat for all the amm peda and then you can just press 1 or 2 slit almonds on top of each aam peda.

Serve the Aam Peda Recipe - Mango Peda Recipe as a bite of dessert along with an Indian thali of Vegetable Bajji Recipe, Mirchi Ka Salan, Matar Paneer Kulcha, Sweet & Spicy Coriander Tadka Raita, and Baby Potatoes Pulao Recipe.