Chicken Barbecue Pizza Recipe
Chicken Barbecue Pizza is all time favourite topping for pizza where barbecue chicken pieces are combined with melted cheese and a tangy tomato sauce. Serve it with Spaghetti Pasta Alla Puttanesca and a glass of Mojito.

Archana's Kitchen
On

Wednesday, 01 November 2017 09:00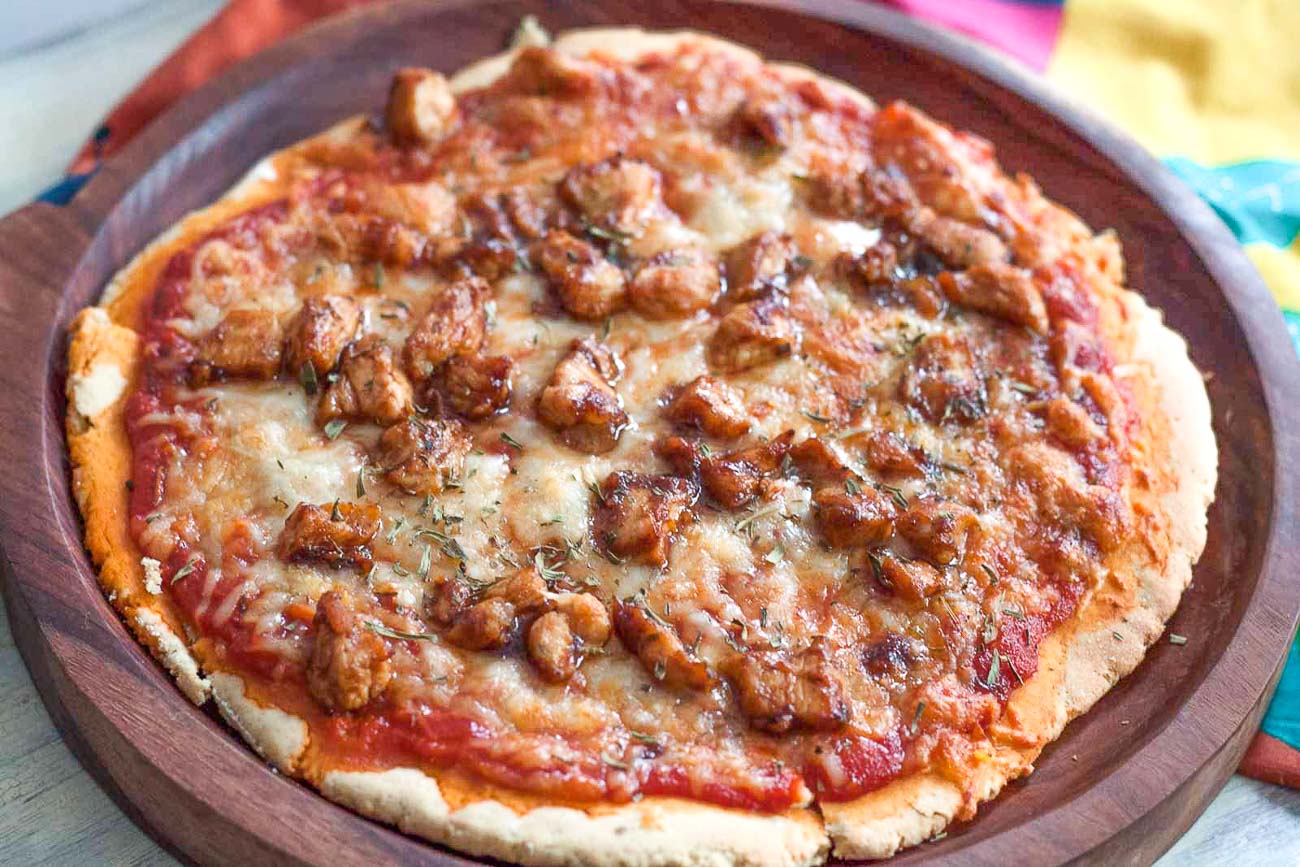 Chicken Barbecue Pizza Recipe is an all time favourite dish for your Sunday meal.The pizza has a thin crust base made with whole wheat flour and topped it over with some flavor packed tomato sauce, barbecue chicken pieces and mozzarella cheese.
These make up the perfect Party foods that will be loved by everyone. Pizza have been one of the major part of fast food but you can always keep it healthy by making it homemade with whole wheat base and adding vegetables as your choice of topping.
Serve the Chicken Barbecue Pizza along with Spaghetti Pasta Alla Puttanesca and a glass of Mango Ginger Virgin Mojito for your weekend dinner.
If you are looking for more recipes, here are some Homemade Pizza recipe that you can make for weekend meals.
Ingredients
Ingredients for Pizza Dough
3 cups

Whole Wheat Flour

, and some extra flour for dusting
1 tablespoons

Extra Virgin Olive Oil

, and extra as needed
2 teaspoons

Active dry yeast

1 teaspoon

Sugar

1 teaspoon

Salt

Lukewarm Water

, as required
For Sauce
2 cups

Homemade tomato puree

1

Onion

, chopped
4 cloves

Garlic

, chopped
1 teaspoon

Dried Thyme Leaves

1 teaspoon

Red Chilli flakes

1 tablespoon

Tabasco Original - Hot Sauce

1 teaspoon

Sugar

Salt

, to taste
For the topping
100 grams

Chicken breasts

, cut into small pieces
2 tablespoons

Barbeque sauce
How to make Chicken Barbecue Pizza Recipe
To begin making the Barbecue Chicken Pizza recipe, we will first make the pizza dough as it takes a couple of hours to rise.

In a large mixing bowl, combine the flour, yeast, salt, sugar. Add lukewarm water and knead to make a soft smooth dough.

Add olive oil on the top and knead about for about 5 minutes until the pizza dough is soft.

Once done, cover the dough and keep it aside for about 2 hours until the dough has almost doubled in size.

We will move ahead to make the sauce, Keep the tomato puree ready, heat a sauce pan with oil, add garlic and soften them for few seconds.

Add onions and saute them till they soften. Add pureed tomatoes into the pan along with the rest of the ingredients - dried thyme leaves, tabasco sauce, sugar, red chilli flakes and salt.

Mix well, cover it with the lid and cook it over a low heat for about 15 minutes. Keep it aside to cool down.

To make the topping, heat a flat skillet with oil, add chicken pieces and fry for few seconds, add barbecue sauce and saute well for 2 more minutes and switch it off.

When the dough has risen and the topping is ready, make the pizza when you are ready to serve it - else the pizza will get brittle and the paneer will become stiff.

Preheat a skillet or an iron tawa on medium heat. Divide the pizza dough into 4 portions.

Dust the pizza dough on flour and roll to make a 5 inch circle or the thickness you like for the pizza crust.

Place the rolled dough on the tawa and cook it like a roti on both sides.

Spread a little oil on the top of the dough and flip to make it face the bottom.

Next spread the tomato sauce evenly, drizzle the mozzarella cheese. Add the Barbecue chicken topping on the pizza and spread it evenly.

Cover the pan and allow the cheese to melt and also wait for the crust to get a slightly crisp from the sides. This will take about 4 to 5 minutes.

You can bake it in the oven also for about 10 minutes till the crust turns golden brown.

Once done, remove the Barbecue Chicken Pizza from the oven and serve.

Proceed the same way with the remaining pizza dough and serve immediately.

Serve the Chicken Barbecue Pizza along with Spaghetti Pasta Alla Puttanesca and a glass of Mango Ginger Virgin Mojito for your weekend dinner.