Chicken Shawarma Recipe
A middle eastern wrap, the Chicken Shawarma Recipe is an on-the-go meal by itself. Packed in a Pita with shredded chicken, pickled veggies and a yummilicious yogurt spread, this recipe is a keeper.

Archana's Kitchen
On

Wednesday, 31 January 2018 09:00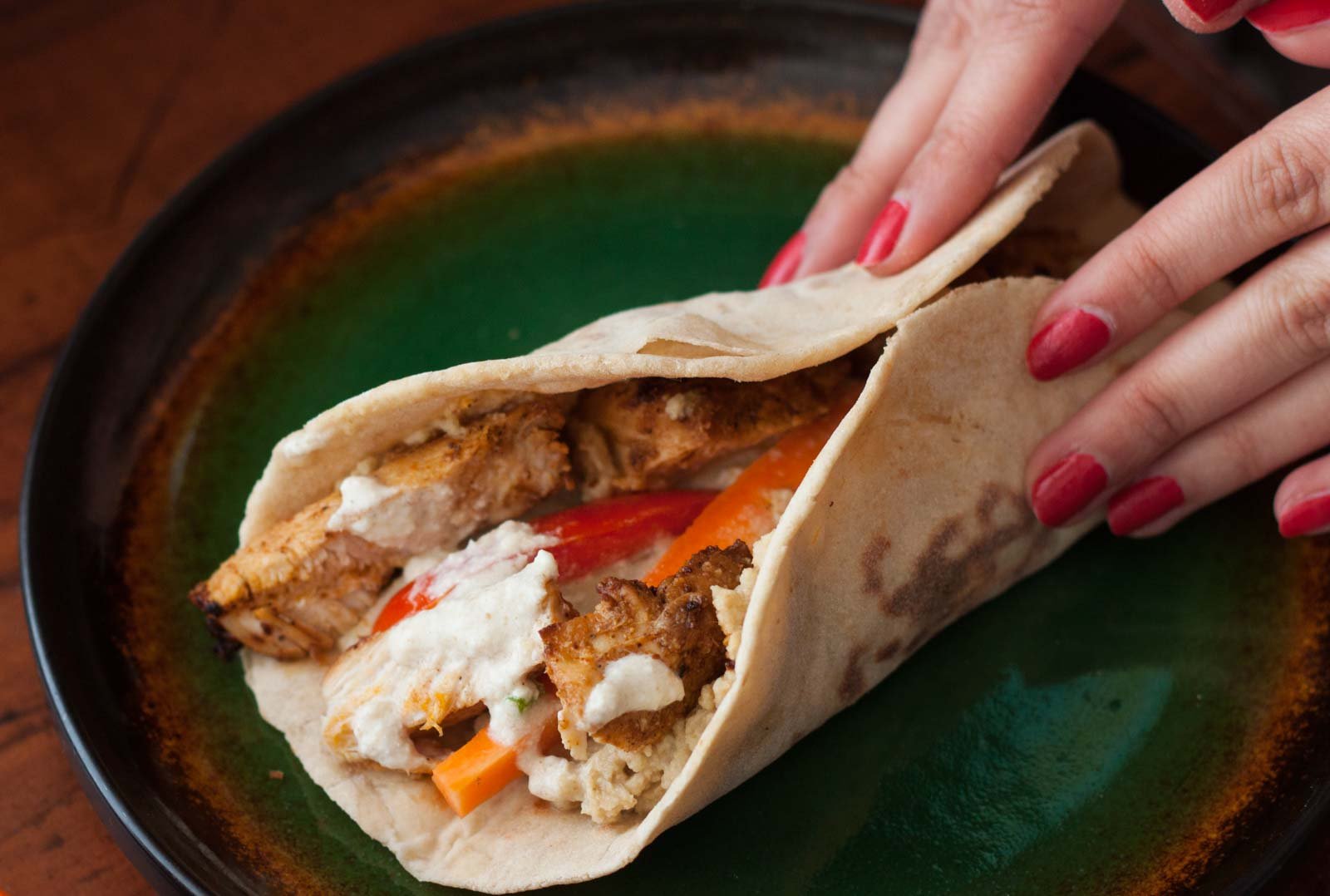 Chicken Shawarma Recipe is a favourite dish that everyone loves to eat. Shawarma hails from the Middle Eastern region, which is considered as a meat preparation made with chicken, beef, lamb or turkey.
The meat is usually placed on a spit which is nothing but a vertical grill and roasted until the meat is cooked. Using a knife the meat is shaved to thin slices and then mixed along with some hummus, crunchy onions and wrapped with pickled cucumber and green chillies.
Here at Archana's Kitchen we have recreated the shawarma in a simpler form so that you can easily try this out in your kitchen and surprise your family.
Serve the Chicken Shawarma Recipe along with Summer Lettuce Salad Recipe to make it a complete meal for your Sunday lunch.
If you are looking for more Wrap Recipes, here are some that you can try for your Weekend Meal:
Ingredients
For the Chicken
1

Chicken breasts

, cut into thin strips
2 tablespoon

Coriander Powder (Dhania)

2 tablespoon

Red Chilli powder

1 teaspoon

Cumin powder (Jeera)

1 teaspoon

Black pepper powder

1/4 teaspoon

Turmeric powder (Haldi)

1 tablespoon

Ginger Garlic Paste

2 tablespoon

Extra Virgin Olive Oil

Salt

, to taste
For the Pita
2 cup

Whole Wheat Flour

1 tablespoon

Active dry yeast

1/2 cup

Milk

1 tablespoon

Sugar

Salt

, to taste
For the Pickled Vegetables
1

Cucumber

, cut into julienne
1

Carrot (Gajjar)

, cut into julienne
1

Tomato

, pulp removed and julienned
1/4 cup

Chilli vinegar

1 teaspoon

Salt

1 teaspoon

Sugar

Other Ingredients
1 cup

Homemade Hummus

1 cup

Tzatziki

1

Onion

, chopped 
How to make Chicken Shawarma Recipe
To begin making the Chicken Shawarma Recipe we will first make the Pita bread.
To make the Pita Bread
For the pita bread dough, in a bowl mix together yeast & sugar.

Heat the milk until lukewarm and mix it with yeast and sugar. Allow this to sit for a while till you notice bubbles rising. This is when the yeast starts to activate.

Now add flour, salt and water slowly and combine to form a soft dough. Keep kneading for at least 10 minutes on to a working surface and place it inside a big bowl.

Cover it with a damp cloth and rest the dough in a warm place, allowing it to rise and doubles its size.
Marinade for the chicken
In a mixing bowl, add cumin powder, coriander powder, red chilli powder, black pepper powder, turmeric powder, ginger-garlic paste and olive oil. Combine everything well.

Add in the chicken pieces and mix them well till it is nicely coated. Marinate the chicken pieces for at least 30 minutes.

Meanwhile pickle the cucumber, tomatoes and carrots. In a separate bowl, add chilli vinegar, salt and sugar and the vegetables. Keep it aside.

Make the Tzatziki Recipe - A Greek Yogurt Dip and Classic Homemade Hummus Recipe With Lemon And Coriander and keep aside.

Check on the bread dough, knock out the all the air by kneading it once again. Make small sized dough balls.

Dust some flour on to your surface and with the help of the rolling pin start rolling one of the ball to a circle shaped flat bread. The bread should not be rolled too thin and it has to big enough to stuff the chicken and roll it up to form a roll.

Heat a flat skillet, on medium flame and cook the rolled out bread on both sides until you see small brown spots.

Do the same for the rest of the dough and keep the bread aside as you move ahead to cook the chicken.

Heat a pan with oil, add chicken pieces and keep turning them over as they are getting cooked and charred on all the side. This will take about 20 minutes to cook.
Assembling the Chicken Shawarma
Take one square of parchment paper and place one cooked pita bread, and spoon in 2 tablespoons of hummus evenly, and a tablespoon of the tzatziki dip as well.

Place one cucumber, carrot and tomatoes julienne in the middle. Then place some cooked chicken pieces, add chopped onion and roll it tightly along with the parchment paper and pack both ends of the paper into the roll if you want it as a take away.

Serve the Chicken Shawarma Recipe along with Summer Lettuce Salad Recipe to make it a complete meal for your Sunday lunch.