Chilli Oil Recipe
This chilli oil is a flavour packed Asian condiment that's so versatile. Essentially, the oil here is flavored with garlic and red chilli flakes and other additions, that you keep going back to the chilli oil jar for more.

Archana's Kitchen
On

Monday, 08 March 2021 10:57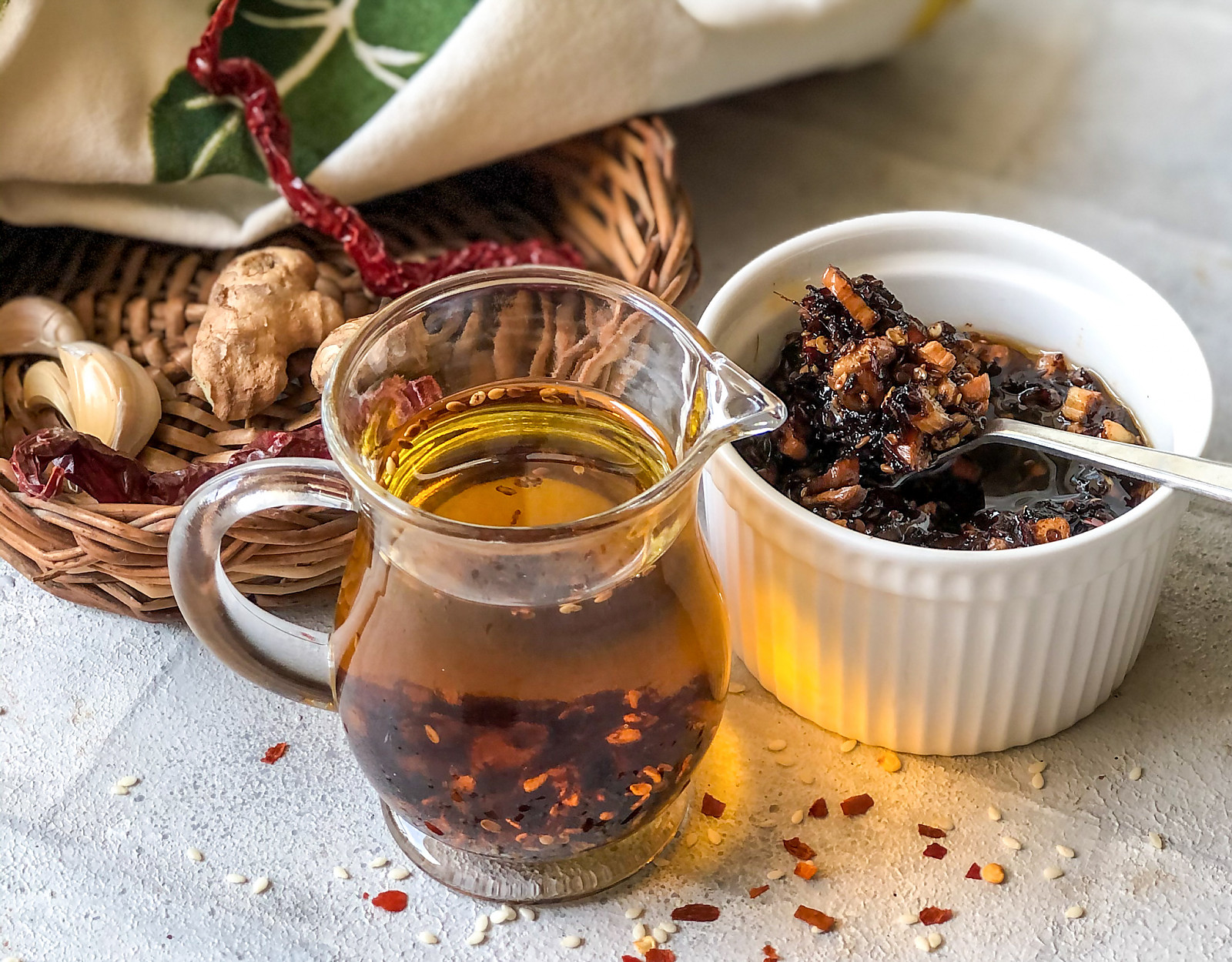 This Chilli oil, is such an excellent condiment that finds a fit not just with the Asian cuisine but goes equally well with a lot of other cuisines too.
Robust ingredients like fresh ginger, garlic, and red chilli flakes are used to flavour this oil. The addition of toasted sesame adds a great crunch to this oil and the soy sauce gives the oil a mild saltiness. All in all, a lovely flavour packed jar that will be multipurpose in your kitchen.
Chilli apart from being a great condiment on your dining table can also be used in everyday cooking too.
It can be used as a base to stir fry veggies, meat or even toss your fried rice and noodles in. One could use it as a dipping sauce with dumplings or drizzle it over absolutely anything.
Serve Chilli Oil as a dipping sauce with Chilli Cheese Mushroom Momo Recipe or Szechwan Hakka Noodle Momo Recipe
Try our other Condiment Recipes :
Ingredients
2 tablespoons

Red Chilli flakes

2 teaspoons

Brown Sugar (Demerara Sugar)

1 tablespoon

Ginger

, grated
1 tablespoon

Sesame seeds (Til seeds)

, toasted
2

Star anise

1 tablespoon

Dark soy sauce

10 cloves

Garlic

3/4 cup

Oil

, or any neutral oil
How to make Chilli Oil Recipe
To begin making the Chilli oil, firstly prep all the ingredients and keep them ready.

Heat oil in a pan on medium heat. To this add the sliced garlic and fry until it turns into a lovely golden brown colour. Gently stir the garlic at regular intervals.

In the meanwhile, in a mixing bowl, combine the red chilli flakes, brown sugar, grated ginger, toasted sesame seeds, star anise and dark soya sauce.

Once the aroma of the garlic wafts in the air and has turned brown in colour, turn off the heat and pour the hot oil and garlic over the red chilli flakes mixture.

Allow Chilli oil to cool and store in a sterilized air tight container.

This chilli oil can be stored in the refrigerator for 4-5 months.

This versatile chilli oil can be used as a dipping sauce along with its sediment with momos, dumplings and wontons. It can be used as a base oil to stir fry veggies and meat of your choice. It can also be used to toss simple fried rice and noodles too.

Apart from that, this chilli oil can be drizzled on soups , salads and pastas. It could also be drizzled on eggs such as Herb & Cheese Mushroom Omelette Recipe or Fried Egg Recipe - Sunny Side Up.

This chilli oil when used as base layer on breads for bruschettas and crostinis, tastes absolutely delicious.