Chocolate And Oats Christmas Cookie Cake Recipe
Flourless, Eggless Cookie cake that can be whipped up in 30 minutes for a special treat for your family and friends!

RUBY PATHAK
On

Monday, 25 December 2017 09:00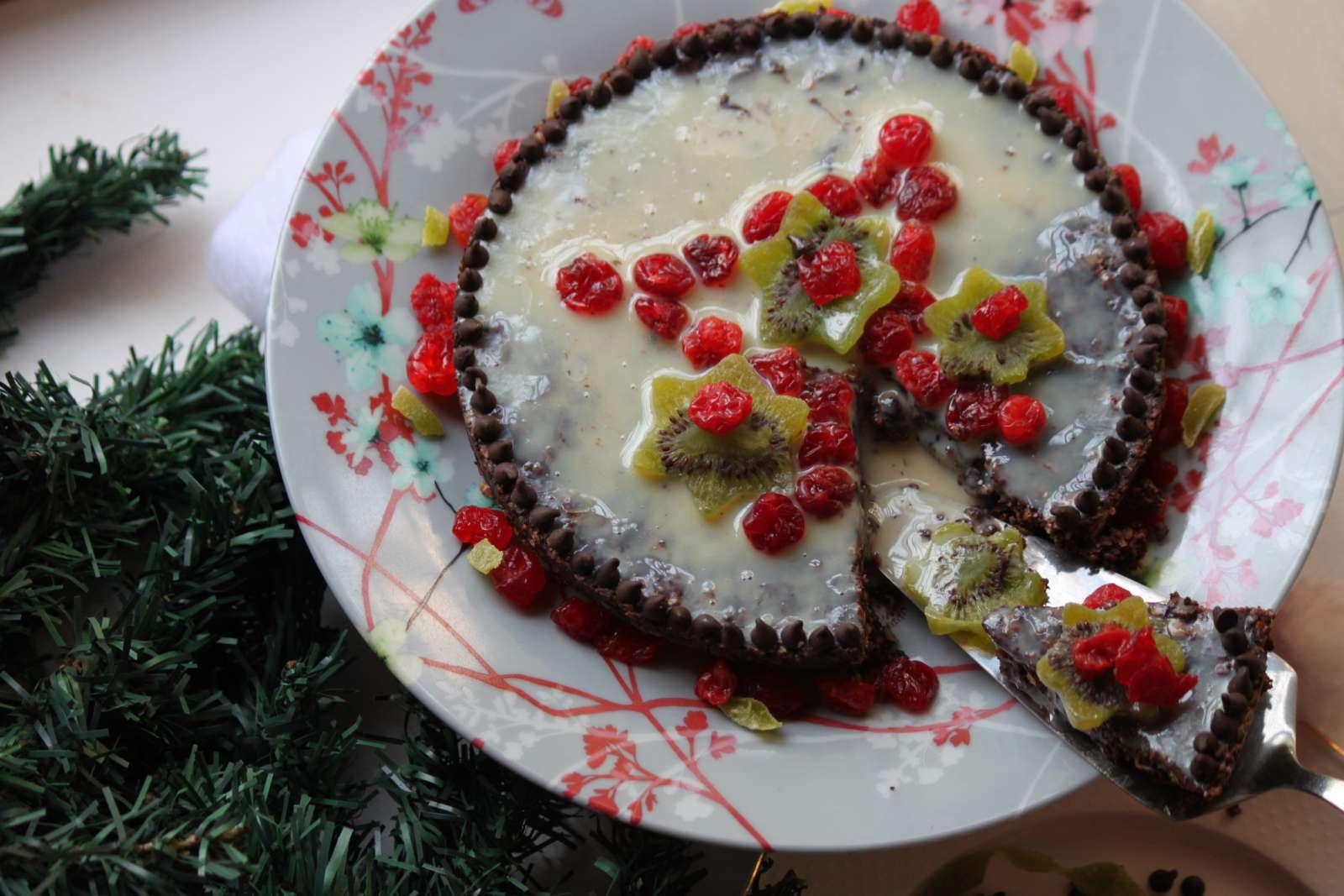 Every Christmas irrespective of whether you celebrate it or not everyone wants a slice of cake. Here is a recipe for a flourless, eggless cookie cake that can be prepared in under 30 mins. You can decorate the cake with a variety of dried fruits and make it quite interesting. Its an extremely filling cake and can be whipped up when there are unexpected guests at home.
Serve Chocolate And Oats Christmas Cookie Cake Recipe along with a scoop of Apple Pie Ice Cream as a dessert after a continental lunch of Garlic Spaghetti with Roasted Red Bell Pepper Sauce and Garlic Bread
If you like this recipe, here are a few more Christmas Cakes recipes
Ingredients
2 cups

Instant Oats (Oatmeal)

250 gram

Chocolate chips

3 tablespoons

Butter (Salted)

1/2 cup

Sultana Raisins

5 grams

Pitted Cherries

, chopped into small pieces
1/2 cup

Milk

1/2 teaspoon

Vanilla Extract

1/2 cup

Condensed Milk

50 gram

Pitted Cherries

5 gram

Kiwi

2 tablespoons

Chocolate chips
How to make Chocolate And Oats Christmas Cookie Cake Recipe
To begin making Chocolate And Oats Christmas Cookie Cake Recipe we will make the cookie cake first. Measure all the quantities and store in small bowls.

In a pot add water and bring it to a boil on low heat. Once the water is boiling, keep a wide bowl on top of the boiling pot of water. This is called the double boiler method. Add the chocolate chips and butter.

Once the butter and chocolate has melted, turn off the boiling water and add in the vanilla extract into the liquid chocolate

Place a saucepan on medium heat and add milk into it. When the milk gets warm add the oats. Stir for few minutes until the milk is totally absorbed into the oats.

Pour in the chocolate mixture along with the chopped cherries and raisins for about 10 minutes. Once all the ingredients are well combined, turn off the flame.

Take a round baking pan (24 inch), grease all sides of the pan with butter. Pour in the chocolate oats mixture and press it so that it forms a smooth outer layer. Refrigerate for 20 minutes so that it sets.

After 20 minutes, take it out of the fridge and invert the Chocolate Cookie Cake onto a cake plate.

Pour some condensed milk on top and decorate the cake with cherries, kiwis and chocolate chips as you like it.

Serve Chocolate And Oats Christmas Cookie Cake Recipe along with a scoop of Apple Pie Ice Cream as a dessert after a continental lunch of Garlic Spaghetti with Roasted Red Bell Pepper Sauce and Garlic Bread