Chocolate Ganache Tart Recipe

Swayampurna Mishra
On

Wednesday, 09 September 2015 00:06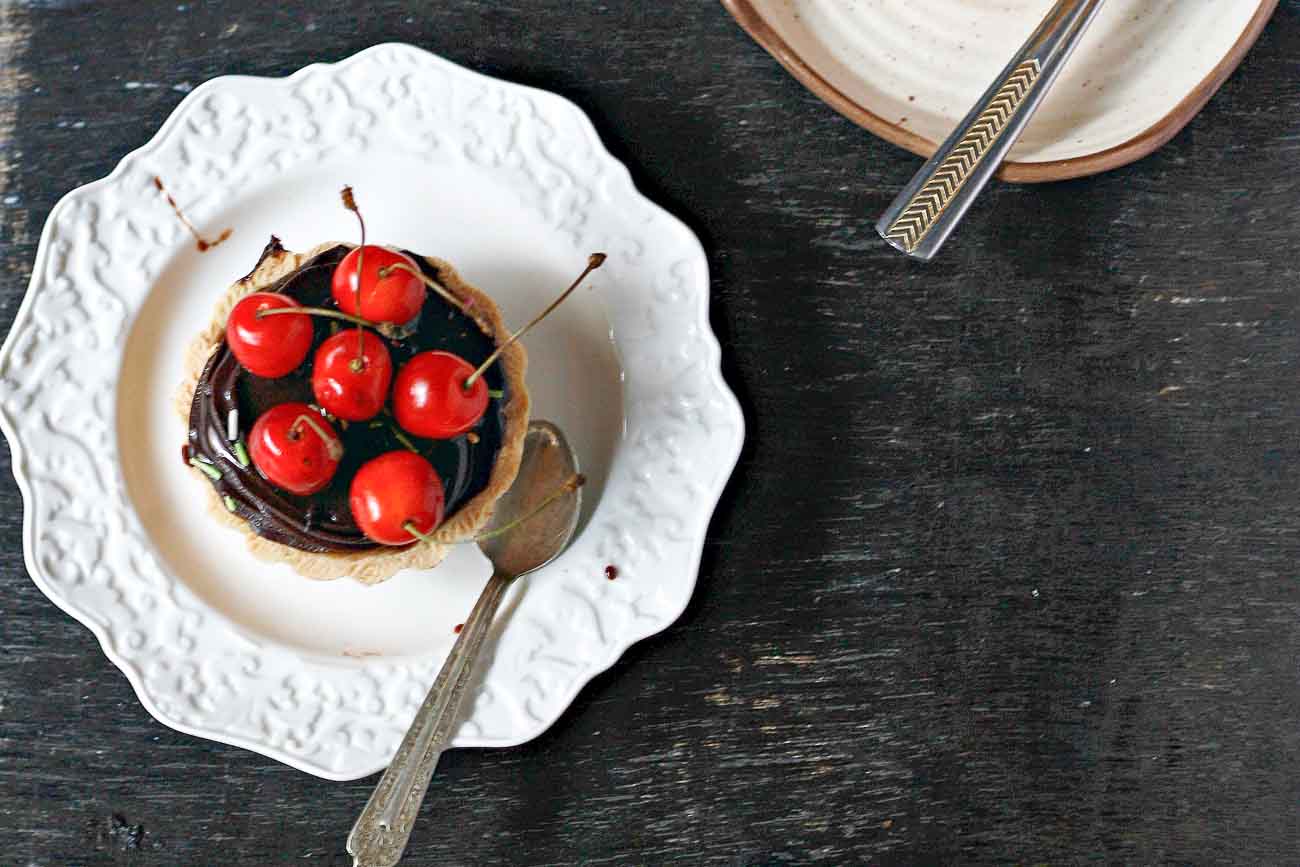 The Chocolate Ganache Tart Recipe is made from bittersweet chocolate with a buttery shortcrust pastry making it a great dessert for chocolate lovers. The little sprinkling of sea salt really helps bring out the richness of the Chocolate Ganache Tart. Add a few fresh cherries or the fruit that's in season or even fresh whipped cream and you have a delicious pretty dessert on your hands that you can make in a jiffy, serve to guest, make ahead for parties. The Chocolate Ganache Tart keeps well for 2 days in the fridge and frozen for almost two weeks. It's a great way to simple indulge in it when all you need is something sweet and you know nothing works like chocolate.
Serve the Chocolate Ganache Tart Recipe for a quick Dessert for a Special Dinner.
If you are looking for more Chocolate recipes here are some :
Ingredients
200 ml

Heavy whipping cream

, (Amul Cream)
340 grams

Dark chocolate

, (bournville rich cocoa from india works fantastic),finely chopped
1 teaspoon

Rock Salt

4

Fresh Cherries

, (or fruits or whipped cream of your choice)
How to make Chocolate Ganache Tart Recipe
To begin making the Chocolate Ganache Tart Recipe, first make the crust according to the recipe. Here is the recipe to make the all purpose pie crust.

Once the crust is chilled, roll it out into the size to fit the size of a mini tart pan or a 9 inch tart pan. Take care to roll, life and carefully place the pie crust into the tart pan.

Preheat the oven to 180 C.

Place the pie crust in the preheated and bake for 12 to 15 minutes or until the crust is lightly golden brown. Once the crust is baked, remove from the oven and allow crust to cool in pan while the ganache is prepared.

To begin making the Chocolate Ganache Recipe, first place the cream in a saucepan over medium heat and bring to boil.

Remove from heat and add the chopped dark chocolate into the cream. Bring the saucepan, back to the heat and keep stirring the chocolate and the cream on low flame until the chocolate melts and until the mixture is glossy and smooth.

Once you have a smooth chocolate and cream mixture, set the ganache aside to cool completely.Pour chocolate ganache into cooled crust and chill in refrigerator for a minimum of 4 hours or until set.

When set, sprinkle sea salt flakes over the top.Top the Chocolate Ganache Tart with fresh cherries or whipped cream and serve.

Serve the Chocolate Ganache Tart Recipe for a quick Dessert for a Special Dinner.