Crispy Paneer Bars Recipe- Crispy Cottage Cheese Bars
Crispy Paneer Bars Recipe is a high protein recipe where cottage cheese or paneer is coated in papad mixture and fried. Serve this delicious Paneer with your favourite chutney as a party appetizer.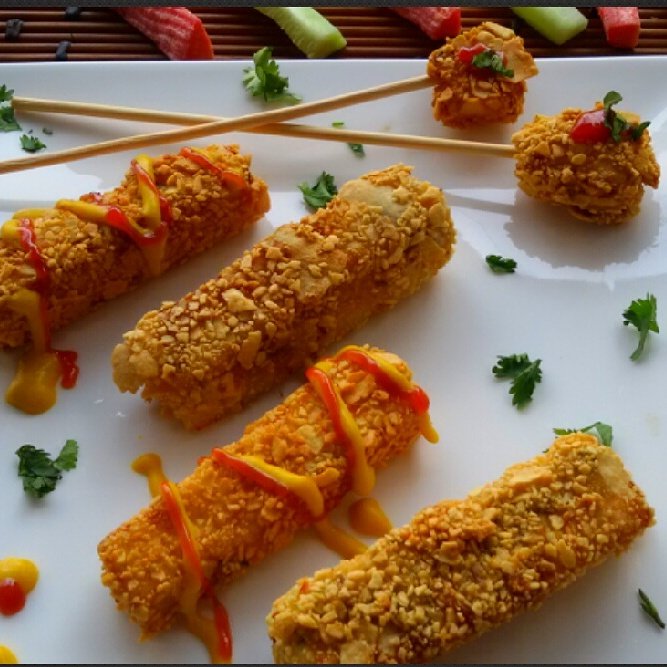 Crispy Paneer Bars are cottage cheese fingers coated with papad and I have used the mint coriander chutney and imli chutney inside paneer to curb its raw flavour. They are super easy to cook and can be prepared in just a few minutes.
They can be a party pleaser and an amazing appetizer for sudden guests. With the use of paneer they are high on protein content. They are crispy outside and soft inside. Mom knows the heart of her family. This recipe prepared by mom not only shows her best cooking skills but also how she balances the flavour and health quotient of family in her food.
Serve Crispy Paneer Bars Recipe as a appetizer to your party meal made of Mushroom Biryani Recipe, Vegan Navratan Korma Recipe and Dangar Pachadi With Grated Carrots
Try our other appetizers
Diet:
High Protein Vegetarian
How to make Crispy Paneer Bars Recipe- Crispy Cottage Cheese Bars
Take paneer pieces and make two slits vertically maintaining the joint at the base.

Apply coriander chutney inside one slit and imli chutney inside other slit. Keep aside.

Make a slurry of maida and very little water of flowing consistency. And add salt and chopped corriander to it.

Take urad dal papad and crush them in grinder, spread on a plate.

Now take paneer pieces one by one. Dip it in slurry and roll over crushed papad. Similarly prepare all pieces.

Shallow fry them in olive oil till golden brown. Your paneer bars are ready to use.

For plating drizzle some mustard sauce and tomato ketchup. You can also make paneer pops using paneer cubes and attach the stick to it.

Serve Crispy Paneer Bars Recipe as a appetizer to your party meal made of Mushroom Biryani Recipe, Vegan Navratan Korma Recipe and Dangar Pachadi With Grated Carrots