Dhungare Baingan Recipe
Dhungare Baingan Recipe is smoked brinjals with yogurt, onions,green chillies . A delicious combination of flavours achieved by infusing smoke from burnt charcoal coal in the brinjal raita. Serve it as a accompaniment to any meal or even use it as a dip.

Archana's Kitchen
On

Friday, 29 March 2019 10:00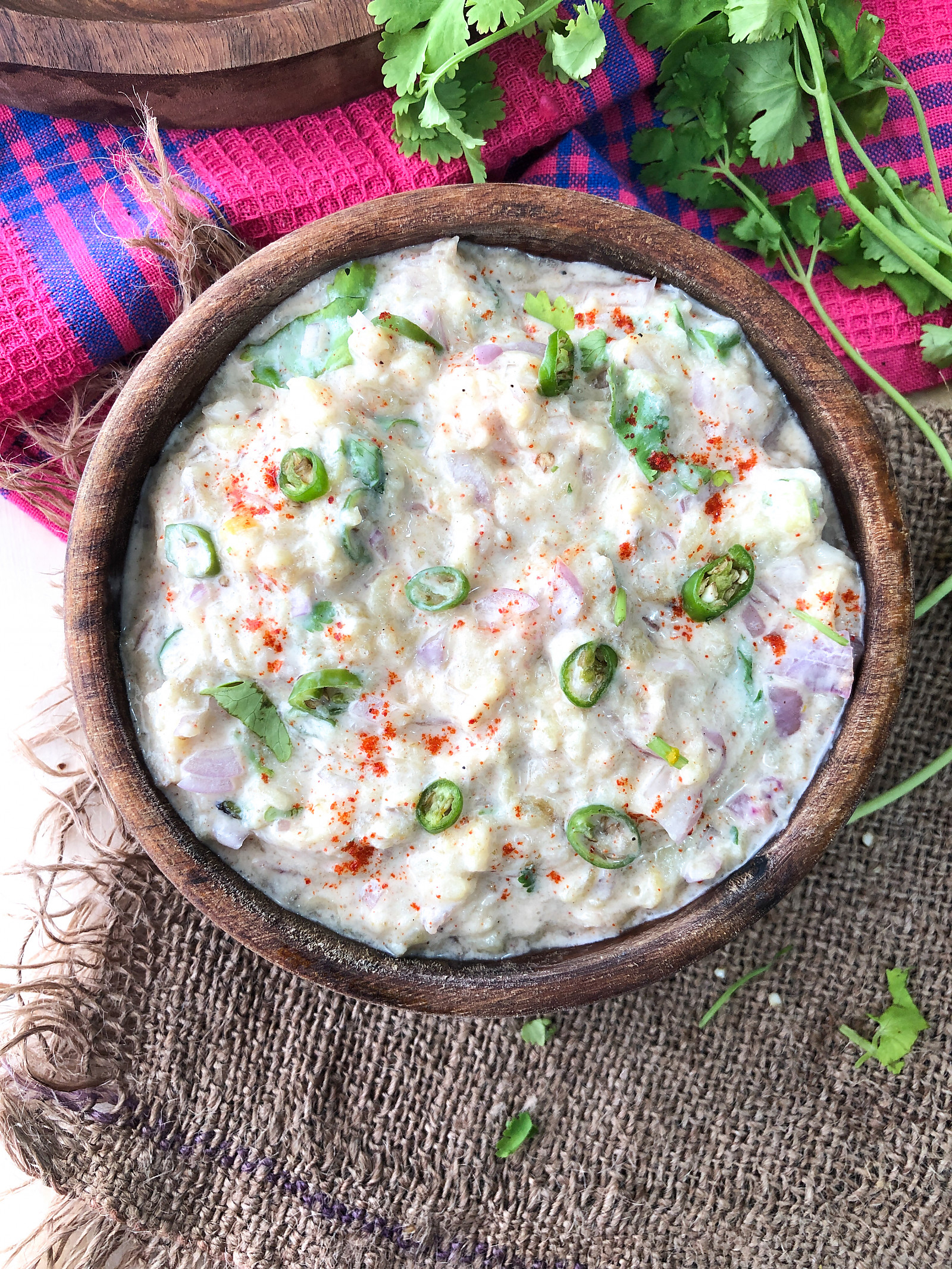 Dhungare means smoking food using coal. This techniques add a unique smoked tandoori flavour to the dish. Ghee is dropped on hot coal to release smoke from the coal.
In Dhungare Baingan Recipe first the brinjal is roasted on the gas and then mashed mixed with fresh curd, onions, chillies, roasted cumin powder, chilli powder and garam masala. Then the dish is smoked using the dhungar technique.
Dhungare Baingan can be served as a raita with any meal or even served as a dip to your chips and fries.
Serve Dhungare Baingan with Aromatic Vegetable Pulao or Garlic Naan and Nawabi Kofta Curry for your next party.
Try our Other smoked recipes:
Ingredients
1

Brinjal (Baingan / Eggplant)

2 cups

Curd (Dahi / Yogurt)

1

Green Chilli

, chopped
1 teaspoon

Cumin powder (Jeera)

1/2 teaspoon

Kashmiri Red Chilli Powder

1/2 teaspoon

Garam masala powder

1

Onion

, sliced

Salt

, to taste
To Smoke the Dish
1 tablespoons

Ghee

2 tablespoons

Coriander (Dhania) Leaves

, chopped
How to make Dhungare Baingan Recipe
To begin making Dhungare Baingan Recipe first we will roast a whole eggplant over an open gas flame till the skin is charred. Turn off the flame and remove the charred baigan onto a plate.

Once the eggplant is cooled, peel away the charred skin.

Mash the smoked baingan well and put into a pot which has a tight lid. Add in the curd,onions, green chillies, roasted cumin powder, garam masala powder,red chilli powder, salt to taste. Stir well to combine.
To give it second smoke using coal
Keep a piece of coal over a flame and heat till it turns red hot in colour.

Place a small bowl on top of baigan mixture and place the hot burning coal in the small bowl. Drop ghee on the coal and =once the coal begins to smoke close the lid of the pot quickly.

Keep it closed for five minutes to let the flavours of the smoke seep into the baigan.

After 5 minutes open the lid and remove the coal bowl. Garnish Dhungare Baingan with coriander leaves and serve.

Serve Dhungare Baingan with Aromatic Vegetable Pulao or Garlic Naan and Nawabi Kofta Curry for your next party.