Doli Ki Roti Recipe
Fermented Indian puffed bread

Aditi Bahl
On

Wednesday, 18 January 2017 00:13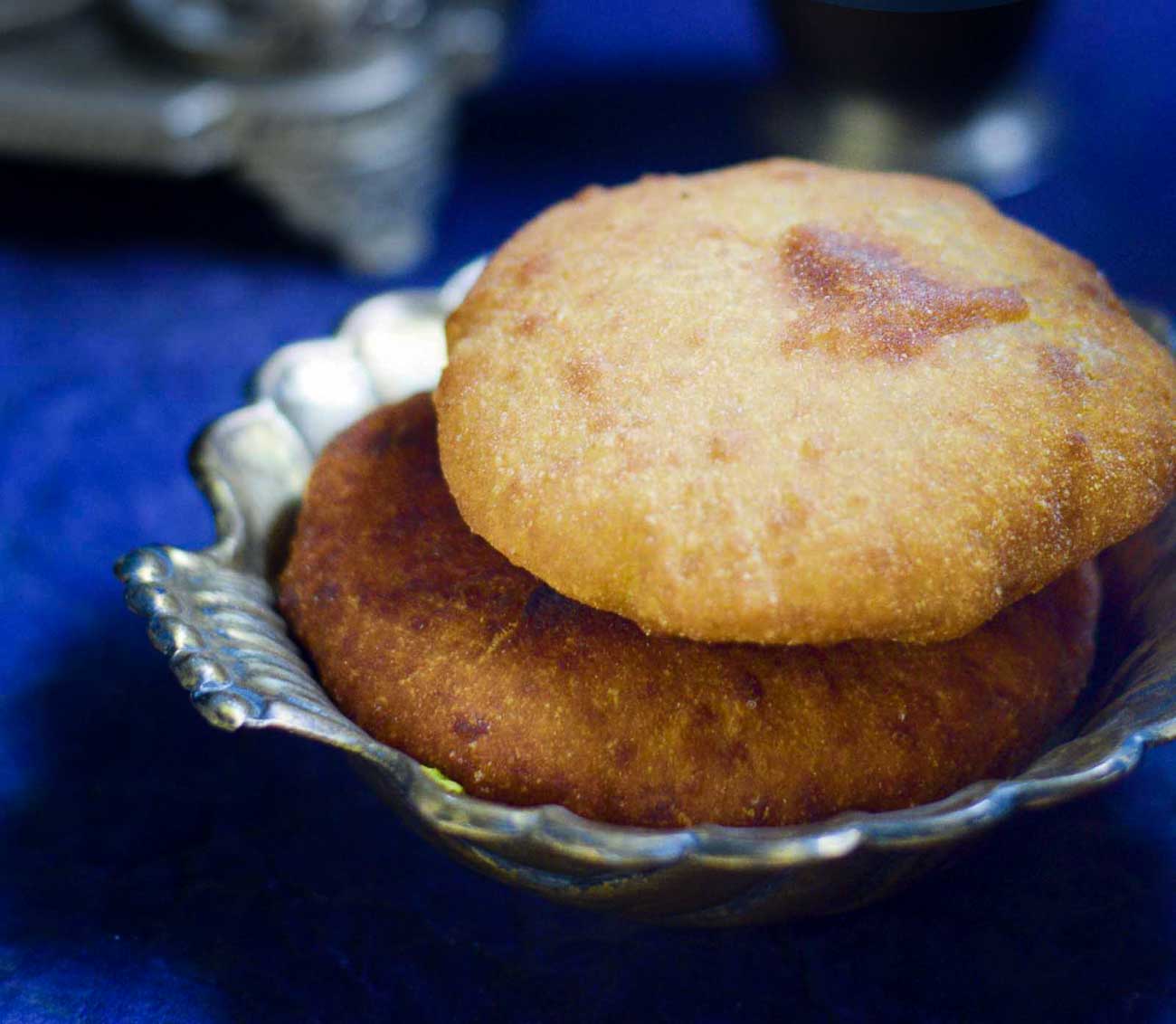 Doli Ki Roti Recipe is a whole wheat fermented bread /Roti, activated with an age old and traditional recipe of homemade yeast. The ingredients which make the yeast, give a subtle but delectable flavor to the bread and take the taste of the bread to just another level.A heirloom recipe from my maternal grandmother and it still connects all of us together. Doli Ki Roti Recipe can be served with Kasuri Methi Aur Aloo Rasedar to make a breakfast.
If you like this recipe, take a look at more Indian bread recipes that might interest you
Note:
The 1/2 cup yeast mix which we had kept separately can be used to make another batch of yeast and more Roti's subsequently. Just add some more flour and warm water to activate it for another three hours and use to ferment the dough as mentioned above.
Ingredients
For water to create yeast:
12

Black cardamom (Badi Elaichi)

1/2 cup

Fennel seeds (Saunf)

1/2 cup

Chana dal (Bengal Gram Dal)

1/2 cup

Khuskhus

, or poppy seeds
1/2 cup

Sugar

500 ml

Water

For Homemade Yeast:
3 teaspoons

Whole Wheat Flour

For Roti/Bread:
4 cups

Whole Wheat Flour

2 teaspoons

Sugar

1 teaspoon

Salt

Lukewarm Water

, to knead

Sunflower Oil

, to deep fry
For Filling:
2 cups

Chana dal (Bengal Gram Dal)

Salt

, to taste
1 teaspoon

Red Chilli powder

, (adjust)
2 teaspoons

Coriander Powder (Dhania)

1/2 teaspoon

Garam masala powder

1/4 teaspoon

Turmeric powder (Haldi)

2 inch

Ginger

, crushed
1/4 cup

Onion

, finely chopped

Water

, as needed
How to make Doli Ki Roti Recipe
To prepare Doli Ki Roti Recipe, get prepped with all the ingredients required and prepare the homemade yeast water first.

In a saucepan, add water (500 ml) and bring it to boil. Put all the ingredients listed in "water to create yeast", including cardamom, fennel seeds, chana dal, khuskhus (or poppy seeds) and sugar.

Cover and boil for 2 minutes until sugar dissolves and the chana dal softens a bit. Let it remain covered. Wrap this saucepan in a dry and warm cloth and keep in the warmest corner of your kitchen. Let it stay undisturbed for 24 hours exactly.

To prepare yeast, take the frothy water after 24 hours (only if it is frothy, or you need to repeat the procedure) to prepare homemade yeast. Pass the water through a sieve and mix it with whole wheat flour (3 tablespoons). The batter should resemble a pancake batter, flowy. Cover it again with lid and wrap with a warm cloth and keep in a warm place for 3 more hours.

After 3 hours exactly, the mixture should all be bubbly and frothy. Now you may proceed with making the dough. Take half of the homemade yeast mixture and add the ingredients under "to make roti" (flour, sugar, salt, water) and knead to make a smooth pliable dough. Use only warm water to knead the dough. Keep it covered like before, for 3 hours or just half hour more, to rise.
To make the filling:
Clean chana dal and pressure cook chana dal, salt, turmeric, ginger with a little water for 2 whistles or till cooked soft. drain the remaining water completely and discard.

Once the dal is cooled a bit, add spices and onion, mix well.
To make Doli Ki Roti Recipe:
Heat oil in a deep frying pan on medium heat.

Pinch out a ball of more than a lemon size and make an indent in it to fit the filling. Fill about 2 tablespoons of filling and close the sides of the poori. flatten it with hands until it forms a disc of the size of the palm. Ensure this, since the dough is soft to be rolled with a rolling pin. You can use the dusting of wheat flour if you find the soft dough difficult to handle.

Drop the flattened filled dough of Doli Ki Roti in hot oil and cook to see it puffed up and evenly golden on both side. Keep flipping as required, till done.

Drain on a kitchen towel.

Repeat till all the dough and filling is used.

Serve Doli Ki Roti Recipe with a bowl of curd or Kasuri Methi Aur Aloo Rasedar to make a breakfast.